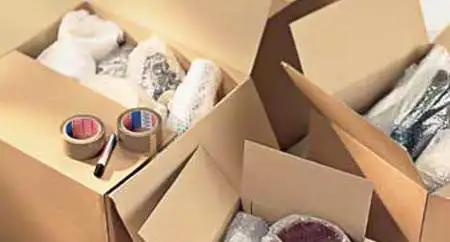 What moving boxes should I use for packing?
Packing boxes for moving house come in different shapes and sizes. Some are thick and strong and some are thin and less durable. There are large shipping boxes, medium and small cartons.
You can even get custom made boxes for example to ship a piece of artwork, an antique, a mirror or an musical instrument. They also vary by shape and can be square, rectangular or circular. There are many specially designed boxes for example - flat boxes to move TV, book boxes, bottle crates or wardrobe boxes. Did you know the packing boxes for moving can be made of cardboard, plastic or wood?
Some are cheap and some expensive so how to decide what boxes should one buy?
Unfortunately if you are moving for the first time in your life you need to learn what boxes you should use to pack and move particular items. Choosing a right box will result in your goods being better protected while in transit.
Types, Sizes, Usage of Cardboard Moving Boxes
When you are packing your items in preparation to relocate, it is important that you get all the required packing materials. One of the packing materials that you cannot do without is the packing box. It is important that you make use of the right moving boxes for packing your items. Not all boxes are suitable for the transportation of every item. Given that items being moved including household and office items differ in their weight, size and shape, relocation boxes are available in a number of types to accommodate various items regardless of their shapes and sizes.
When packing your personal belongings and household goods, you should not include many items in one box otherwise it will be too heavy to carry. Besides, it can also break open when it is packed too heavy. Here are some types and sizes of boxes that you should know and the various items to be packed in them.
If you are moving to Vilnius you can contact shipping companies Lithuania if you need to buy boxes suitable for you.
Book boxes
As implicit from the name, this is a type of box which has a specific usage. It is meant for packing books and similar heavy items like CD and cassette. This type of box is also known as book cases or book presses. It is normally moderately sized so that when filled with books, it will not be too heavy for one person to lift. It is the best type of moving box to be used when moving private libraries or school libraries to another location.

This type of box has 3 tiers each one resting on another. Find out more about how to pack for moving.
Wardrobe boxes
This is a type of box meant for the packing of clothes. A specially made rod or stick is attached at some height in the box for hanging of clothes. It serves as a temporary wardrobe for people moving house. Rather than spending time to fold your clothes, you will simply hang them in the box and seal it with a tape in preparation for moving. The clothes hung on the box will remain hanging throughout the period of moving. It is available either as a lay-down or stand-up box. Wardrobe boxes are not cheap but their are very handy and prevent all your suits and dresses from getting creased.
Flat boxes
These are specifically designed for packing of items that are flat. Flat boxes are not high. It is suitable for packing items like laptop, DVD or VCD devices, and items of similar size.
Mirror carton
It is specially meant for moving mirror and glassed framed photos as well as glass table tops moving. Such types of shipping cartons are normally padded or cushioned to protect the items inside it. Mirror boxes or carton is available in a number of sizes to suit different sizes of mirror, glass table tops, framed photos and similar items. They are usually flat and can telescope to hold even the largest paintings. Telescope boxes can be joined together.
Mattress carton
There are different types and sizes of bed such as crib, twin bed, double, king and queen size beds. When they are being moved, a special type of moving box is used. This is called mattress carton or box. It is available in various types to suit various needs.
Dish pack (barrel or dish barrel)
It comes with extra layer and strength making the safest moving box. It is specifically meant for packing of various types of kitchenware, crystal, small antiques, lamp bases, china and similar items.
Various sizes of packing boxes for moving - cubic feet volume and dimensions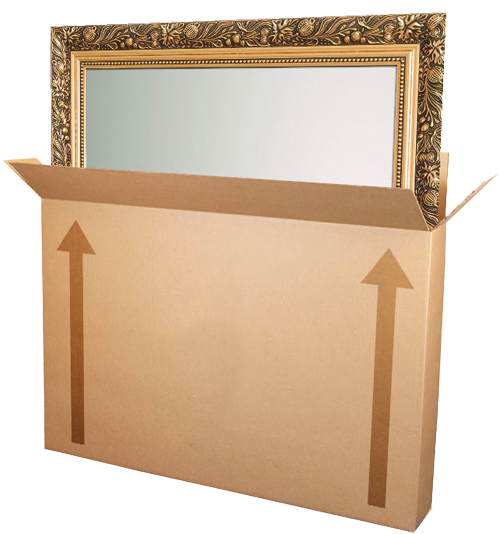 As it has been said above, removal boxes are available in a number of sizes. The size can be described by the width, depth and height or by the cubic volume. An average medium size box is about 3 cubic feet and is characterized by the following dimensions - 18" x 18" x 16". Some of the available sizes include the following:
1.5 cubic foot carton or box: this is the smallest size of moving boxes and they are meant for packing small items like canned products, small heavy working tools, books, tapes, for packing fine china, CDs and the likes. 1.5 cubic foot carton size - 16" x 12" x 12" - small.
3.0 cubic moving box: this is double of the 1.5 cubit box. It is a medium size box used for moving items like kitchen and dining items, pots, electronics, pans and small outdoor tools. 3.0 cubic feet box dimensions - 18" x 18" x 16" - medium.
4.5 cubic foot removal box: heavier and larger items like larger lamp bases, linens, non hanging clothes, lamp shades and the likes are packed in this size of clothes. 4.5 cubic foot removal box dimensions. 4.5 cubic ft box dimensions - 6″ x 12″ x 12″- large.
6.0 and 6.5 cubic foot carton: it is suitable for packing numerous light items such as children playing stuffs. It is also suitable for packing bulky items like area rugs. It is the largest size of standard moving boxes. 6.0 and 6.5 cubic foot carton dimensions: 24" x 24" x 18" - extra large.
What boxes should I use for shipping?
Moving boxes can also be classified based on the materials used in making them. There are some that there are made from plastic material. A good number of them are made from corrugated cardboard. You will also find some boxes that are made of metal materials or wooden materials. It is the item to be moved that determines the right packing box. When liquid is being moved, boxes or containers made from plastic or metal are the ideal type. Cardboard boxes are used for a single move. they are relatively cheap and can be recycled after the move. Plastic boxes are good for multiple usage and can be also used as storage boxes. A shipping container made of wood are perfect for intercontinental relocation when part load service is required. Metal boxes have mainly commercial use are very rarely used for private, residential relocations.
If you are trying to estimate costs of shipping to Estonia, it crucial to know how many boxes will you be taking. Prices is based on the cubic volume of all boxes.
Custom Boxes for special needs
Custom boxes are also called wooden crates. These type of packing boxes are usually made by a joiner. Some international removal companies also offer the design and build of custom wooden crates service. Why would you need to use such type of box? In most cases the wooden boxes are used when one require a shared container shipping service. Simply all your goods are measured up. According to the dimensions taken a custom box is build. Next all your goods are placed inside the custom box which is closed and sealed. Then main goal is to separate your goods from other consignments. It also give you a better protection and a guarantee that everything is kept together. There are fewer chances that something could get lost or stolen.
Where to buy packing boxes?
There a few good sources where you can get the boxes from. The most popular is to buy them online. the advantage of getting shipping boxes from the internet is the availability, the speed of the delivery and the price. Many websites offer special deals and buying more quantities or the whole moving boxes essential kit online can pay off in getting boxes at cheap rates.
You can also get some boxes from a supermarket. However if you are shipping to Australia for example it is not advisable to use second-hand or old boxes. Used boxes can be contaminated and carry pests. Using dirty boxes can result in your boxes being stopped at the border and will have to go through a long and very costly quarantine clearance process.
You can also buy cheap boxes for packing and moving from your mover. Some of them offer boxes for free if you use their services. This option is quite attractive as the removal men can carry also a free survey during which they would establish the exact number and the different types of boxes you will require.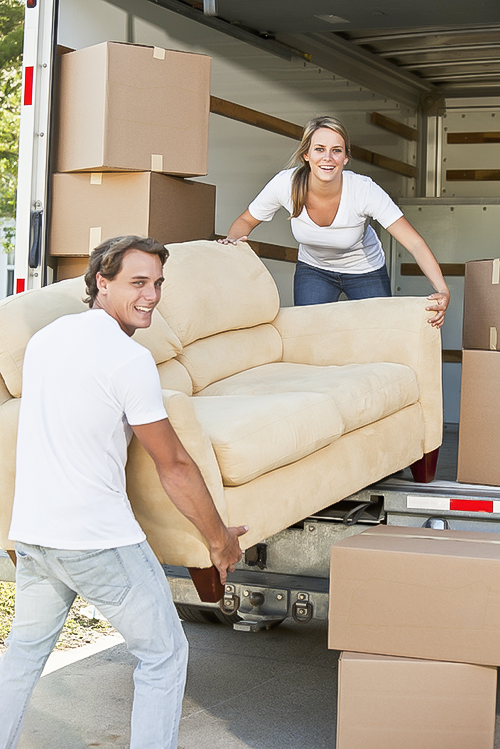 This will safe you some time on thinking over and over how many boxes you should purchase, what size and what quantity.
Some tips and advice on choosing boxes
Buying solid, strong and first and foremost right boxes for specific usage will save you a lot or time and problems. Always makes sure you match the gods you want to pack to the usage of the box. Do not fill out wardrobe boxes with books. The will be to heavy to carry, will fall apart and your personal items will get lost or damaged. As you know some boxes are strong and some less durable. Do not use boxes for light things like clothes for transporting glassware.
For more advice, tips and help with choosing right boxes please contact our office. We will be happy to tell you more about their types and usage. If you choose our moving supplies company to buy from us we will email you our packing boxes guide.
How to calculate the cubic volume of a box?
A one cubic foot box is equal to 1728 cubic inches box. To find the volume of a box in cubic feet you have to multiply the length by the depth by the height (all in inches). It is always good to you a calculator to work out the cubic volume of a box. Once you have done the multiplication task you need to divide its result by 1728 inches.
A few examples of how to calculate the cubic volume of a box:
Box size - 24" x 24" x 18" = 10368" / 1728" = 6 cubic ft
Box size - 24" x 24" x 24" = 13824" / 1728" = 8 cubic feet
Box dimensions - 24" x 24" x 30" = 17280" / 1728" = 10 cubic ft
Box dimensions - 18" x 24" x 60" = 25920" / 1728" = 15 cubic ft
Box size - 24" x 24" x 60" = 34560" / 1728" = 20 ft3
Compare shipping costs and moving boxes prices