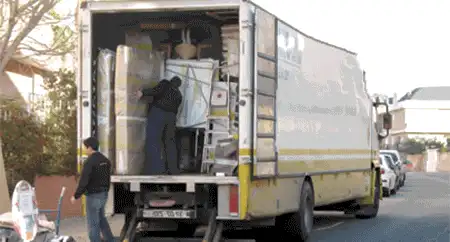 How much to move to Spain?
A
Are you thinking of moving to Spain from the UK? Do you need to ship some boxes to Barcelona, Madrid, Málaga, Valencia or Murcia? Whatever your destination is our UK to Spain movers can help!
It takes just two minutes to use our online form and request quotes from up to five companies specializing in Removals to Spain.
You will also receive a free moving to Spain checklist, some good advice an tips on how to move.
By getting all the info you need here in one place you will not only safe a lot of time but you will be able to compare shipping costs to Spain and save some money too.
Our customer service will answer all your questions just give us a chance to prove it!
Removals UK to Spain
If you are looking for a moving service to Spain, you should take advantage of our efficient removal services to Spain. We are experience, reliable and reputable international moving company, we pride ourselves on quality removal services to any city and localities in the country including Madrid, Seville, Granada, Valencia, Bilbao, Malaga, Cordoba, Cadiz, Santiago de Compostela, Salamanca, Zaragoza, San Sebastian, Burgos and Salamanca. Unlike most UK to Spain Removals in the UK, our cheap delivery service to Spain is a two-way traffic. Whether you are moving house contents from Spain to UK or from the UK to ESP, we are there to help you.
We have many years of experience in moving houses, warehouses, commercials goods, machinery of various types, server and IT equipment, furniture of various types and other items no matter how fragile it is to any location across the world including Spain. We are licensed and accredited by a number of international and local organisations and bodies in the shipping industries. As a leader in cheap removals to Spain, we offer several home and office moving services in order to accommodate every budget.
Thinking to move to Spain - planning the costs
If you are on budget, you can hire our groupage or shared van moving services. It is a suitable option for individuals and families with smaller loads to move to Spain.
If you hire our shared vehicle service, your items will be first moved to our warehouse in the UK where they will be loaded with other peoples items onto the removal vehicle for moving to Spain. This means that your items will not be the only ones in the moving truck.
The van will be used to put loads from several clients and they will bear the shipping costs to Spain together. However, clients are charged according to the volume or weight of their items.
But if you have huge loads or you dont want to share the van with any person, you can hire our dedicate removal service. A full van load which may be a 20 or 40ft container shipping depending on the quantity of your goods will be made available for you. Our experts will come to your current home to pick your properties. They are loaded on the vehicle and then move to Spain.
If you want same-day removals to Spain services or if you want your item to get delivered at a specific time, we can arrange for airfreight services for you to ensure you get your item at the right time. If you are shipping to Slovakia from Spain we are happy to provide raoad transport solutions. Check our offer, regardless of the destination. Compare shipping costs to Turkey from Spain.
Removal companies to Spain
Our relocation agents in Spain know virtually all corners of the major cities in ES. However, we will appreciate it if you inform us on time of any access problem in your location. For example when moving to certain parts, Madrid or Valencia a parking dispensation must be arrange.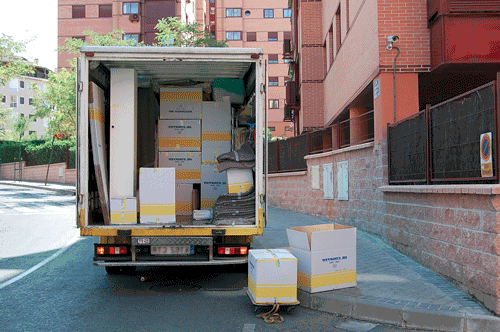 Also if you are living in the rural area and the route to the place is very narrow, you should let us know so that we make proper arrangement on how to get to your new location.
If youre moving to Spain with children and pets for the first time, let us know your final address so that we can find out on time how the route to the place is. We will also email you a step by step shipping to Spain guide so you know how to prepare for moving with pets.
Our removal companies to Spain are quite aware that it can be very stressful and overwhelming relocating to new places like Cartagena, Alicante, Zaragoza or Salamanca because a lot of things are involved. Here are a few moving guides to help you get ready for the relocation. We also offer free shipping quotes, regardless of the destination, so if you are looking for removal costs to Bulgaria from Spain, feel free to contact us.
Immigration to Spain tips
In order to continue paying tax when have emigrated to Spain, it is important to notify HM Revenue and Customs. You should also notify the Pension Service of any change of address and your intention to move house. Request for pension forecast of the state.
Get all the paperwork done on time. You may encounter some difficulty with language if you are not good in Spanish. But there are sources like Gestor that will be of help to you. You should translate all documents you may need from English to Spanish before you relocate.
Visit a foreign office closer to you in order to obtain your residency permit as required of all EU nationals. A foreign identification number abbreviated as NIE will be given to you in the office. But if you are not an EU national, you have to apply for NIE.
Get your residence card. Even though everyone is not obliged to have it, it is easier carrying it than a passport. Check if you are obliged to get one as well. Check moving to Barcelona page for best rates.
If you prefer buying a house in Spain, you should apply for a mortgage either from a Spanish bank or from a UK lender. However, if you want to obtain it from a Spanish bank, then you should open an account with a Spanish bank. Some charges may apply for this service.
If you are moving from UK to Spain with your children, make arrangement with their teachers in their former schools to get their results ready for proper placement in Spain. Education is obligatory for children within the age range of 6 to 16.
Make sure that you obtain your private medical insurance if the Spanish social security system does not cover you. But if you are a UK national and you are employed in Spain, you will be covered by the Spanish Social Security system.
The above how to move to Spain tips will help you to have a successful move and lifetime experience living and working in Spain.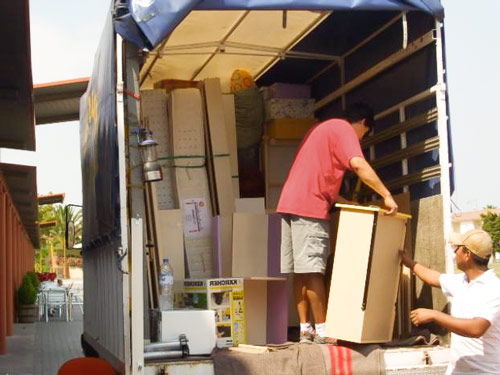 How much to ship to Spain
You probably wonder how much does shipping to Spain cost? Well ESP is a huge country as well as the United Kingdom. There are also different means of transport as the removals is carried out by road and by sea. The removal van need to travel on a ferry.
The ferry costs keep changing of regular basis and are quite a significant part to the overall moving costs to Valencia or Madrid.
Also the distance is of a great significance. for example removals from London to Madrid in Spain would be much cheaper than furniture delivery from Glasgow or Edinburgh to Cordoba, Granada, Seville, Almeria, Bilbao or Jerez. When moving to Spain from the UK the key impact or the removal costs has the mileage.
Long distance moves are associate with diesel prices which is needed to travel both ways. Do you want to find out how much it costs to ship to Spain? Give us a call today! Removals to Malta is also the service we provide, as well as UK to Serbia shipping solutions.