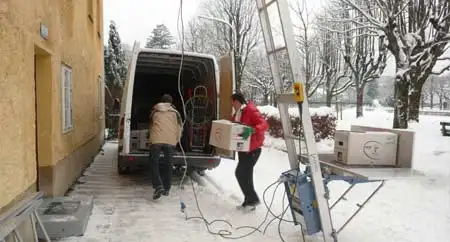 Shipping to Austria from UK
A
Are you in a need to send boxes full of personal items, books and other private belongings abroad? We provide top quality shipping to Austria from all UK. There is no move size we could not handle. Cheap boxes and furniture removals to Austria is what we do best.
Whether you want us to collect suitcases, beds, sofas, fridge, freezer and other house content from London, Manchester or Glasgow and deliver it to Vienna, Graz or Linz for example we have the network of moving companies to Austria that can take care of your possessions.
Our fully trained customer service will give you a professional advice on moving, will provide free tailor-made quote and guide you step by step the relocation process.
By comparing removals to Austria you can save a significant amount of money on your move. Get you goods delivered cheaper but still by shipping experts.
Moving to Austria from UK
Where is Austria?
Eight other European countries surround Austria. Liechtenstein and Switzerland borders it from the west, Slovenia and Italy lies to its south, Czech Republic, and Germany surrounds the country from the north whereas Hungary and Slovakia edges it from the east.
Area
Total area of Austria is 83, 859km2. It is two times larger than Switzerland and a little smaller than Maine.
Population
In 2011, population census showed the figure 8,430,558. This number showed an increase of 5% population in the past decade. When 2014 population census was carried, there was a significant rise in population and the number was 8.5 million.
Currency
In the year 1999, Austria changed its currency from Schilling to Euro. It used Schilling as its official currency from 1924-1938 and 1945- 1999.
Weather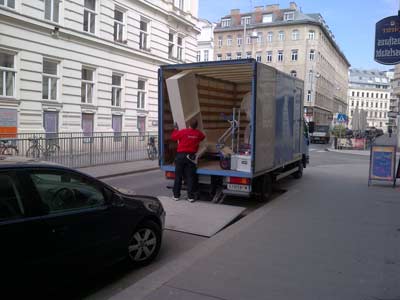 The climate in here is rather moderate, and extreme temperatures are not observed. So, folks intending to move to Austria from UK should take some clothes that will go in sunny summers as well as in some lightweight layers for the months in between the winters and summers. You should also carry some essentials that will keep you warm in winter. For more info on shipping to Austria different goods and furniture please contact our sales team.
Although the seasons are the same in the entire country, the Alps play an important role in dividing the snow weather regions. It is advisable to check your location and then study the weather condition in that particular area.
The cities of Vienna, Linz and Salzburg that form the Northern and the Eastern part of the country are the lowland areas of the Alps. Due to this clouds often end in their depressions and thereby cause a kind of mild atmosphere and overcast days. This climatic condition is good for the vineyards and so the area of Burgenland is rightly distinguished for their wine production.
Western Austria depicts longer and colder winters due to the higher altitudes of the Alpine in that region. If you are thinking to go hiking on the Alps, it's best to keep a lot of clothing layers and also a rain gear. There is also a strong and warm breeze that flows through the entire city of Innsbruck and the nearby valley, known as Fohn. This wind is known to aggravate headaches and often cause invariably high temperatures.
Graz and Klagenfurt fall in the third and the last zone of the weather zones in Austria. This region is in warmer temperatures due to the Mediterranean temperatures. This area shows a temperatures difference of 5°C than the other areas.  
Country code
Austria's country code is + 43
What language do they speak in Austria?
Austria's official language is German. Apart from German, there are many minority languages and two languages that are used more commonly after German - Alemannic and Austro-Bavarian. Alemannic is the primary language spoken in Vorarlberg and Austro-Bavarian is expressed mainly outside Vorarlberg.
German, the national language is used as the de facto language. It is used in schools, media and all the official and administrative works.
Some of the minority languages in Austria have an official status. Almost 2.2% of the population uses Serbian language that has an official status.
Turkish is used by 2.3% population and is largest minority language.
2.5% population uses Burgenland Croatian that is the official language in Burgenland. Other minority official languages are Hungarian and Slovene.
Regional Charter for Minority languages Austria has approved the European charter for regional language in June 2001 with regards to the a few languages and their regions. Some of them are:
Hungarian (in Burgenland and Vienna
Croatian of Burgenland
Slovak (in Vienna)
Slovene (in Carinthia and Styria)
Romani (in Burgenland)
Czech (in Vienna).
Time in Austria
Austria runs in the Central European Time Zone that is one hour ahead of the Greenwich Mean Time.GMT+1 is same as CET.
Austria biggest cities
Cities of Austria please all the visitors by their grand and majestic buildings. These buildings resonate the initial ages from Gothic to the Renaissance furthermore from the Baroque to Jugendstil. It also depicts the exquisite contemporary architecture.
Removals to Vienna
Vienna, nation's capital city bestows a matchless blend of royal and magnificent customs and their extraordinary modern architecture. It is identified for it sociocultural events, royal spots, comfy wine taverns, coffee and of course the ultimate Viennese grace. Thanks to the Emperor Franz Joseph and Empress Maria Theresa, who reigned over the nation in history. They are highly accountable for all the beautiful monumental architecture adjacent to the Ringstraub and the plenty of baroque buildings in the city. Passionate musicians including Beethoven, Haydn, Mozart and Straub who devoted their whole life to music belong to this very city. Vienna also celebrates itself as a gigantic musical metropolis.
Removals to Salzburg
Salzburg is a city that is full of churches, castles and palaces. Its charming ancient town is a UNESCO World Heritage Site.
Central Europe's biggest unimpaired fortress Festung Hohensalzburg is situated in this city, and it bestows incredible views of the town. Salzburg is considered as one of the prominent cultural metropolises as a total of 4000 cultural and social events take place here every year. Europe's classical restaurant St Peter's Abbey is located in the heart of the city.
Removals to Graz
The Styrian capital Graz echoes the period of Roman era dwells on both the sides of river Mur. It is richly known for its modern architectural highlights and medieval city centre. Graz was declared the European Capital of Culture in 2003, and it was then that New York artist and designer Vito Acconci constructed the Murinsel- Island in the river Mur. It is an artificial flowing platform in the middle of the Mur.
Removals Linz
Linz's cultural pattern is exceptionally distinct. The Ancient city of Linz is the perfect environment for walks through the enchanting cobblestone streets and ages old architecture. It possesses one of the largest Main Square in Europe.
Flights to Austria from UK
Austria, which has a legacy of being architectural beauty, is situated in the centre of Europe, very near to near Germany and France. Has adrenaline filled night-life with picturesque day. You can reach there by air. Flying to Austria is the most hassle free way to reach there in real time and at a comparatively small price. Both UK and Austria have a well-connected network of airports and flights. Some of the major airports in Austria are Vienna, Graz, Innsbruck, Klagenfurt, Linz and Salzburg. And almost all major airports have flights from UK to Austria, like Manchester, London, Alderney, Bournemouth, Nottingham, Jersey, Leeds, Liverpool, Southampton and Sumburgh and many more. And if you want to book the cheapest tickets then you will have to fly from Manchester to Vienna. But the other airports also have flights all year round, and the frequency is also quite regular. And the average price of flights can be from 50-150 pounds depending on a number of factors. They are the time you book your flights, the class of air ticket you have booked, airport you are flying from and the airport you will land. And it usually takes 2-2.5 hours to travel from UK to Austria. All airlines offer excess baggage shipping to Austria from UK. However the cheapest way of sending your luggage is to use a moving company. It will take a bit longer to deliver your possessions but the goods will be brought to your door step.
Driving to Austria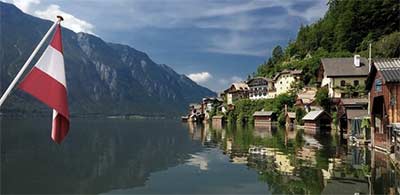 Traveling to Austria by road has become simple and smooth with well-connected roads, motorways, highways and federal road networks. Driving to Austria works out cheaper than flying if you are sharing the drive with 3 or 4 other co-passengers. If you are driving you are required to follow certain rules, as the road monitoring system is very strict. If you are driving to Austria, you can either drive through the famous Grossglockner high alpine road or via Calais. If you are planning to ship car driving it will significantly reduce you moving costs. You can load the car full with boxes and some smaller pieces of furniture.
The drive to Austria through Grossglockner high alpine road connects Salzburgerland and Carinthia provinces, and you have a beautiful view of the mountains. But if you are travelling via Dunkerque then you will have to take a Norfolk line ferry. And you can drive through Belgium, Holland, or Germany. And from Calais to Austria the distance is between 650-750 miles according to where you want to go in Austria. It is approximately 647 miles from UK to Austrian border. You will take around 20-24 hours to drive from UK to Austria, considering this you may or may not have to stay over in a lodge for the night. This also depends on whether you prefer driving to your destination through the night without a break or take a rest for the night and proceed again in the morning. It might cost you anywhere between 200-300 Euros depending on where in Austria you are going, where from UK you started, where did you stop to eat or sleep and how many people were travelling with you. The amount you will spend on petrol if you move boxes and house contents to Austria with you car. As shipping stuff by using UK to Austria movers would be more expensive.
Ferry from UK to Austria
Ferries are not an ordinary means to travel from UK to Austria as Austria is in the heart of Europe with not much of water in between. You can take boats only halfway through after which you either have to travel by road or air. You can take ferries from most of the major ports of UK to either port in Germany or France, after which you need to travel by air or road. But even if you want to take a boat you have to reach Calais via English Channel and from then proceed to Austria. But if you want take the ferry, then ferry from London to Vienna via Dover-Calais ferry. It will cost around 40-60 Euros to take a boat from Dover-Calais. And it takes almost an hour or two to cross over and a day or two for the whole trip of moving from UK to Austria. The total distance is around 1000 miles.
What's capital of Austria?  
The beautiful town of Vienna is the capital of Austria and is said to be the "city of dreams". It is the heart of Austria in every sense like culturally, economically, historically and politically. After Berlin it's Vienna, which has the highest number of German speaking population with 3 million inhabitants. It is historically post-Christian century when Romans set camp in Vindobona, and the Imperial palace was a home for Habsburgs for more than six centuries.
It is also considered the city of music and has been known to play an important role as European music centre. Culturally music plays a significant role because legends like Mozart and Beethoven. But it is not just music it is popular for; it is also famous for its architecture and history. The design ranges from classic to modern and some of these ranks among the best examples of art Nouveau in the world. There are many museums that are a storehouse Austrian history and art like Hofburg museum that houses the imperial jewels of Habsburg dynasty.
Vienna also happens to be the capital of nineteenth-century ball and last of its kind; it hosts many live orchestras. It's not just the culture or history Vienna is also ranked number one as world's most liveable city and was ranked first for its culture of innovation. Vienna hosts many nationally and internationally recognized professional schools and colleges.
Austria's economy
Austria is officially recognized as the Republic of Austria and is a federal republic landlocked country. Austria is the 12th richest country globally in terms of GDP (Gross Domestic Product) with a highly developed social, economic market and standard of living. No you know why there are so many Britons thinking of removals to Austria from UK. The economy of is mainly divided into three parts. They are agriculture, which is comprised of 5.5 percent, industries 27.5 percent and services 67 percent again that includes tourism- 9 percent of the total economy.
The major industries in Austria are machinery, energy, metallurgical products and textiles, international removals of various products. And next highest earning industry after these industries is the tourism industry, with a very well established international tourism. Austria is the fourth richest economy in the European Union, just after Luxemburg, The Netherlands and Ireland. Agriculture comprises only a small part of Austrian industry. Even service industries play an importance in increasing the gross GDP of Austrian economy. Also, tourism that is an important factor of Austrian economy with it influencing at least 10 percent the total GDP. One-third of Austrian energy consumption is looked after by national energy industry with 70 percent of the energy coming from renewable sources like water.
Even though Austria is a tiny wine growing country. It is still ranked among the top wine producing countries. But it is not found easy to find a job in Austria if you are the foreigner due to their strict work, residence and immigration rules and permits. But the job opportunities are plenty as it is an industry oriented economy and always requires employees to work in these industries. But the job opportunity again depends on the individual's skill set and opening in the said industry. Being a foreigner makes it difficult to get into the tourism industry. This is because most of the Austrians are well versed in their history and culture than you, but even it will have few vacancies that you might be able to work for. The average salary of a person can be around 20000-25000 Euros per annum, and single a woman can earn up to 20,000 Euros, and a man can make up to 30,000 Euros annually. And a medium range of net income can be anywhere between 15,000-20,000 Euros per year. But all this income range again depends on the industry or type of job an individual has. But in general living in Austria is considered as high living standard as it one of the richest countries in the world.
Interesting facts about Austria
There are many interesting facts that may make you to choose Austria as a best place to move to:
An Austrian named Josef Madersperger created The sewing machine in the year 1818.
The central cemetery, known as Zentralfriedhof, of Vienna, the capital city of Austria, has more graves than the live population. It has more than 2.5 million graves including the tombs of famous people like Strauss, Beethoven, Gluck, Schoenberg, Brahms and Schubert.
The largest emerald in the world that weighs around 2860 carats is displayed in Imperial Palace or the Imperial Treasury of the Hofburg, located in the city of Vienna.
The oldest Inn or restaurant that is still in operation in located in Austria. Stiftskeller St. Peter, Haslauer was started way back in the year 803 and was also the oldest company founded in Europe.
The founder of the famed German car 'Porsche' was an Austrian named Ferdinand Porsche. He is also the founder of the 'people's car' called Volkswagen.
Sigmund Freud remembered as the father of Psychoanalysis was also an Austrian.
The first ever woman to win Nobel Prize for peace in 1905 was Bertha von Suttner, who is an Austrian radical pacifist and a novelist.
Around 25% of the total population of Austria lives in the capital city Vienna.
The Austrian Alps covers around 62% of land area of Austria.
This country has the second lowest unemployment rate after only Luxemburg in the European Union. The average rate of unemployment noted from the year 1960 to 2013 is about 4.59%.
The Krimmi Falls, locally known as the Krimmler Waterfalls, is the tallest waterfall is Europe.
Located in the state of Salzburg, it flows down from a height of 380 meters.
Austrian people are known to work for the longest hour in the whole of Europe. They work for an average of 45 hours in a week.
Many of the classic and most famous music composers of the world like Mozart, Strauss, Schubert, Haydn, Bruckner and Mahler are Austrians.
Austria is the only European Union continental country that is not a NATO member.
Austria is home to world's oldest Zoological garden the Tiergarten Schönbrunn, which is located in Vienna and was started way back in the year 1752.
Austria boasts of one of the world's oldest national flags. It dates back to the year 1191 when Duke Leopold V fought the battle of Acre during the era of the Third Crusade.
The well-known summer palace of the famous Habsburgs, the Schönbrunn Palace, has around 1440 rooms.
What is Austria famous for?
Austria is famous for a lot of things including for being one of the countries that has the highest number per capita of Nobel Laureates. Up till the year 2012, there have been 19 Nobel Prize winners from Austria with four in Chemistry, seven in Medicine or Physiology and three in physics. This country is also very well known for all the famous classical music composers that have made this world a truly musical place. Musicians like Mozart, Strauss, Mahler and Haydn are all Austrians who have created eternal music that are still extremely popular all over the world. Arnold Schwarzenegger, the very popular Hollywood actor as well as the Governor of California grew up in Austria and have made this country famous all over the world. Possibly the individual who is the most responsible for making Austria famous is also known as the father of Psychoanalysis worldwide, and he is none other than Sigmund Freud. When moving to Austria from UK you will definitely have a lot of more contact with the cultural part of the world.
There are many other things that Austria is famous for apart from the famous Austrian people. One of the things is food. The Pez candy and Apfelstrudel are two of the most famous food items that are must try for anyone visiting Austria. This country is famous as one of the four countries that speak German in the world as well. Yes Removals to Austria from UK will be full of new things and pleasant experiences.
At present the biggest thing that makes Austria famous is that the popular energy drink Red Bull has its headquarters in Austria.
Reasons to relocate to Austria from UK
Austria is a gorgeous country that offers a journey of a lifetime. By removals to Austria, you would have a life that is full of surprises and is at once exhilarating while also being nerve-wracking. Most people who are moving to Austria do so for the determination of work, education or for personal reasons like getting married to an Austrian citizen and shifting there, and so on to name a few reasons. It is a country that is comparatively safe for women and also offers an excellent education system. Since the unemployment rate in Austria is quite low compared to many other lands all over the world, the possibility of getting work is quite good as well. This makes it one of the biggest reasons for people from all over the planet moving to Austria. Especially people from the war-torn countries find Austria to be extremely safe and peaceful, and it is.
In terms of GDP, Austria is also one amongst the 11 richest countries in the whole world and hence offers a high standard of living along with a very well developed economy of the social market. The healthcare system of Austria is extremely well developed too. The World Health Organization ranked Austria number 9 in world health care system, which is, of course, quite right. Hence, it is no wonder that moving to Austria poses a very attractive option for most people all around the world. Relocating to Austria with family is lucrative too, since the education system of this country is extremely well developed.
The agriculture production was expensive even a few years ago due to the small and fragmented farms. But the agricultural segment of Austria has undergone extraordinary changes, ever since the country became an active member of the European Union. This is mainly due to the Common Agricultural Policy or CAP undertaken by the European Union.
All the above contributes to making AUT one of the best countries in the world to relocate to and offers a reason for moving to Austria.
Top place to visit in Austria
Austria is a very fascinating country that is rich in history, culture and there are numerous beautiful as well as interesting places that can be visited in here. There are numerous places of interest in Austria, but some of the most interesting ones are listed below:
The Schonbrunn Palace – it is one of the most attractive tourist destinations in Vienna, the capital of Austria. Often compared to the grandeur of Versailles, this Palace was built way back between the years of 1696 and 1712 by Maria Theresa to turn into a summer Palace as requested by Emperor Leopold I.
This palace has a total of 1440 rooms. The beautiful structure also houses quite a few enticements like the oldest zoological garden in the world and a maze along with a summerhouse made of marble.
Grossglockner Alpine Road – This road is a toll road, but the panoramic and breathtaking view of the neighbouring more than make up for what you spend on toll. The Grossglockner Alpine road would take you to the Kaiser Franz Josef Höhe Visitor Centre. This is the area from where you can get an unobstructed view of the wonderful Grossglockner, the highest mountain of Austria. The fantastic alpine scenery on this road can be enjoyed from May beginning to October end.
Melk Abbey – one of the most well-known monasteries worldwide, the Melk Abbey is located on top of a high cliff that overlooks the peaceful Danube River. Originally it is the castle of Emperor Leopold II; this amazing Benedictine Abbey was given to the monks to be turned in the year 1089 into the place for learning and tranquillity. One of the grandest examples of the famed Baroque architecture, this spiritual centre is well known for being a symbol of the flourishing liberal arts and music during its time.
Hohensalzburg Castle – one of the most well preserved as well as one of the largest castles to be built during the medieval period in Europe is the Hohensalzburg castle. Located on top of the mountain of Festungsberg, this fortress strategically dominates the skyline of Salzburg and towers over this magnificent city.  Stunningly symbolizing the medieval architecture, the Hohensalzburg castle is home to the Salzburg bull. It is the organ that has more than two hundred pipes.
St Anton Am Arlberg – this is a ski resort area located in the village of Tyrol. People looking for serious challenges in skiing should visit this terrain at least once in a lifetime. The wintertime sees this legendary landscape attracting skiers from all over the world while the summertime in this area finds people looking for some adventure activities like trekking. The beauty of this place is awe striking round the year and hence there is no scarcity of tourists visiting this place all through the year.
Hallstatt – A quaint little village in the region of Salzkammergut, Hallstatt is not only well known for its production of salt, but it is also extremely picturesque. These glorious Baroque village boasts of prestige and wealth accumulated from the industry of salt. The sight of the prehistoric man well preserved in salt and the subterranean salt lake of Hörnerwerk cavern are interesting and fascinating places to visit in Hallstatt. 
Education
A minimum of at least nine years of education is mandatory is Austria, and there is a system of free and public school offered by the republic of Austria to serve this purpose of compulsory education. Beyond the nine years of compulsory education, there is the option of pursuing one to four more years of preparatory education from schools that offer university-preparatory and vocational-technical courses. There is a federal ministry of education that is not only responsible for inspecting the education system, but also for supervising it. It is as well responsible for funding the primary education, secondary education and from the year 2000, tertiary education also. The School Act of 1962 forms the legal basis for primary as well as secondary education in the country. The authorities of that particular state control the primary level, as well as the secondary level of education inside each state level.
Children in Austria first need to complete their initial four years of elementary school also locally known as the Volksschule. After this, the most gifted students can study in institutions granting higher studies that would prepare them for universities and the others move on to preparatory vocational schools. Most general, professional preparatory schools can be completed in around eight years while the institutions were offering higher education or Gymnasium as it is commonly known required around 12 years of learning.
There are also private schools that are mostly, but not at all exclusively run by the Roman Catholic Churches. These schools offer primary and secondary education along with teacher training. These private schools, especially the Roman Catholic-run schools have a reputation for being more disciplined and are considered to be elite schools in Austria. However, there has traditionally been a virtual monopoly of the state in higher education, which is slowly changing with more and more private universities emerging in Austria. Removals to Austria with children has a lot of advantages. If you want your kids to get a good education you could make up your mind based on that reason.
Religion
Austria is the country that has many religions in it. The major parts of the population of Austria were Protestant as this population has gone through protestant reformation. This condition has undergone a change when there was one more counter-reformation in which Protestantism was wiped out, and Catholicism was again brought back. This made Catholicism come up as the dominant religion. The major part of Jewish population who were living in Vienna got reduced to some thousand through the mass emigration that happened in the year of 1938. The major religions that are prevalent in Austria include the following.
Buddhism
Buddhism is the religion that has got legal recognition in the country of Austria. This is the religion that is followed by so many people. Even when Buddhism is the religion that has got only few members this is the place that has got accepted by Austria. Majority of the Buddhists who live in the country are of the Austrian nationals.
There are opportunities for the persons to have foreign nationals employed for the job. There are chances for the individuals to be represented by various groups of many sizes. Vienna has got a tremendous amount of foreign residents and also was a place that has got tradition of Buddhism for the longer time. This place has got so many centres where Buddhism is practiced and also temples of Buddhism. Some of these places have got Japanese, Tibetan, Vietnamese and Chinese look. The latest way in which the development of the area has happened is through the establishment of Buddhist cemetery that is established near a building that looks like a Stupa.
Christianity
Roman Catholicism is the dominant religion that exists in Austria. This is the religion that has about 62.4 percentage of the population of AT. Other than this stream the Protestantism and orthodox Christianity are the other forms of Christianity that are prevalent in AUT.
Islam
The number of Muslims who live in Austria has increased exponentially in last decades due to the immigration of Turkey and Balkans. The religion but still do not have much amount if support like Christianity and Buddhism but it has got about seven percentage of the population of the country in that population.
Paganism
There is a massive growth in pagan movements in the current years especially Germanic Heathen, Druidic, Witchcraft, Wiccan and such groups. All these various beliefs and religions are prevalent in the country.
Culture
Austria is a place that has got originated from the prehistoric times. Austria is the place that got inhabited with Celtics from prehistory until it comes under the Roman control from the first time. By end of second-century people like Bohemians, Huns, Germans and Slavs started moving to Austria. With the end of the fourth century, Roman Empire got established in Austria. Austrians call Osterreich for their country. Austria is a land that has got nine provinces. It is bordered and also landlocked by about eight countries that have got distinct cultures. This country also has gone through cultural invasion at different times. The diversity in the culture of the Austrians also happened due to the various groups that are living in Austria.
Linguistic Affiliation
Austria is the only country except Germany that has got German as an official language. It has about 98 percentages of the population of the country who speak German and also the dialect of the language. The German of Austria can sound much softer than the language in Germany. This country also has got various regional dialects that of German that include Weinerisch and that are spoken in the place called Vienna. Slavic minority of Austria who is located in eastern and southern part of the country speaks Croatian and Slovenian as first language. English is such a language that is taught in the form of second language.
Symbolism
National emblem of the nation is a black eagle on Austrian coat – of arms. There is a civic crown on it representing the middle class of Austria and the sickle on it depicting the farmers. The hammer is the one representing artists, and a broken chain is the symbol of freedom that the country has got from the control of Nazi German. National flag of Austria has got bars of white and red. "Land of the mountain, land on the river," this is the national an them of Austria.
Emergence of Austria
Austria emerged in the form of a political entity in the 976 AD and Otto II gave this area to Bavarian nobleman – Leopold of – Babenberg. Australia flourished well both economically and culturally under the reign of this dynasty. This dynasty has constructed many beautiful monasteries and fortresses. Danube became a major part of the trade and Vienna is made as the capital of the country. German ethnicity and Roman Catholicism got hold in this area. When last duke in the dynasty of Babenberg died without having an heir in 1246, Rudolf from Habsburg who is of Roman Empire took control of the place. Habsburgs were so good in expanding empire through marriages that are politically influenced. The empire of Germany expanded to such a level that Austria covered as the major part of Germany and become the super power of Europe. There were many other changes happening to Austria before it came under the control of Germany. The world war and many such things shook the whole economy of Austria.
National Identity
There were so many ethnic groups who lived in Austria during Habsburg Empire and the strongest one among them from Germans. These people considered themselves Germans while they showed loyalty to the province they were living.
Austrian Food
Austrian cuisine is the one with a distinct style that exclusively belongs to Austria. The cuisine of the country has got so much of influences from the Austro – Hungarian empire that was prevalent in the place. This is the country that has got the influence of Balkans, Germany, Bohemia, Hungary and Italy in their cuisine. The fusion among these different styles of cuisines had a greater influence over the Austrian dishes. This cuisine has also got many associations to the Viennese cuisine. There are significant variations in the food of Austria depending on the various regions.
Lower Austria
Lower Austria is the place that has got local delicacies that include Wachau, Marchfeld asparagus, and Waldviertel poppies. Marillenknodel is another traditional one, which has got filled with breadcrumbs that are warm – butter fried and apricots in that. The influence of this can also be found in local cuisine like the Mohnnudeln. This is the place that has got so many Game dishes very common among the locals. There are so many variations in the regional cuisine itself in lower Austria due to the difference in the variety and size of the landscape.
Burgenland
If you are shipping to Austria your belongings and plan to live in Burgenland it's Cuisine is the one much influenced by the cuisines of Balkans and Hungarian. These cuisines owe the individuals with former position within Hungarian part that of the empire of Austro – Hungary. The major dishes of this place include pork, chicken, and fish. They used to use potatoes in the form of the standard side dish. They use to make Great Krumping and such dishes as the side dishes. The influences of Balkan make the dishes of Burgenland be space than in any other places of Austria. These dishes are usually known as Sorbic, zingeuner and so on. The Christmas dish of this area is carp.
Removals to Styria
This is the place that has got greater variations from the style of the Austrian cuisine. The wine of the place itself is much different from other areas. Verhackertes is a favourite dish that is usually served in the inns of Styria. Dry rose is a kind of wine that is found in West Styria. Another unique Styrian delicacy can be considered as the pumpkin seed – oil. This is the one that can be used in salads because of the nutty taste that it has got. There are so many various kinds of pumpkin dishes that re much popular in this area
Removals to Carinthia
There are several lakes in this region Carinthia for which fish is the most staple and ordinary food of the area. Carinthian cuisine comprises of meat, dairy products and grain as the common ingredients in that. Kasnudeln and schlickkrapfen are the familiar and traditional delicacies of the place. Reindling and Klachlsuppe are other locally produced dishes that are so much popular in their cuisine.
Moving to Upper Austria
The cuisine of upper Austria comes with different kinds of dumpling. They form as the neighbouring country to Bohemia and Bavaria. Linzer Torte is the cake that is popular in the area that comes with redcurrant jam, nuts and ground almonds in that.
Austrian national Tradition
When it comes to the culture of Austria the two major things that can strike people moving to AUT include the Alps and Dirndl dress. The tourism industry has made so many changes to this older concept and now Austria is a romantic place to visit. There are so many customs and traditions in Austria that are dated back to the ancient period, but are still prevalent d are connected in one way or another with the regular life of the Austrians. There are so many rituals, celebrations as well as symbolism that are present in here as it was a Catholic nation for so many years. Many events and traditions are associated with the life of Austrians based on the months.
January - NeujahrsscheiBen is the festival that is celebrated in Austria with the dawn of a new year. This festival is for saluting the new year. January also comes with other festivals and traditions like Weiner Musikverein; Glocklee and raunanchte are the major things that happen in Austria.
February - February is the month that has got the ball season in Austria. National ball is a major event that happens in February, which is the chance for wealthiest ones to show their wealth and status in society. Opernballdemo, life ball and fishing are some other awesome things that happen in this month.
March and April - Easter is a great celebration that takes places in these months after about 40 days of lent. After a week of Palm Sunday there are so many customs that happen in Austria as per the regions, Passion plays, Painting the eggs and so on. St. George; s day is celebrated on 23rd of April.
May - Philippinacht is the name of the night just before the 1st of May. It is the night when they follow the orders of Apostle Philip and collect all the untidy things on the street. Labor day, Narzissenfest are some other unusual things that happen in May.
June - Fronleichnmastag, Pentecost is some of the things that happen in this month. Samson procession also
Takes place in the month of June. 21st June is a fantastic time when bonfires are lit on the mountains. This is something that happens as per the Pagan custom.
July and August - As per the ancient customs, most of the time during these months should be spent by swimming or by drinking beer for happiness. St. Jacob's day, wrestling competition, sword dance, etc. are some of the other happenings that occur during these months.
September and October - These are the months when the crop festival, thanksgiving customs etc. are celebrated in various areas of Austria. They also celebrate All Saints day on 31st of October.
November - The 1st day of November is observed as all souls – night in Austria. This is the month that also has got the St Martin's Day. There is a custom of eating goose that has got Blaukraut and the bread dumpling.
December - This is the last month in the year and that has got the celebration of Christmas. There are so many customs and traditions there in the country related with Christmas. Krampustag and Barbara's day are other things that are celebrated in the month of December in Austria. Advent, New Year 's Eve called as Sylvester are other amazing things they do along with Christmas in December.
Healthcare and Insurance
Austria is not the place that comes under- developed or developing. This is the country that has developed well in various areas. Population of Austria is also not much and so their infrastructures in all the areas are much sufficient in uplifting the living stand of the population of their country. The health care sector of this place is also of world class standard. They have exceptionally equipped hospitals and highly experienced and skilled.
System
The healthcare sector of Austria is an appealing one. The healthcare system can be considered as two-tiered one. There are chances for all the citizens to get medical care from the funds of the government. There are also options for the individuals in purchasing health insurance that are available in the private sector. There are also individuals who pay all the cost associated with their medical care privately.
In Depth
Healthcare in Austria is something that can be available universal and are applicable for the individuals moving to Austria from EU countries and also the residents of the state. Students who come from various other countries like Switzerland, EEA or EU, who is having national – health insurance in their country can also get the service from Austria without using the European – health insurance card. The students who are self-insured, need to pay some insurance fee. The care that the individuals get from a private insurance – plans include care from the private doctor, private room and also visiting hours that are flexible.
International Comparisons
Heath care system of Austria has got 9th place from WHO. This ranking is received by the healthcare sector of Austria when the infrastructure is compared with all the facilities available in the healthcare in all other countries in the world. The Capital city Vienna has been listed as 1st in terms of standard of living by Mercer Consultants.
History
The heath care system of Austria got developed along with social welfare programs that were introduced by Social democratic – part of Austria. This is a huge thing and has made the country independent. It has got flourished into a great one in terms of medical care and also quality in terms of life. People from numerous parts of the earth have affinity to spend their lives in Austria due to the amazing infrastructure that they have got throughout these years. 
Removal Services
Professional UK to Austria movers are relocating more and more families from and to major regions of Europe. They are quickly becoming the man and van of preference for full and part deliveries of boxes, furniture and cars to all regions in Austria. We can ship items in wooden crates to Burgenland from London, deliver beds and sofas to Carinthia from Bristol, provide cheap removals to Lower Austria from Manchester, organize full house contents shipping to Upper Austria from Birmingham, send boxes to Salzburg from Glasgow, transport a car or a motorcycle to Styria from Coventry, move excess baggage to Tyrol from Edinburgh, forward machinery to Vorarlberg from Leeds or plan and undertake full house moving to Vienna from anywhere in England, Wales, Scotland or Ireland.
With the knowledge of local areas both in the UK and in Austria and the experience that has been gained over many years of carrying out cheap shipping to Austria from the UK and transferring complete households and personal items across Europe, our removal services take the trouble out of the shoulders of people relocating to Austria. Also on account of regular furniture removals to Europe we can provide substantial savings in removal cost for the people moving to Austria. We offer pickup and delivery services that can be described not only as door to door removals to Austria from UK but as collection, delivery and positioning at the final destination. This means we would not ask you to load and unload the removal van. We will take the furniture out of your house, securely pack it, load on to the lorry or shipping container, deliver to your new house and position the items where you want so that you do not have to carry them.
Moving services to Austria and back to the United Kingdom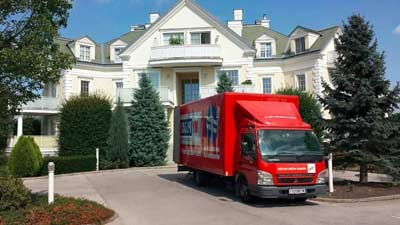 The Removals to Austria from the UK arrange regularly partial and full deliveries to all Austrian regions. For example we can move house to Innsbruck from London, organize cheap shipping to Vienna from Newcastle,  organize full or part load container shipping to Salzburg from Chester, send 10 or 100 boxes worth of personal things to Wolfsburg from Aberdeen, prepare full house moving to Graz from Northampton, transport car to Baden from York, carry out the haulage of have plant machinery to Tirol from Bradford, undertake extra luggage shipments to Styria from Wakefield,  export domestic goods to Carinthia from Coventry, prepare the moving of sporting equipment like golf clubs, skis or snowboards to Upper and Lower Austria. Do not waste time and compare moving quotes to Austria form London, Glasgow, Aberdeen, Inverness, Dublin, Belfast, Leeds and from all the UK. Whether you are moving to Poland from Austria, Bulgaria or to other locations, you can get our services at affordable rates.
If anyone intends to relocate from UK to Austria or to move to the UK from Austria, our removal services can be suited to your needs and provide considerable cost saving while moving your furniture, books, clothes, kitchen items etc... We will ship your stuff to all places in Austria on pantechnicon that have air suspension for an additional safety.
Share the shipping cost to Austria with others
By offering regular removals to Austria and relocation across the Europe, some moving companies offer a service partially loaded van option. It does not mean that the moving lorry travels all the way half empty. The remaining space is sold to other customers reducing the shipping costs as you pay just for the space your goods take on the van. Such service is also called shared, part of groupage container shipping to Austria and works when there are combined deliveries. This makes significant savings on the cost of removals to Austria..
A lot of clients find it reasonable to purchase furniture in UK and later send it to Austria. Removal services can help by taking shipments direct to their offices and then moving them to your destination.
Whether you want short or long-term storage for your furniture, household equipment, business property, office furniture, computers or business archives international movers to Austria can offer a sheltered and secure storage solutions.
Storage Services from movers in Austria
When you require storage for your furniture, boxes, suitcases and other private and family things, our familiar moving companies in Austria can offer sheltered and secure private container storage settings. They will gather your things, and pack them into compartments where they will stay fixed until redelivery. When you require storage for your business equipment, servers, pedestals, desks, meeting table packing and moving, warehouse stock, records or archives, Cheap removals to Austria can store any of these for short or long term. They will store your belongings in protected, secure and clean distribution and storage centres so you can have the significant serenity that they are in great hands.
International removal companies to Austria can likewise offer crisis storage and calamity recuperation. Along with the removal and storage services, there are many other related services that they can assist you with. Some of them include pet transport, cash exchange, and vehicle transportation and a complete packing solution for both national and worldwide moves.
Packing, moving and storage by UK to Austria movers
Cheap UK to Austria movers can offer a part or full packing options. Packers will wrap all your things utilizing quality-packing materials. All you delicate, fragile and easy-breakable mirrors, paintings, ornaments, porcelain, plates, mugs, glasses and antiques will be properly packed with at most care. If necessary all precious items will be crated as we can design and build wooden crates ideal for shipping to Austria fragile things and objects.
In the case if you decide to pack yourself, you can look over our wide range of fantastic packing materials available. You can buy them from our moving boxes online shop. These materials include all packaging and packing materials you will need. We have over 20 different types of cartons and crates.
The costs of boxes and packing materials will be provided on the quotes as an option. Next to each box you will be able to see its usage, dimensions and price.
Our cheap moving firms to Austria can provide:
Collection of stuff from any place in UK
Part or Full load service from and to Austria
Personally tailored removals services to suit all demands
Complete export packing service
Special care for fine antiques and art
Insurance options