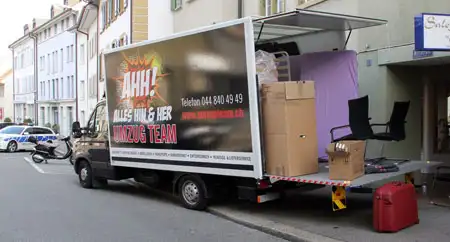 Removals to Switzerland from UK
A
Sending boxes full of personal effects or shipping furniture to Switzerland from the UK is something you may need if you are planning to relocate. With our experience and extended network international moving companies your removals to Switzerland with our firm will be a pleasant experience.
Give us a call, chat to us online or simply use a simple form online. Within a couple of hours you could be comparing quotes for moving your belongings. Do not waste any more time and save money on your shipping costs to Switzerland.
We can ship your excess baggage to Zurich, deliver furniture to Geneva, send boxes to Basel, export a car to Lausanne, forward a motorbike to Bern or move a full house contents to Lucerne. We can arrange shipping goods to Winterthur, electronic equipment moving to St. Gallen or paintings and antiques removals to Lugano. Basicaly we can ship all different types of items to Bienne, Thun, Köniz, La Chaux-de-Fonds, Schaffhausen, Fribourg, Vernier, Chur, Neuchâtel, Uster, Sion and all the Swiss Confederation.
Moving to Switzerland - most importent facts
Where is Switzerland? Switzerland presents a spectacular tableau of the enthralling charm of the nature in its best form. Rightly called as "The playground of Europe", it offers a vivid range of the enchanting experience to intoxicate all the visitors with its stunning landscape.   Switzerland, which is very well known for its smooth silk chocolates and cuckoo clocks, offers an epic journey; which help one to explore some of the hidden mysteries of the nature. It is a landlocked land; which is located in the western and central Europe. It is surrounded by five other countries; France lies to the west; Austria and Liechtenstein are on the east whereas Germany to the north and Italy to the south. It has a maximum length of 220km in north-south and 350km in east-west direction. Each year there are a lot of Germans moving to Switzerland.
The most surprising part of Switzerland being it's independent status even though it is surrounded by powerful neighbours like German, France, Italy. This is primarily because of the natural barriers that Switzerland enjoyed. It has Jura Mountains separating it from France to west, big Alps mountains isolating it from Italy in south and Austria in the west, rivers and lakes different Switzerland from Germany in north.  Internally it is geographically divided between the Jura Mountains, The Swiss Plateau and the Alps. Alps cover the major area of the Swiss Confederation; but most of the population is located on the plateau that also includes the major cities Zurich and Geneva. The Swiss plateau takes thirty percent of the area of the land and is most populated one. The Swiss plateau consists of lush green meadows and open areas meant for grazing and for growing fruits and vegetables; rolling hills and splendid lakes.
Area
The land area of the Swiss Confederation is 15,355 square meters (39,769 square km), and the total area is 15,942 square meters (41,920 sq. km).
Population
The total population is 8,061,516. The population density is 195 people per square kilometre. The growth rate is 0.78%, and birth rate is 10.48 per thousand. It has 3.73 per thousand as the infant mortality rate. The life expectancy is 82.39 years.
Currency
The currency of the Switzerland is Swiss Franc. It has different names in the four official languages viz: "Franken" in German, "Franco" in Italian and "Franc" in French and Rialto-Romanic.
Weather
Switzerland has the moderate climate which is neither too hot nor too cold. The daytime temperature from July to August varies from 18 to 28 degree Celsius. From January to February it ranges from 2 to 7 degree Celsius. Throughout the spring and the autumn season, the temperature ranges from 8 to 15 degree Celsius. The temperature also varies depending upon the altitude of the place. Switzerland has cold, cloudy winters with rain or snow. The summers here are usually hot, humid and cloudy with some occasional showers. If you are going on holiday we will be happy to organize the shipping to Switzerland of your clothes, sporting equipment and excess baggage.
All the seasons are marked distinctly. Throughout the autumn season, from September to November; the colour of the leaves changes and fruits get ripened.
The winters are usually cold and snowy. During the spring time, from March to May; the tree blossoms and render greenery and freshness to the atmosphere. During the summer season, the temperature remains between 25- 30 degree Celsius.
Country code
The country code for Switzerland is "+41"; which may be used for dialling in Switzerland from the other parts of the world; after the international dialling code.
What language do they speak in s Switzerland?
Switzerland has four official languages; French, Italian, German and Romansh. 63.7% of the population speaks German; 20.4% of the population speaks French; 6.5% of the population speaks Italian, and 0.5% of the population speaks Romansh.  In the West of Bern; people usually speak French. In the east of Bern people often speaks German (except Ticino). In the south Canton of Ticino, people speak Italian. Romansh is the dialects that were descended from Vulgar Latin; it is spoken in many parts of the canton of Graubünden. Unfortunately Britons thinking of removals to Switzerland will have to learn one of the languages spoken. However almost every local person speak at least a little bit of English. For sure one will have no problems to do shopping.
Time in Switzerland
Switzerland time follows the Central European Time Zone; which is ahead by one hour from the GMT (Greenwich Mean Time). Summer time is observed in Switzerland also in most of the European countries by one hour during the summer season; i.e. two hours ahead of the GMT.
Switzerland biggest cities
The entire Switzerland is beautiful and very tourist friendly. Therefore, the big cities are seeped with history and tourist attractions. As a professional shipping to Switzerland company we can send your household goods and furniture to anywhere you want.
Removals to Basel: Basel is indeed a sumptuous city as it is concentrated with forty fabulous museums. Some of them are Basel Art Museum, which is devoted to the iron sculptor Jean Tinguely; the Museum of Cultures and the Foundation Beyeler and some of the grand playhouses and galleries. It is also famous for symphony orchestra and a chamber orchestra, and the musical theatre which features international productions.  It is also widely known for its classical and contemporary productions in the Playhouse and Basel Theater; which wins the heart of the millions by making grand performance. Basel is a green city as it has a plenty of parks and the Botanical Gardens along with the banks of the Rhine; hence the place offers the right atmosphere to relax and rejoice.  The Etoscha House has the biggest zoo in Switzerland; which treasure some of the rear species of the Namibian Savannah and presents a spectacular view of the untouched natural life of the creatures. Augusta Raurica near Augst holds the majestic ruins. The enchanting countryside of the Basel region is famous for the cherry trees; which display the beautiful blooming at the onset of the spring season. From the border of Basel; the Black Forest and Vosges Mountains are just a few meters away. The city is enlivened by regular celebrations and festivals. The major one is the yearly Fasnacht (Carnival). On Monday coming after Ash Wednesday, the city rises with the picturesque "Morgenstraich"; at about four in the morning.  All the lights go off, and a brilliant procession depicting panorama of vivid colours illuminate the streets of the city.
Removals to Bern: For its striking historic feature; Bern, the capital, Switzerland is marked as UNESCO world heritage city. It is six kilometres from arcades and the locals called them as 'Lauren'; it boasts of the longest weather-sheltered shopping promenades in the entire Europe. The magnificent city is marked with several fountains, unique historic towers, sandstone facades and the narrow streets. The elevated Rose Garden which is situated above the Bear Park and the 101m high platform of the cathedral tower offer the most breathe taking views of the old town along the river Aare. The place captivates the attention of lots of tourists because of its boutiques, bars and small cafes.  The best idea to explore the city is by strolling around. The Zentrum Paul Klee, which is located on the outskirts of the city houses, represents the most comprehensive collection by the artist Paul Klee.
The Albert Einstein House stands as a testimony of stay of the physics genius in Bern at the commencement of the 20th century; it offers an ideal match with the sights of the Einstein Museum. Some of the precious antique items are well treasured in the History Museum, Swiss Alpine Museum, Art Museum, and Communication Museum Bern.  All the government and official buildings of Switzerland are located in Bern as it is the capital city. Summer season is full of fun as one can enjoy bathing in the River Aare. One may also be able to indulge in swimming while enjoying a magnificent view of the Houses of Parliament.  As Bern and bears are inseparable; so one must visit the Bear Park, which is an abode of the family of the bears. The squares of the city offer vibrant weekly markets; the Onion Market, which is held on the fourth Monday in November, is also must visit.  Located in the heart of Switzerland, Bern also stands as the gateway to the Alps.
Removals to Geneva: Geneva is regarded as the world's smallest metropolis. It has the "Jet d'eau" which is a fountain that has a 140-metre-high water jet on the fringe of Lake Geneva. The place hosts a number of grand hotels and restaurants. The old town that is the heart of Geneva is famous as a shopping and business quarter. The focus of attraction of the town is the " Place du Bourg-de-Four", which is located in the oldest square in the city. The place stands out an ideal place to stroll around with numerous lakeside promenades, uncountable parks and enlivened side streets flocking with a number of people. The Grand-Rue Street is very familiar as Jean-Jacques Rousseau was born here. The "moderates", is a kind of the water taxi that enables the people to cross the lakeshore. The large ships call the visitors to take pleasure in cruises on Lake Geneva. Geneva is regarded as the "most international city" of Switzerland, as the European seat of the UNO is located here. International Red Cross also manages its humanitarian campaigns right from Geneva. It is also famous for trade fairs and exhibitions which raises the spirit of the people and create a festive mood. The "Horloge Fleuri" is a large flower clock in the "Jardin Anglais" (English Garden); which has won worldwide fame as a symbol of the watch industry of Geneva. The city contributes a lot in terms of art and theatre through the Grand Theatre and Geneva Opera House. The "Musée international de l'horlogerie", is a watch museum with elegant collection of musical clocks and exquisite jewellery watches.
Removals to Zurich:  Switzerland is located on the northern shores of Lake Zurich. The place has a multicultural approach and has a number of leisure activities for attracting visitors all over the world. Zurich's Main Railway Station is known as the central European railway hub; as it connects with the major cities of the other countries. The quality of life is remarkable as it is a major science and business centre. It is one of the most familiar places for study and research with several renowned education centres such as Zurich University and Swiss Federal Institute of Technology Zurich (ETH); that has borne several Nobel laurels. Zurich's shopping mile has won the fame as the shoppers' paradise as it offers the international fashion brands, watches, stylish bags, unique bags and jewellery. It is well known for the highest density of clubs in Switzerland and is well known for legendary nightlife. Here you can get international moving quotes to Switzerland.
The city has fifty antique museums and fourteen are devoted to the art. The institution of fine arts,  known as the Kunsthaus Zurich, treasure unique collection of paintings, videos, photographs and sculptures. The Rietberg Museum stands out one of the foremost centres of the non-European art in the world. The Swiss National Museum has a comprehensive related with the cultural history of Switzerland. The Grossmunster church and the Lindenhof square often regarded as the cherished emblems of the magnificent city.
Removals to Lucerne: Located in north-central Switzerland, this town has been a witness to many historical stories. Primarily a catholic city, but had undergone a lot of change during the wars between the protestant cities like Zurich, Bern and Basel. However, with wars becoming less frequent in 18th century the place grew well. About 25 percent area of the city is still forested, and the famous lake Lucerne is drained by Reuss River. The city houses the oldest covered bridge in the entire continent of Europe. Built in 1333 AD, the Chapel Bridge is 204 meters long and made out of wood. Interiors of the bridge host paintings by some of the most famous artists of their times. Besides the natural beauty of the place, there a number of renaissances styled monuments, buildings and churches. Most of the tourist attractions are besides Lake Lucerne, which makes it very easy for any traveller to plan their day. Also besides the lake is one of the worlds's best concert hall called "The culture and convention centre". In addition to this, there is Swiss museum of transport showcasing all modes of transport.
Switzerland is also known as the Swiss Confederation. It has got about 26 cantons in it. Bern is the seat of federal authorities and is called federal city. It spreads in Central and Western Europe. Austria, German, France and Italy are the countries on the borders of Switzerland. Swiss confederation was traditionally dated on 1st of August in 1291. This day is celebrated every year as Swiss – National Day. It has got a history of being neutrally armed as it never took part in any war from 1815. It has also joined UNO after 2002. Switzerland still has active foreign – policy, and they are always there in the forefront of any of the peace building- activities across the world. the Swiss Confederation acts as a birth place of many of the international organizations and Red Cross. Alps have covered a greater part of the area of Switzerland and the population is about 8 million lived on a plateau. This is the nation that is regarded as the financial centre of the whole world. Svizzera has got the most popular cities in the world.  It has got highest nominal - wealth for every adult. 
Flights o Switzerland
Flights to Switzerland are usually sub served by national airlines of Swiss. It is possible for the travellers to book tickets for flights to Swiss from UK through British Airways, KLM and also Easy Jet. There are many options for other countries also to Switzerland in terms of flights. As UK is a neighbouring nation to Switzerland, it is possible for travelling to Swiss from UK in just 1 hour and 50 minutes. The journey is simply short and can be comfortable if good flight company is chosen. All the airports below offer shipping to Switzerland from UK. The air freight is not the cheapest way of sending your personal belongings and luggage but it is definitely the quickest.
Euro Airport – Basel Mulhouse – Freiburg
This is the airport that is located about 8km towards the northwest of the place named Basel. This is an extremely sophisticated airport and has got all the facilities of bureau, ATMs and also banks. This is a good airport that can be considered in the place.
Geneva – International Airport
This is the International Airport, which is found about 4km towards the northwest in Geneva. This is also a well maintained and sophisticated airport that has got banks, ATMS and such required facilities available.
Zurich Airport
This is an airport that can be found about 13km north ways from Zurich. This is also an amazing place with all the facilities like ATMs, banks and so on. This airport also provides facilities for changing currencies.
Bern Bell Airport
This is an airport that can be found outside Bell and 9km towards the southeast of the place Bern. This airport has also got all the facilities available.
Driving to Switzerland
Total distance for driving from UK to Switzerland is about 628 miles that are 1011 kilometres. You can start driving from London of United Kingdom and can reach Zurich in Switzerland when you cover this much of kilometre. Choosing a road trip can be worth enjoying if you are with your family and you are with the plan to explore each and every contour of Switzerland. This journey can be imposing as you may come across May worth visiting places during your journey from UK to Switzerland. This is indeed long drive and need you to check for the fuel prices in the locality and also the number of hours it takes you exactly to reach a particular destination. It may also be needed for you to stop in between and stay in a hotel. This trip can be great. Zurich is one among the global cities that can have much to offer you. If you are thinking of driving your car this should not take you too long. Travelling in your car means also you will not need to ship smaller items and boxes to Switzerland. You will be able to transport them in your car. This will significantly reduce the shipping costs to Switzerland from the UK.
Ferry to Switzerland from UK
You can start your journey in Ferry from Kent to the Northern Part of Switzerland. This can be a great journey to consider. The cost of the journey by ferry can vary based on the kind of the service that you choose. If you select a ferry for overnight then you may require paying an immense amount on that. In the case of a boat for day time the cost can be less. You can choose this service as per your need. If you are choosing overnight ferry then, it may not be so comfortable to travel with the family as you may find it hard to sleep at night. You can take a trip then choose to stay back in a hotel at night and then can continue the journey next morning so that you stay fresh and can have a great adventure. There are quite a few shipping lines to Switzerland.
What's the Capital of Switzerland
Switzerland does not have any capital. Bern acts as the federal city and all the national authorities are located at this place. This is a town with fourth most population. German is the official language that is followed in Bern. Alemannic Swiss – German is the major spoken language of the city.
Economy of Switzerland
Switzerland has got high tech, prosperous and also stable economy. Schweiz has got the exceptional amount of wealth accumulated in the place. It is ranked as wealthiest one in the whole world. Svizzera is the one with the highest amount as an average wealth for every individual for the year 2013. This is a land with an economy that is in 19th place in the whole world with nominal GDP as well as has got the place of 36 in terms of purchasing power – parity.
Schweiz has got highest – European rating in terms of index of – economic freedom for 2010. It also has the capability of providing large coverage of the public services. The per capita – GDP of the Swiss Confederation is also much higher compared to Japan and other Central European – economies. The economy of Switzerland is the one that is highly competitive in the whole world.
Manufacturing is the major economic – sector of Switzerland. Construction industry is mainly focused on pharmaceutical goods, musical instruments, measuring instruments, health and chemicals. Shipping goods overseas can be about one-third of the exports. Switzerland's economy also much depend on the various service sectors like international organizations, tourism, insurance and also banking.
The economy of Switzerland is mainly that of private sector and has much lower rates of tax as ore the standards of Western World.
Interesting Facts about Switzerland
Switzerland is the place that is great for living as the economy of it is really high. This wealthy nation has got so many interesting facts related with that. The president election in here happens every year as the president is changes every year. If there is any issue for the Swiss citizens to follow any law that is passed by the parliament then that law is put to vote. If that particular law gets majority of votes then only it will be implemented. Before calling an election, concerned citizens need to get about 5,000 signatures for challenging the law. Switzerland is the land of lakes and wherever you go you can find a lake at a maximum distance of about 10 miles. About 60 percentages of the electricity produced in the nation is from hydroelectric power.
What is Switzerland famous for?
There are many unusual things in Switzerland, but the most amazing thing is it has not seen war since 1505. Whether it was world war or any other war, this nation had always boycotted wars and believed in peaceful relationships with all other countries of the world. Along with no war history there are plenty of other things, which make Switzerland famous. Suisse is also known for producing world class watches. Probably, you would have heard about Swiss watches and their prices. Switzerland delivers excellent watches all around the world, which are too costly and the symbol of luxury.
Another event of the history that makes Switzerland famous is establishment of an international committee of Red Cross in 1863. This committee was established to help all the injured parties of world war and today it is spread all over the world and made Switzerland famous for initiating such amazing program. Have you ever tasted Swiss chocolate? If not, then you should feel it now because it produces many kinds of chocolate, and these chocolates are sold all over the world. Svizzera has also become famous because of its dairy products. There are many cows in Switzerland and through them people get an enormous quantity of milk to produce dairy products. The finest cheese in the world is produced by Swiss people, and it has too much demand across the whole world. Switzerland is the beautiful place and plenty of things to make your life wonderful and pleasant.
Reasons to relocate to Switzerland
The life, which people live in Switzerland, seems like a dream to live in. Having a home near real beauty of the nature and fully cleaned atmosphere to enjoy the quality life. The living standard is very high in here, and there are many reasons behind it. The very first thing that makes it best land for relocation is a real payment in all sectors of employment. Whether you come here as an employee or an unemployed person, for sure you will get the work and also with huge pay. If you are planning to relocate here because your company is shifting you to the branch of Switzerland, then be happy because you are going to live a great life. Nowadays more and more Britons are planning removals to Switzerland. Shipping the entire house contest is more and more popular.
There are many nations on the planet that provide good salary to people, but they also charge many kinds of taxes. Thus, almost part of earned money goes into paying taxes and individuals get a very little amount in their savings. Such things do not happen in here. You will not be charged unnecessary taxes and you will get good salary to work. Another reason for removals to Switzerland from the UK is facility of transportation. If you do move to Switzerland, you will get connected to many other countries of Europe. This is in the centre of Europe continent and provides travels to all the neighbouring countries. Thus, you will get many places to visit and also in jus few hours. So the life is amazing in here and for sure you will get many other good reasons for moving to Switzerland.
Check our shipping costs to Slovenia from Switzerland.
Top places to visit in Switzerland
I don't think there is any place in Switzerland, which you don't want to see. There are multiple locations, and many of them are among the most spectacular regions in the world. Well, few the most attractive locations in Switzerland are given below.
The Jungfrau Region:
There is nothing more impressive than the creations of the Mother Nature. Switzerland is blessed for it, and the Jungfrau Region is the biggest example of it. While you come here, you see the three towering mountains and their white peaks. It seems exquisite and what people say "the heart-touching beauty of the nature." In addition to mountains, you will also see charming green valley and far spread meadows. For sure it will realize you like you are from the heaven of on the earth.
Swiss national park
If you want to encounter the charm of wildlife, then come to Swiss national park. There are charming mountains and woodland, where a verity of animals resides. This national park is full of tourists in all seasons because it is gorgeous land where they see red deer, chamois, ibexes and many other animals with the beauty of nature.
Removals to Geneva
If you will go to Switzerland and won't visit Geneva, probably you will miss one of the most attractive places. Geneva city is situated on the shores of Lake of Geneva. Additionally it is the third largest town and centre of cultural attraction in Switzerland. There are large fountains, historical museums and various kinds of attractive places to visit and enjoy the life.
Along with above-given places there are many other locations to visit in Switzerland. If you are planning to relocate here, believe me you are going to live at one of the most wonderful places of the world.  
Education system in Switzerland
The educational system in Switzerland is too broad and integrated. There are great educational plans for every age's person. According to the local rules, every kid must attend the school. This is very necessary for parents in Switzerland to send their children in schools, at least to the primary education. The education in Schweiz starts with Kindergarten and ends at post-graduation level. In kindergarten, small kids learn basics of education. That means they learn how to read and how to write and the most importantly how to sit in school for a long time. After that, primary school starts, where kids spend six years of their life in learning whole basics about the world and study. Due to the great level of education Switzerland is a grate place for moving with children and entire family.
As students complete their primary education, they enter into secondary classes, where they spend three years in reading various things related to a different field of work. The secondary education is also divided into three different parts, like separate secondary, corporative secondary and integrated secondary. Thus, students get detailed knowledge about many types educational fields and they become experts. After that higher education comes for which many universities are available in Switzerland for each of educational field. The schools and colleges are the best in here. Some of them keep top ranks in the world that's why Swiss education system is considered as one of the best education systems in the world. If you are planning to relocate here, don't get worried about your kids' education. For sure they will study in finest institutions of the world to learn all about work and life.
Religion
Many people of different religion live in Switzerland, but almost people here follow Christianity. According to the total population, over 70.8% people are affiliated with Christianity. You would be amazed by knowing it that above 21% people do not follow any religion. Along with these individuals, Islam is the third largest religion, whether it is considered as minority here. In Switzerland Christian people also follow two kinds of Christianity. A significant majority of Christians follow Roman Catholic Church, while other Christians follow Swiss reformed Christianity. According to religion, Switzerland can be considered as a wealthy nation because at present time this is the nation of many faiths.
People across the planet are considering removals to Switzerland. Because there is no issue of religion and other things, people can previously migrate here and get a great life to live with family. One important thing you should know about minority is that people of other Christianity following also considered as minority here. You will rarely found Orthodox while Roman Catholics are a big population.
Tje Culture of Swiss people
Swiss culture now seems the mix of many European cultures. There is a significant reason behind it, and that is this country's establishment at the car fax of many central cultures of Europe. Normally a nation has one national language, but Switzerland has three national languages, and those are French, German and Italian. People are expert in speaking these three languages. Along with them a small minority also speaks Romansh. Thus, now we can say that Swiss culture is a mixed culture of few Major European cultures. While you visit Switzerland, you will find that people's way of living life is same, and they also enjoy every festival together, but some cultural differences are also visible here.
You can differentiate it according to regional bases. There are regional music, regional art and local thinking of people, as a nation it becomes one and farm a great culture by combining together. There are plenty of fantastic structures in Suisse, which were built during old age. All the ancient monuments and buildings are still standing tall here and that represent cultural interest of this land. Swiss citizens also have their local festivals, which they celebrate in their way. Every year travellers from all over the earth visit Switzerland for watching the carnival and alphorn and the snow-capped Alps.
From the ancient time, Swiss citizens had a great interest in doing cultural events and showed their culture. Today, their efforts come out in the form of many cultural events and their ancient structures. It is not hidden fact that Swiss culture is one of the richest European cultures. In addition, this culture has never become a barrier in precious growth of this nation. The cultural belief of people has always taken them ahead from other nations. Today Switzerland is considered as one of the finest countries of the world to live the life happily.
Swiss best Food
Taste of Switzerland's cuisines is delicious, and it includes many tasty platters. The Swiss dishes seem like fusion of many types of dishes. For example, you may feel the touch of German food along Italian influence. I just want to say that Swiss food is fantastic. Additionally the dishes here are made in many different ways. If you are taking the tour of Switzerland, you can have the chance of having many various European cuisines. If you love to have Italian food for dinner, you can go to the specialized restaurants and get it. Switzerland in established in the crossroads and Italy, France, Germany are its neighbour countries. Their cultural influence on the taste of Swiss nation is distinct.
The localities of Switzerland have adopted many recipes of their neighbouring countries. It is still on, and it was started in the old age. Now you can find out many French dishes in homes in here. People are expert in cooking many French dishes, like Papet Vaudois. This is a delicious dish, which you can often get in Swiss people's dinner. They also cook Care, Fondue, and Meringue, which all are French recipes, but now also available in Switzerland. This was about French food in Swiss homes, but people also cook many German dishes like Älplermagronen, Zürcher Geschnetzeltes, Landjäger, and Birchermuesli. These all dishes are also called the regional dishes of Germany's adjacent regions of Switzerland.
Shipping to Switzerland food products for personal use in boxes or containers is not recommended. You will be able to get most of what you want once you are in there. Also is is a place of many tastes. Everyone will find something delicious to eat.
The best thing about Swiss dishes is they are now being integrated. People love to do an experiment in food, and thus now many new delicious cuisines are available in Swiss restaurants to taste. Swiss people also love to cook Italian food, and they mostly prefer festivals for it. The ingredients for all kinds of dishes are purchasable from local town markets. You can quickly learn to cook local dishes and then enjoy it with your family.
Swiss Tradition
Switzerland's tradition is little complicated to understand. When people come here as a tourist, they find people love to snack chocolate, eat cheese and enjoy the blowing alphorn. These all are important parts of Swiss culture, which makes it perfect and very efficient. Geographically Switzerland is between three different cultures, and those cultures are the three central European cultures. Influence of those three cultures on Swiss culture is visible, and that's what we see today. You can also define the tradition on a regional basis, and every region will seem quite different from another part. Well, ultimately these all cultures become one, when it comes to countrywide a tradition.
There are some regional festivals, which people enjoy too much. Harder Potiche Parade is a celebration that comes in January month and this festival people wear masks and enjoy together. Another famous festival is Witches Downhill Race. There are many other enjoyable events in here, which you will enjoy after relocating here. Some people from different countries visit Switzerland only to enjoy these festivals, and these festivals have now become an integral part of this nation's culture.
Nowadays people love to enjoy their free time and for these they also visit clubs and restaurants. If you intend to move to Switzerland, you should know that people are very friendly to their friends and colleagues. If you are a foreigner to them, they will welcome you with an affectionate nature. There are three principal languages spoken in Schweiz which are German, French and Italian, and some people also speak Romansh. You may need to learn these languages to communicate with local retailers and other people.
Healthcare and insurance
Switzerland has probably one of the finest health and care system of the world. Here health insurance is very necessary to have. If you are going to become a Swiss citizen, you will inevitably need to have basic health insurance. If you do not do it, it will be considered against the law. The health and care are controlled by Swiss Federal Law on Health Insurance. For public health and attention, government has provided government hospitals. The largest public hospital is the University of Geneva, which has 2,500 beds and staff of 83,000 people. Similarly, the hospitals for public health care are established in the whole land. If you possess health insurance, you can reap the benefit of free treatment here.
Swiss hospitals also play a significant role in GDP. Every year hospitals add the good percentage of revenue in GDP. Well, the hospitals are very high-tech and fully equipped with all new equipment. If you are not feeling find and you have faced critical injuries at any outer location, you can call at emergency number, and an ambulance will arrive to you in few minutes. The health care system is very integrated and good for the citizens.
There are also many private hospitals in which some have cure of many critical diseases. People who arrive in Switzerland from other nations, they can easily get cure in private clinics and hospitals. In Public hospitals, it can be little tricky, but not in private hospitals. There are plenty of medical institutions also available, where students learn to treat disease and curing people. In the medical field, Switzerland is a good place to live, which offers good treatment for all diseases. 
Furniture Removal services to Switzerland
One of the common and critical elements of moving to any new place is removal of goods from your existing place to the new location. It is no distinctive in the case of moving to Switzerland from UK. Removal of items is one of the most important parts of running and it is extremely difficult as well as complicated process too. But, it does not necessarily have to be stressful or complicated if you just hire the services of an efficient removal company to remove your goods from UK to Switzerland. You can find quite a few excellent removal companies that offer services to transfer goods from UK to Switzerland or removals to Russia.
Different rules and regulations are followed by the different international removals companies engaged in UK to Switzerland removal and the time taken to deliver goods varies too. But one thing that is apparent to all such removal companies is that, everything from packaging to customs clearance is taken care of and the goods are delivered in as minimum amount of time as possible. For instance, our removal service (Removals and Storage) offers weekly removal service from UK to Switzerland as well as from Switzerland to UK or even other directions, like Moldova. Operating for around thirty years, this company provides removal of around thirty consignments within the two countries every week. Contact us today to check shipping from UK to Vatican cost.
Usually, the goods that would be moved from UK to Switzerland are collected between Mondays to Thursdays within a week. Then as per the geographical order of delivery to Switzerland, the items are loaded on Fridays onto the vehicles. The vehicles with the goods then leave UK and overnight on Sunday crosses The Channel to dock in France the next morning i.e. Monday. The vehicles then again drive through to Switzerland for the whole of Monday and gets ready for clearing the customs of Switzerland when the office opens on Tuesday morning. Deliveries are made during that Tuesday and Wednesday to all over Switzerland. We also offer affordable furniture delivery to Romania from Switzerland.
Reloading of goods that are to be delivered from Switzerland to UK takes place on Wednesday and Thursday after the goods to Switzerland have been produced. The loaded vehicles from Switzerland then return to UK for Friday night or latest by Saturday morning. The goods from Switzerland to UK are delivered throughout UK over the next week, and the cycle starts all again. Some companies like Britannia Bradshaw can also arrange for delivery of goods on the date that is suitable to you. Late requests for removal to and from UK to Switzerland can also be arranged for without any problems whatsoever. Our company cooperate with companies from the entire Europe, so if for example, you are looking for reliable removal companies to Estonia, we can send you their contact details.
Corporate relocation is also another service that is offered by our shipping to Switzerland from UK firm to all over in Switzerland, especially to Zurich and Geneva. Uniquely designed replacement packages are provided for smooth removal of goods. You can also opt for full loads or part loads, depending on your needs. The sizes of the goods are nothing to worry about either since, regardless of how small or large the goods are, the removal company would take care of them. Most reputed removal companies would collect consignments from anywhere in UK as well as in Switzerland. Some companies would even provide a collection of consignments from all over the world to be delivered to Switzerland. We cover also other routes, including UK to Montenegro shipping.
Usually, each removal consignment is priced individually based on a number of factors like the number of goods, the sizes of the products and the place of delivery, and so on to name a few factors. However, depending on UK to Switzerland movers you choose to hire, there would either be an estimator who can come over to your place to survey what you have to be delivered to Switzerland. They will also provide you an estimate accordingly. You can also fill an online form, like a survey, that would help the company estimator to provide an approximate estimate of cost for the shipping service. While most companies offer this estimating service for free of cost, especially if you are requesting the estimation through online survey, some companies may charge meagre amounts, especially if an estimator has to visit your place.
The shipping cost to Switzerland and estimates that you get from movers for moving goods from UK to Switzerland generally includes the charges for customs clearance and transport but excludes any taxes or duties. All documents related to the goods that you are sending to Switzerland from UK, which needs to be submitted to the customs office for clearance needs to be given to the removal company in advance. However, all kinds of goods might not need such accompanying documents. Hence to be sure, it would be best if you can have a discussion with the staff of the removal company that you have hired for delivering your goods from UK to Switzerland. This should be done much in advance from the date you want your goods to be delivered such that there is ample time to prepare the necessary documents if needed.
If your goods are not accompanied with proper documents, you consignment delivery might not only get delayed but it can be a quite expensive procedure to, to get the consignment delivered. Not to mention that the process would be extremely tedious as well. Hence, it is always better to be safe than sorry by following steps as well as by planning ahead before your goods removal to Switzerland from UK. If you choose well known and reputed removal companies, like ours, for transferring goods from UK to Switzerland, you will have to worry about nothing at all. The entire cheap removals to Switzerland process from collection of the consignment to delivery, everything would be the responsibility of the company. Our removal company (Removals and Storage) Offer door to door transport of goods, unless otherwise requested. You can also have the goods to be delivered at terminals and warehouses but on special request only.
Our UK to Switzerland removals do not have subcontractors doing the work but would be responsible for the whole process beginning from packing to transferring to unpacking. Hence, if you are moving to Switzerland, hire the services of a good removal company for a hassle free moving experience.
Contact us to find out how much is shipping to Switzerland from UK or check shipping costs to Gibraltar.