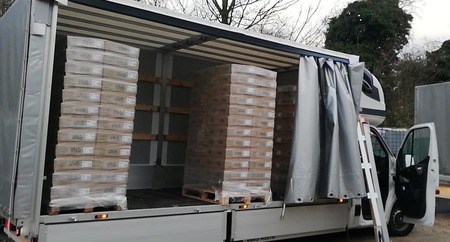 T
Did you make a decision on moving abroad and you are looking for the best options of shipping to Slovenia? We are here to provide you with a professional, trusted and cheap shipping to Slovenia from the UK. We will execute an utmost care in handling and transportation of your goods, be it boxes, pieces of furniture, antiques, pieces of art, instruments, fragile items, pallets, motorbikes or even pets between any European destinations, including shipping to Slovenia from UK, Poland, Cyprus, Finland, Italy, Spain, Norway, shipping boxes to Malta or any other place. Use our online form to receive a free quote for shipping goods to Slovenia, and check how much does it cost to move your household goods, office equipment, or shipping single item to Slovenia.
Although we specialize in international removals to Slovenia from the UK, we can cover also the opposite direction, as well as any moving project between European countries. It simply means that whatever you choose to relocate and whatever your destinations are, we can definitely help you with your cheap shipping to Slovenia. Our excellent offer includes:
Removals to Slovenia available 24/7;
Free survey at your house to meticulously recognize your moving needs;
Free and competitive moving quote;
Service of packing your goods and securing them for shipping to Slovenia, as well as unpacking them at your new house and disposal of waste packing materials.
Do you wonder what is the cost of shipping to Slovenia from the UK? If you have decided to undertake an international removal and found a perfect shipping companies in UK covering Slovenia, it's the high time to think how to prepare your goods for transportation. If you are thinking of sending goods to Slovenia, you may be interested in our professional packing service. Our experts will come to your house with excellent packing materials to protect all your items according to highest standards. Then your items will be loaded into a removal vehicle for shipping to Slovenia soon after.
We know that there are smaller removal projects too as not everyone moves a full house. If you need a single item delivery, or shipping boxes to Slovenia or small pieces of furniture, we can offer a groupage shipping to Slovenia from UK. Your goods will be combined with loads of other customers to fill the entire removal vehicle. Due to the need to wait for appropriate loads heading similar direction, it will take a little longer but it will be significantly cheaper as you pay only for the space that is occupied by your goods in the van or container. Therefore, it is crucial to correctly assess what you intend to move.
We can also help you if you are looking at shipping furniture to Slovenia. Our services will meet not only your requirements, but also budget and schedule. No matter if you are shipping furniture to Slovenia from UK as part of your household relocation or business operations as you want to send a sofa, chest of drawers or table to a buyer, we are here to meet your needs. All furniture will be carefully packed and prepared for cheap shipping Slovenia.
Shipping services to Slovenia from UK

There are hundreds of people willing to enjoy life in Slovenia and therefore in need of cheap international moving solutions, be it small removals to Slovenia or 4 bedroom house relocation. Whether you need a professional and cheap shipping companies Slovenia to move you to Ljubljana, Maribor, Celje, Kranj, Koper or any other city or village, we can bring your goods there. Your Slovenian adventure can begin with a smooth, safe and stress-free relocation if you entrust our international transport company to Slovenia and let us help you.
Each stage of your relocation will be carefully prepared by us. We will help you with professional packing of your belongings, loading and unloading the removal vehicle, and then unpacking your items at your new house. Shipping to Slovenia from the UK can be a piece of cake as we will take care of everything and prevent any potential threats to your smooth moving.
Here's what we can offer to make your move as easy as possible:
Personalized offer
we will meticulously investigate what is the most important to you to tailor your relocation requirements to your needs and preferences, regardless you look at shipping few items to Slovenia or moving 3 bedroom house to Slovenia from UK;
Help of a dedicated move assistant
there will be a dedicated removals assistant at your disposal to dispel any doubts concerning customs documentation, insurance, the best method, to name a few. Any potential problem will be nib in the bud so your cheap shipping to Slovenia from the UK will be pleasant and safe;
Packing materials
we will provide you with the best quality packing materials and protect your goods so that they are perfectly safe during the international transport to Slovenia;
Groupage shipping to Slovenia
for smaller loads we offer shared shipping option to lower the costs of shipping to Slovenia;
Dedicated container shipping to Slovenia
whenever you need to ship full container to Slovenia and take advantage of quick delivery from UK, we offer dedicated shipping options;
Storage
we can offer secure storage units if you need a short-term or long-term storage options.
Our frequent routes will allow you to choose your perfect shipping date, which is useful if you are in a hurry, for instance you're moving before Brexit. Dedicated or shared shipping to Slovenia – it is you who decides, we will advise on the most cost-effective shipping services to Slovenia.
Cheap shipping to Slovenia from the UK
We are a well-established and cheap Slovenian shipping companies. From the time we started operation many years in the past, we have been helping businesses, individuals, students and families to relocate from the UK to Slovenia and back offering the most competitive prices and maintaining the highest quality. We also move people from the UK to other destinations across the globe that are very popular among the UK expats and tourists. From the time we started operation a couple of decades ago, we have started and successfully completed a lot of moves both locally and internationally, including cheap removals Slovenia.
We take pride in providing quality and quick transport services that meet the requirements of our clients. In most cases, we perform above the highest expectations of our clients, even in the case of small removals to Slovenia from UK, as every move is equally important to us. We are customer-oriented and our target is to ensure that our clients have a hassle and successful move that is free from any worry and problem. We always aim at the best in anything we provide be it packing, storage, removal, house cleaning and baggage shipping to Slovenia, to name a few, including cheap shipping furniture to Sweden from Ljubliana.
Get started by requesting quotes from us
Whether you are done with the planning of your move or you are still thinking about it, you can request a quote from us for your cheap removals to Slovenia from the UK. As it has been mentioned above, our target is to make the move easier for you. This is why we offer our client a free shipping quote to enable them make adequate budget for the move so that they will be able to determine whether they can embark on the project or not. There are no obligations attached to our quote. So, there is nothing to worry about if you request for our quotes. There are different means through which you will be able to do this. Firstly, you can obtain quote for removals to Slovenia directly from our website by completing the quote form. The quote will appear on your laptop screen directly. If you are not good at using the internet, you can also obtain quote from us through phone call. Just call our number. A member of our team will discuss your requirements with you. After discussing your requirement, he will work out a quote for you, whether you are sending boxes to Slovenia or 3 bedroom house removals when moving before Brexit. If you are looking for shipping costs to Estonia from UK after Brexit - check our comparison services.

Bear in mind that the quotes obtained online or through phone call are as accurate as the information you provide. If you provide all the pieces of information required accurately, then your quote will be accurate. But if there is an error in the information you provide, you may not get accurate quote for express shipping to Slovenia. But in case of error, there is no cause for alarm. We can always make adjustments. If the quote is higher than it should have been, you will pay the normal amount that you are supposed to pay and not the higher amount. At the end, we will tell you the actual amount that you are supposed to pay. If it is smaller than the quote previously given to you, we will charge you the actual amount. But if it is higher than the initial quote provided to you, we will charge you the actual amount as well. However, there are no hidden charges – you will know how much does it cost to ship to Slovenia at the stage of quoting.
But it is possible to provide you with accurate quote. We can come for home survey and evaluation of items to be taken during international removals to Slovenia. A member or two members of our team will come to your home or the address where the items to be moved are located to assess them and to discuss your requirements on express removals Slovenia with you. From their discussion with you, they will work out a package that will suit your requirements taking into consideration weight and volume of the items as well as the packing requirements if we are to provide the packing prior to sending goods to Slovenia. They will prepare an accurate quote for you from what they are able to find out. You can rely on the quote that is provided after this process. However, we are flexible in all aspects of express shipping to Slovenia. If it happens that you make some adjustments later in your requirements, we can accommodate that and charge you according to what we provide.
Container shipping to Slovenia from the UK
Are you excited to send your wares to Slovenia from the GB? Speak to our intercontinental relocation company instantly to earn an urgent transport cost estimate! We offer slick and budget-friendly delivery - Velenje, Lenart v Slov. Goricah, Litija, Sentilj v Slov. Goricah, Radovljica, Kranj, Trzic and other.
We fulfil cumulative and compiled worldwide moving services as well as dedicated 18 feet, 14 foot and FCL container delivery to any location in the world. Check our UK to Canada shipping services.
Low-cost UK to Slovenia shipping is what we have done for years. As an affordable Slovenia abroad delivery company we are in position to pick up and transport it all: 1 carton or crate, 7 or 8 great cardboard boxes, personal belongings, video and DVD player, bench saw, fridge/freezer, goods, 20 ft. container, full 3 or 5 bedroom apartment accoutrement and different.
Call us before long to evaluate how much is shipping to Slovenia from London, Hereford, Lincoln, Edinburgh, Bath, Leeds and from anywhere you are planning to move. Ascertain our average relocation costs online for one item or suitcase move to Muta from Norwich, household goods air shipping to Slovenska Bistrica from Brighton, 30 cubic feet, 470 ft3 or 33 cubic meters of personal goods freight to Dravograd from Westminster, LCL, flexible size or sole use 1 ft. or 10 feet container freight to Izola from Wakefield, Preston, Plymouth and from any place in Wales and the British Empire.
Our competent, low-price UK to Slovenia shipping services include:
Complete online removals rates summation - complimentary
We are equipped with state of the art dragging gadgets like TV boxes, banister covers, bumpa hoists, hammers, trolleys and more
Trustworthy, last minute and on sale furniture storage and secure storage
Procurement of brand-new moving house storage boxes and crates
We are experienced enough to enumerate within 2 hours how much does shipping to Slovenia cost - Ziri, Brezovica pri Ljubljani, Ravne na Koroskem, Sentjur, Zalec and etc.
Smart, cheap and bargain-counter moving supply, backloads and furniture removal companies
One case or chest, twenty cheap packing boxes, groupage, consolidated and full 4 foot and six ft. budget container shipping to Slovenia from the Great Britain as well as removals to Europe destinations
Any 1 bedroom office or four or three bedrooms oast dwelling equipment shipment to Grosuplje, Ajdovscina, Pivka, Race, Odranci, Slovenske Konjice and many more
Short notice plastic crates and furniture shipping to Slovenia from Derby, Belfast, Hull, Exeter, Oxford, Londonderry
Cheap sofas and beds transport to Lasko, cheap 3-seater sofas moving to Ormoz, inexpensive side table delivery to Skofja Loka, low-priced cooking accessories removals to Rogaska Slatina, economy wall shelves delivery to Bohinjska Bistrica
Budget over allowance suitcases and oversized suitcases as part container shipping to Slovenia from Ireland, Romania, Macedonia, Slovakia, Estonia and from other ountries.
Basic information about Slovenia
Its official name is the Republic of Slovenia. It is well located at the crossroads of the main cultural and trade routes. It has boundary with Italy to the west and to the north with Austria. At its northeast boundary is Hungary while Croatia is located at its south and southeast end. To the southwest it accesses the Adriatic Sea. The climate is diverse. Most of its parts enjoy a continental climate because of the presence of a lot of mountains in these areas. However, Slovene Littoral has a sub-Mediterranean climate. The Alpine climate is experienced in the north-western area. There is a remarkable biological diversity. Its natural water heritage and system is quite great. It is blest with a robust aquifer system, dense river network and significant karats underground watercourses. It is blessed with impressive vegetation which enhances the quality of its environmental air. In fact, more than 50% of the total area is covered with vegetation.

Slovenia which got the independence from defunct Yugoslavia in 1991 has a total area of 20,273 km2. 0.7% of this total area is covered with water. The population was estimated to be 2,063,077 in 2015. However, in 2002, when the census was made, its total population was put at 1,964,036. Given its population and total area, it has a population density of 101.8km2. After it has gotten her independence from Yugoslavia, it ended the communist rule and it is now practicing a parliamentary republic system of government. Today, as an independent area, it has joined a number of international organisations North Atlantic Trade Organisation (NATO), Eurozone (it is the first one among other former communist countries to join it) and Organisation for Economic Co-operation Development (OECD) which is an association of high-income developed lands across the globe.
The society is multicultural. There are people from different ethnic groups, with the Slovene being the dominant one. Slovenes make up 83% of the total population. The second ethnic group is the Serbs and Croats. Each of these two ethnic groups constitutes 2% of the total population. There are also the Bosniaks, and they make up 1% of the total population. The rest of the other unspecified ethnic groups constitute 12% of its total population. The official language is Slovene.
It is comprised of different regions. They are as follows:
The Coast and Karst region which is located in the southwestern side.
Julian Alps region which is a mountainous region located in the northwest lakes (this region also includes Mount Triglav)
The South-eastern area
The Central part
The northern region known as the Pohorje-Savinjska
The north-eastern region which homes a lot of vineyards, Mura rivers and the Drava
The Eastern area
The major and most populous cities include the following settlements:
Ljubljana which is the capital city and the largest one at the same time
Maribor, the second most populous settlement
Celje, the oldest one
Nova Gorica, the largest settlement on the Italian border
Novo Mesto, the largest one in the south-eastern area
Kranj, the north-western largest city
Koper/Capodistria, the largest settlement on the Slovene coastline
Velenje, the 8th largest city.
Professional shipping companies from the UK to Slovenia
Below are the various ways in which we have differentiated ourselves from others. We provide a comprehensive cheap shipping Slovenia services starting from the planning through the entire packing process to the transportation of your items. We also provide house cleaning, waste disposal, storage and others. Furniture dismantling and reassembling is one of the activities that we can offer you for your international relocation to Slovenia. At your destination location, we can also help you in a number of ways, which include customs clearance, delivery to your new address and placement and arrangement of items in your new home, even if it's shipping single item to Slovenia from the UK.
Our customers support remains unbeatable. We are aware that without a reliable customer support unit, our clients will be stranded and their move will not be very smooth. This is why we have taken time to establish and invest in customer support. Our support services are available on daily basis including weekends and holiday periods. So, if you have any issue, feel free to contact us via our support whenever you need help regarding your cheap shipping to Slovenia. You will be given the attention you require.
We know that removals, regardless of the location, are quite complicated processes and require expert handling. Poor handling of any of the stages in the process can result in damage to the item being moved. This is why we only work with professionals. If you hire us, you should have a rest of mind that your items are being handled by professionals and that shipping costs to Slovenia will be affordable. Verify our shipping costs to Monaco from Slovenia or other locations.
We will always ensure that our clients are well guided and carried along in each stage of the process of small removals Slovenia or any kind of international removals. We do this by providing them with advice and guidance that will help them pass each stage of their removal project successfully. With expert advice, nothing should surprise our customers during express shipping to Slovenia from UK or back.
For other destinations you can also hire our services, we offer budget-friendly UK to Macedonia shipping on a weekly basis.
Another way in which we have distinguished ourselves from our competitors is by providing quality services at the most affordable price, even if express shipping to Slovenia is concerned. If you compare international moving the services of us and of our competitors, you will definitely discover that ours are highly affordable and that shipping costs to Slovenia can be really cheap. You may be wondering why we are able to provide good quality at the best rate given that quality things are always expensive, but it's our experience and network of reliable partners that allow us maintain highest standards and low shipping costs to Slovenia.
Life and work in Slovenia
It is well-developed with high-income economy. It offers impressive living standard to its residents. Its health, transportation and educations are simply great and are on a par with those of most developed places of the world. More than one third of the total population are urban dwellers. One remarkable aspect of local life is that it provides residents with the opportunity of having access to both urban and rural lifestyles. Majority of local people have their holiday homes outside of the urban areas in a setting that is more natural. This helps to enhance the quality of their life and provides them with a memorable holiday experience.
The majority of the citizens are able to purchase a house or a flat for themselves. This explains why the number of homeowners per capital is among the highest in the entire continent. The native people normally have small families. Majority of the families are four member of families. A remarkable number of the families are three man-families.
The living standard is similar to the living standard of most developed states. Virtually, all the amenities and infrastructures that are available in modern states are also available here. Residents have access to quality healthcare. The healthcare system operates in similar manner with the healthcare system of most countries. Healthcare in the state owned medical facilities is funded by state with the fund obtained from a state collected health insurance. However, there are also private care facilities and insurance to cover for what are not covered in the state owned healthcare facilities. Medical facilities are well equipped and the best medical technology of the time is also applied in these facilities. Its medical facilities are better in terms of equipment and technology than the medical facilities of a lot of adjacent countries. Pharmacies are also available there.
There's a nice education system which is under the supervision of the National Education Institute of the Republic of Slovenia. There is compulsory and free education for schoolchildren who are not up to 16 years of age. The language of instruction remains Slovene. However, there is a number of international schools there that provide instructions in English. Some of these international schools teach UK curriculum. So, if you are here and you don't want your children to be educated in Slovene, you have to register them in any of these international schools. But you should bear in mind that the cost of obtaining education in these schools is expensive.
There are institutions of higher learning which include three of its public universities and private university named the University of Nova Gorica. The most prestigious public university is the University of Ljubljana. In case you want your children to further their education, they can choose any of these universities. There is an international university called Euro-Mediterranean University (EMUNI). A lot of courses in this university are taught in English language. So, you can decide to register your children in this international university if you will like them to go for programmes of studies taught in English language. The excellent education system finds expression in the number of educated population as well in the number of skilled workforce available.
People here live active life. They do not joke with sports and they engage in different kinds of outdoor activities in order to stay fit. Some of the popular outdoor and sporting activities are cycling, walking, mountain hiking, climbing, joggling and others. So, if you are living an active life, you will definitely enjoy your stay as you will get the opportunity of participating in different kinds of sports.
There are different kinds of public transport systems including train network, public bus, airports and water transport system. However, many people have their private cars as they prefer to commute with their cars. One of the reasons why many people drive themselves is because the national train network is not very efficient. If you want to drive yourself, you should take note of the driving rules and regulations applicable here. The driving age is 18 years. Bear in mind that some cities experience traffic build ups and jam in major roadways because many people now commute with their cars rather than use the public transport system.
It is a nice location for expats looking for better job prospects. Since it has become independent has worked hard to establish a developed economy driven by a number of industries. Owing to its strong economy, it is rated as the richest state among other Slavic countries in terms of per capita and the second richest place after Czech Republic in terms GDP. The 2007/2008 global economic recession dealt a devastating blow to the economy. However, it is recovering from the economic recession and the economy still remains stronger than the economy of a good number of places in the continent. The economy is founded on trade with many other states including Germany, France, Italy and others. About 66% of the volume of trade is conducted with other countries.
But apart from trade, there are other industries that make significant contribution to the economy. Some of these industries are forestry, fishing, service, financial and agriculture industries. The financial and service industries contribute up to 50 percent of the total GDP. 2.5% of the GDP is contributed by the agriculture, fishing and forestry. It remains strong in organic farming. In fact, 3.3% of the agricultural output is contributed by the organic farming. There is a strong energy sector. Tourism is another sector of the economy that is performing quite well thanks to its diverse natural and cultural heritages. It has developed different kinds of tourism over the years. A lot of tourists from many countries such as Germany, Austria, Benelux, Croatia, Serbia, Ukraine, Russia and the UK make up the greater population of tourists that visit it regular basis. Over 90% of the income generated from tourism is obtained from the tourists from the continent.
Despite the economic improvement being witnessed here, it is lacking seriously in the area of foreign investment. Its level of foreign direct investment (FDI) is among the lowest in the European Union in terms of per capita. This is because at a particular time in the history of this land, there was restriction on foreign investment. However, the restriction has been relaxed today. Nowadays, many foreign investors come here. A significant investment has been made in the last twenty years by the American company Goodyear. Croatia has also made significant investment in Slovenia.
With a booming economy, the labour market has prospects for job seekers. People have the right to seek for employment here just like its citizens. They are not required to have any work permit before they can seek for employment. However, those planning for an urban life of more than three months are required to obtain residence permit before they will be able to live and work here. If you are not from the UK, you will require work permit in order to live and work here. It is the Ministry of Interior that issues work permit. The UK embassy or consulate also issues work permit. Find out what the requirements for obtaining work permits are by contacting the embassy. But suffice it to mention that work permit is issued based on the condition of the employer. You will not have any problems if you have found an employer here.
Workers and individuals contributing to the social security system are entitled to a number of benefits such as healthcare, disability and pension benefits. There is a comprehensive and efficient social security system. But besides that, there are specific programmes aimed at providing assistance to citizens who are at risk and those who are able to obtain employment as a result of ailment or permanent disability. The retirement benefits and pensions requirements are quite similar to pension requirement of most countries nearby. The major aim of the pension and retirement scheme is to provide assistance to people who are disadvantaged in one way or the other. If you are working here, you are qualified to receive these benefits insofar as you are registered with the right government department by your employer. It has reached agreement with some lands on social security. So, if you live here, it is advisable that you find out what agreement your place of origin has with this country in terms of social security.
Note that the average disposable salary of workers after taxation is 999.97 euro.
Compare shipping costs to Slovenia
We provide our boxes shipping to Slovenia services not only to families moving homes but also to businesses relocating from the UK. Students who are moving there or returning from this country can also make use of our small shipping to Slovenia offer. With our collection and delivery services, online businesses and individuals that sell things online can deliver to their customers as we undertake even next day delivery of single item.
We take pride in making a removal project that would have been a stressful process to be stress-free and problem free. We have high regard for our clients and we will go to any length to deliver satisfactory and cheap shipping Slovenia as well as budget-friendly shipping to Greece from UK

We are able to provide our clients with next day delivery or delivery within 48 hours for most destinations within continent. Our next day delivery is available for destinations that are within 750 miles from the collection point. If it is above 1000 miles, delivery can be made within 48 hours. We have a range of van options for this reason. These designated vans are most suitable for destinations that are not very far from the UK such as France, Belgium, the Netherlands, Germany, Luxembourg and others. With airfreight, we are able to provide same day delivery to many locations from the UK, including express shipping to Slovenia.
If you have small items, our part load service is the best option for your small shipping Slovenia. Your items will be consolidated with the items of other clients. Once a container is filled up, the items will be delivered together. Each person whose items are in the container contributes in paying for the international transport to Slovenia. However, each person is charged according to the weight or volume of his or her items. Our part load shipping is an option for people on budget. Though it is not as quick and efficient as full load shipping, it does not involve much delay. Based on the number of clients we have, it is safe to say that we are able to provide weekly shared container shipping to Slovenia. In some period, we can provide part load delivery twice a day.
In case you are not able to carry all your luggage, bags and boxes in the same plane that you board because the weight has exceeded the weight allowed free of charge, you don't have to pay huge amount in order to transport it. You can make use of our excess baggage shipping to Slovenia. We have good working rapport with a number of airlines. Thus, we will be able to use our rapport with them to negotiate good rate for you and also to provide last minute excess baggage shipping to Slovenia from UK.
Living in Slovenia
The housing cost is fairly or moderately affordable. It is cheaper than the UK and a good number of states but at the same time, it is not the most affordable. If you are planning to live here having a decent accommodation is inevitable. You should therefore make adequate arrangement for your accommodation. There are a number of factors that will determine the cost of your accommodation. The first factor that will determine the cost of your accommodation is the location of the apartment or house that you want to purchase or rent. Some locations are more expensive than others. Normally, apartments in the centre and areas with high number of tourists are more expensive to live in than apartments in other locations especially on the outskirts. But before you choose whether to live in the centre or on the outskirts, you should take into consideration the general living cost, including the cost of transportation and food items. Sometimes, it may be more affordable to live in a place but when you add other living expenses, the total cost of living in the location will be higher than another place that has higher accommodation cost and low living expenses.
Another factor that will determine to a certain extent the amount an apartment will be rented or sold is the furnishing given to the apartment or house. Some apartments are fully furnished with luxury fixtures, fittings and furniture while some are not furnished at all or are partially furnished. There are some that may be fully furnished but the materials, fittings, furniture and fixtures used in furnishing them are not of great standard. It is because of this that you will see an apartment that is located on the outskirts and yet it is rented at price higher than some other apartments located in the centre. Similarly, it is based on this reason and on the reasons of location that a one bedroom apartment is more expensive to purchase or rent than a two bedroom apartment.
The outdoor facility available in a house can also affect its rental or purchase price. An apartment that has swimming pool, garden, parking space, patio and others or some of these outdoor facilities will definitely be rented or sold at a higher price than one that does not have it. Similarly, the design and environment in which an apartment is located can also affect its rental or purchase price. For example, apartments that provide ocean view or that are close to an attraction or certain amenities are normally expensive. So, when you are searching for apartments, you should take the above factors into consideration. It will help you to make an informed decision.
Based on the above factor, nuembo.com con which is a website that provides information on the living expenses of different lands and cities across the world put the range for the monthly rent of a one bedroom apartment in the centre and on the outskirts vary between 250.00 and 500.00 euro respectively. A three bedroom apartment in the centre can be rented at between 500.00 and 900.00 euro while somewhere else; it will be rented between 400.00 and 650.00 euro. In a similar manner, a square meter of apartment around the centre can be purchased between 1,200.00 and 2,800.00 euro. On the outskirts it can be purchased between 950.00 and 2,000.00 euro. Note that the mortgage interest rate per year is between 3.00 and 5.50 percent.
Airports and flight cost from the UK
Though the air transport of this land has witnessed some improvements starting from 1991, it is still quite low and not on a par with those of some other countries. There are both domestic and international airports. One of the international airports is Ljubljana Joze Pucnik Airport which is the busiest one. It is located in the central part of this land. There are flights from many states including the UK to this airport. The Maribor Edvard Rusjan Airport is another international airport. It is located in the eastern part. The third international airport which is located in the western part is the Portoroz Airport.s
Next day international delivery to Slovenia
Do you dwell on how much does it cost to pack and send furniture to Koper, Nova Gorica, Krsko, Smarje pri Jelsah, Log pri Brezovici or to Tolmin from Inverness, Wolverhampton or Peterborough? You can exploit our WWW website to compare low-price UK to Slovenia relocation firms. There are manifold everyday-use movables and personal chattel we are able to pack and ship - upright cooker, TV & media furniture, lamps, vanity set, racks & stands, dishwasher, wardrobes, computer racks, computer equipment, mirrors, vases, to-do list tracker, table top shipping and anything more. We send flimsy and undersized belongings as well as prodigious and strapping 1 or 3 bedroom suite fixtures. Cheap furniture shipping to Slovenia from London, Chichester, Armagh, St Albans, Chester and from all UK, England shipping to Ireland is what we realize at very discount and budget intercontinental removals rates. Our express, good and cheap worldwide furniture delivery services could be taken care of at a very minuscule engagement. We are trained to appear to collect your boxes for moving house, files, shed content, flat content and added household gear at any time you move - at 6am in the morning, at 3pm, late evening or early afternoon. Just lament us when you say and our low-cost, 1st choice, same day and inexpensive house transport company to Slovenia from UK, Scotland and Wales may meet you to handle your move.
We offer the haulage of a wide range of casts and strains of sea freight containers:
Step-by-step, low-priced united, collated and groupage container transport to Ankaran, Gornja Radgona, Borovnica, Sencur, Sezana and different
Elaborate, budget bulky, filled to the brim and full container load 6 feet or 20ft container moving to Postojna from London, to Bled from Leicester, to Jesenice from Durham, to Zelezniki from Stirling, to Domzale from Gloucester, to Idrija from London, Canterbury, Stoke-on-Trent, Liverpool
half height, 20 feet, twenty-foot and heated container moves to Kocevje, Logatec, Radenci, Polzela, Vojnik, Ptuj and more
late night or Saturday invariable, 24/7 and low-priced UK to Slovenia container transport
We can calculate within a short time how much does it cost to ship to Slovenia - Ljutomer, Straza, Ljubljana, Murska Sobota, Sostanj and etc.
Reasons to relocate to Slovenia
It may not offer impressive dishes like Italy, and the capital may not have the beauty of Paris and yet it is one of the cities that you should take into consideration when you are choosing where to settle down. There are a number of reasons why moving here should be the right option for you. Below are reasons why you should consider moving here.
Not overwhelming and easily accessible
It has a big area with vegetation covering up to 50% of its total area. This means habitable area is not much. People living here can easily explore it but it is not very small that you can walk through it just in a matter of few hours. With its population of about 2.1 million, you will find it very overwhelming and very much congested. Besides, given its small size, you will find it easy to rapport with neighbours and make friends with the locals.
Good location
Its location in between Hungary, Austria, Italy and Croatia means that it can easily be accessed. Whether you are living in the south or north or you are living in the west or east of the continent, the travel distance is not very long. The flight time will not take more than 3.3 hours. It is a place that you can travel to and come back on the same day if you can bear the stress of flying for some hours. If you do not find a direct flight from the UK to the main airport, you can also get a connecting flight to other nearby airports such as Vienna, Graz, Trieste, Klagenfurt, Venice and Zagreb airport. It is also possible to take a road trip from the UK to Slovenia.
Beautiful with impressive scenery
One of the reasons why many people move to this city is because of how colourful it is. It is blessed with diverse nature. There are beautiful mountains, green hills and seaside cities, all offering amazing views. You will find a lot of seaside vineyards. There is plenty of vegetation and forested areas and this is why it is dubbed a green place. The autumn is great and stunning. During the autumn time, leafs change colour making the forests to radiate the grandeur of rainbow. The breathtaking sunrise and sunsets during the evening is something that impressed many expats. The valleys of the little mountains are great hiking locations. During the summer, you will not lack of seaside environment to relax and sun yourself.
Kind and hospitable people
Definitely, before you decide to move here, you will want to know about the attitude of the locals towards visitors. In this regard, you have no problem. You will find the Slovenes and other ethnic groups that live here are very friendly and impressively hospitable. The people are very nice to visitors and they have a high sense of humour. You will be showered with love if you are able to make friends with them. Slovenes have concerned for the people living with them. They are always ready to give a helping hand to others without considering the person's nationality. In fact, foreigners are normally well treated simply because they are foreigners. So, if you are coming here be ready to accept good will.
Widely spoken English
Slovene is the official language. However, English language is widely spoken too, so that some people refer to it as an English-speaking land. Even if you don't speak Slovene, you will not find living here difficult. It is possible to be a student without learning the local language of the people. This is because a lot of courses are being taught in English language. A lot of the locals are able to speak English language fluently. You will also find some locals that can speak some other language such as German, Italian and Hungarian. The universities offer a lot of courses in English language. Given the wide use of English language, UK expats will not find it difficult to interact with the locals.
Affordable living cost for students
If you are a student, you will find the cost of living more affordable than the cost of living in the UK. Feeding yourself as a student is not expensive. This is because the government provide assistance by way of subsidy to students. The government subsidises the student meals. For example, you need about 5 euro or more in order to purchase a pizza. But if you are a student, you will be able to purchase soup, salad, pizza and drink with 2.5 Euro. About 80% of the restaurants in the cities offer students benefits in the cities. With the number of restaurants providing students benefits, you will not have any problem finding a restaurant that will provide you with the required benefits.
Low cost of accommodation
The cost of accommodation is not as expensive as it is in some other places across the world in general. With its low cost of accommodation, you will be able to make a reasonable savings after your sojourn. Secondly, students accommodations are also affordable. As a student, you will find student accommodation where you will pay as low as 80 to 150 Euro per month. If you don't want to live in dormitories, you can opt for private accommodations. These private student accommodations are more expensive but they are not as expensive as apartments meant for working class individuals or as a similar students accommodation will be rented in other places in the world.
Activities and fun
Another reason why you should fall in love with this land is that living here is fun. There are plenty opportunities for fun and sport activities that appeal to young population. Fitness centres are available and they provide their services at a reasonable price. There are sporting facilities for volleyball, football and others. Apart from sporting activities, you can also get involved in other activities such as photography courses, language courses and others. So, if you are fun loving student, you will have plenty of opportunities to catch fun during your stay.
Affordable transportation
Besides low accommodation cost, the cost of transportation is quite affordable. As already mentioned, this land is small and this means that things are not quite too far separated from each other. You can get to many places on foot. In this way, you will cut cost on transportation. Besides, the cost of accommodation is not expensive especially if you are using the public transport system.
Impressive nightlife
There is a large student population. As normal with student location, there are parties going on here and there on a weekly basis especially during the weekend. The nightlife is stunning. If you are a partying type, you will definitely love it, especially if you are here during the summer period. There are festivals going on here and there during the summer period. Some of the festivals are social in nature while are purely cultural festivals. Whether it is social or cultural, attending these festivals is a great opportunity for you to dance to the tune of music until you are tired. Great music of different kinds is played during these festivals. Foreigners who are interested in women have the opportunity of getting a perfect fit. The ladies easily get along with foreigners especially those who can speak languages different from theirs. The same thing could be said of their men when it comes to the ladies from other nations.
Friendly and practical inhabitants
The natives are very much practical in their approach to life. They are not the type of people that will only complain without providing solution to the challenges they are facing. When they make any complain, they will not stop at the level of complaint. They will provide solution to it. It is normal to see the young and the old people working together to ensure that things are going the way they are supposed to go. They will come out with a plan and then follow it up. With this practical approach, the locals normally organise themselves together in groups and form associations with the intention of actualising their interest.
Lots of open spaces
As already mentioned above, it is covered with plenty of greenery. There are parks which you can visit in order to relax and communicate with nature. As you are exploring the forest, you should be very careful so that you will not get lost. Besides, the availability of large forested area helps improving the quality of air. A lot of carbon dioxide is generated through exhaust fumes and other industrial activities. These gases when released in a larger quantity to the atmosphere, they deplete the ozone layer which covers us from the scorching effect of the sun. The presence of large forested areas means that a large quantity of these gases will be taken in by these plants. In this way, the environment remains pure for human habitations.
Great for skiing and sunbathing
It provides opportunities for both skiers and sunbathers. Given the climatic condition, it is possible for one to go for ski in the morning and come back to sunbath in the afternoon.
Costs of shipping container to Slovenia from UK

The very determinative info you are in need to be provided with when you head to send a four or six bedrooms house or apartment caparison is the moving price. Our cardboard boxes, additional luggage, outdoor furniture and 20ft container average shipping costs to Slovenia from Britain are extremely bargain and local-cost. Fill out our lucid data sheet or examine our Internet portal to compare garden furniture and 15ft container delivery prices to Spodnje Hoce, Trebnje, Cerknica, Semic, Brezice, Metlika and to everywhere you like. Investigate economy Slovenia removals firms that register next day, distinguished strong moving boxes, garden furniture, fridge-freezer and all two or six bedroom condominium, house relocation at hugely discounted and worth the money removals rates. Relocating excess baggage or home moving to Slovenia from Cardiff, Sheffield, York, Swansea or from wherever address in Ireland and the UK doesn't have to be costly and sky-high. With our knowledge you may keep an undisturbed, a loose and reduced home removals. Chat with our cheapest abroad removal firm to rate approximate shipping costs from the UK for moving 1, 46 or 5 large moving boxes to Ig from London, sending air conditioner or tumble dryer to Vipava from Nottingham, shipping personal effects to Zrece from Lisburn or for moving your household goods to Mozirje, Ilirska Bistrica, Crnomelj, Naklo or Prebold. To foretell average transport rates a good way to start is to bring to light the effect you blueprint to forward and we will size up how much is shipping to Slovenia from UK including home content moving to Ribnica, Slovenj Gradec, Mezica and many more.
We have the right equipment to judge delivery prices to relocate diverse small, little or portly private items:
sending one baggage or 37 cheap packing boxes for moving at standard and low-budget moving costs
removals dainty and fine-drawn things - porcelain, flowers, jewellery...
substantial and chunky merchandise transport - machinery, camper vans, fridges, oven, factory plants, motorbikes...
licensed and a light 4 or 3 bedrooms detached house furnishings shipping UK to Slovenia cost - bamboo furniture, house and garage items, electronic equipment, one-seater sofa, two-seater sofa, child's chair, washing machine, adult bicycle...
cheap and reasonable international company property removals - wave workstations, executive office chairs, customer thank you cards, morph folding leg tables, video conferencing, anti-virus...
shipping car from UK to Slovenia or other vehicles
skillful, controlled and rhythmic auto removals service - Seat, Holden Commodore, Rolls-Royce Silver Shadow, Chrysler, Trabant, Bentley, Ssangyong, Microcar...
we also provide different types of boxes for moving, you can buy or hire them directly from us
quick and licensed machine relocation - water jets, grinding machinery, drum sanders, gas cylinder storage systems, potato harvesters, newspaper mailrooms, bale sledges...
emergency and competitive man in a van hire for overnight removals to Ivancna Gorica, Prevalje, Hrastnik, Lovrenc na Pohorju, Zagorje ob Savi, Lucija, Maribor...
urgent intercontinental motorbike transportation, overseas container moving, international container transportation, full load removals and similar
miscellaneous container transport alternatives - mechanically refrigerated, new shipping, private items, tanks, dry cargo shipping, perishable cargoes and special purpose containers, heavy machinery and international crane transportation
If you want to find how much does shipping from UK to Slovenia cost nominate us with promptness. We will deliver to you our transport rates projection within 30 minutes. Approach and reach cut-price approximate house content relocation prices from UK to Slovenia, Skofljica, Novo Mesto, Beltinci or Velenje and make an unconcerned business move project. Keep on the payroll our overseas relocation firms and use our outspread authenticity and incalculable proficiency. Examine a best and complete estimate that combines attestations, specification, part pack, moving costs, client's feedbacks, included services and other.
Requirements to move to and live in Slovenia
If you are planning to reside here, you should take note of the following:
UK citizens that want to enter and reside here do not require any visa. However, they are required to have valid passport or any other valid travel document which must describe them as British nationals or a subject of Britain with the right of abode.
Registration with the Authorities
Any foreigner that visits this land is obliged to register with police within three days from the time he or she arrives. Failure to do the registration can attract some punishment which is normally a fine. Foreigners staying in registered hotel and guest house are exempted from this requirement because they are registered by the hotel or guest house upon check-in. If you are going to stay in a self-catering accommodation, find out from your booking agent what arrangement he has for registration. If you live with someone that belongs to your family, or you are living in your own apartment, you have to do the registration by yourself at the nearest police station.
The requirements for residency
Citizens of UK are allowed to enter and reside here for three months without doing any registration for their residency insofar they arrive with valid passport. However, if you are planning for a stay of more than three months, you will be required to register your residence before the expiration of the three month stay allowed without registration. The registration should be done in the administrative unit of the territory where you are residing. When you do the registration, you will be issued with a receipt which you will use as a permit to stay until a decision is taken on your application.
There are various reasons for which one can be issued with the permit and they include:
provision of services
self-employment
employment or job
studies or other forms of education
other reasons
The administrative unit of the territory where you are residing is the competent body to issue the registration.
Registration
In compliance with the law governing the registration of stay, UK citizens who have been given receipt on the registration of stay as well as family members in receipt of temporary permit should register temporary residence. In a similar manner, those in receipt of permanent residence permit should register it as required by the extant law on the registration. Visit https://www.infotujci.si/v/1/entry-and-residence.
Entry and residence requirements for the relatives of the EU and Slovenia inhabitants.
The authorities have provided a definition of people who are regarded as family members of EU and Slovenian residents. Based on their definitions, it's the following people:
Spouses and their children who are yet to reach 21 years of age
Unmarried children who have not reached the age of 21 years
Unmarried children of the above, who are above the age of 21 years and who should be supported by their parents in accordance with the law of their land of origin
Parents of the above, who should be given support by their children
Unmarried children above the age of 21 years and parents of the spouse of EU or Slovenia residents who should be supported by the spouse as required by the law of their home land.
Parents of those above, who is not yet up to 21 years of age
Under special circumstances and for reasons of family reunion, the competent authority can at its own discretion qualify other relatives as family members.
Relatives of the UK citizens who are also citizens of EU can arrive here with only a valid passport that specifies their nationality. They can also get here with a valid personal identity card. They are exempted from visa requirements regardless of the reasons why they want to reside in this place.
On the other hand, relatives who are not citizens of any EU location may come here in order to reunite with their family that is Slovenia citizens. However, they are required to possess valid passport with a visa placed on it insofar they are not from any place which the authorities has exempted from visa requirements. They can also come here if they are in possession of valid passport or permit.
A relative will not be allowed to arrive here under the following circumstances:
If the person does not hold the required permit or document mentioned above
if the period of time during which he or she is not allowed to come here has not elapsed
If his or her stay here will result in public disorder or constitute a threat to the internal security or jeopardizes the international relations or if it is suspected that he or she will commit a terrorist act or other violent acts, drug traffic and other criminal offences during his stay; or if his or her stay is connected with illegal intelligence
if the person is coming from a location with dangerous epidemic and he does not have any certificate of vaccination
if he or she is coming from a destination plagued with infectious disease that is possible to cause epidemics as stipulated in the World Health Organisation's International Health Rules or if he or she is coming from an area with an outbreak of infectious disease with the potential of threatening public health and for which prescribed measures have to be taken in compliance with the laws governing infectious disease.
If any of the members is refused to come here, the person has the right to appeal against the refusal of entry within eight days from the date the entry is denied. The appeal shall be decided by the ministry in charge of internal affairs. The execution of the proceeding is not delayed by a complaint.
Relatives of Slovenia citizens who are holders of valid personal identity card or passport and residence permit issued by another EU state are allowed to come on the basis of that document may not require any permit for three months which begin to count from the date they arrive here or until the permit they hold expires if the permit is shorter. But if such person enters with visa, the person may remain here until their visa expires.
If a person who is EU member state citizen wants to reside in order to maintain the family relationship with Slovenia citizen for a duration of time longer than what is allowed as stipulated in paragraph 7 of Article 93.k of the Aliens Act, the person or his legal representative or his or her family member who is a EU or Slovenia resident shall lodge an application for temporary permit at the administrative unit of the territory where the he or she is residing before the expiration of the duration allowed.
The administrative unit shall issue relatives with a receipt for a temporary residence permit once they are in receipt of the application. The receipt shall be used as a temporary permit until a decision is made on the application.
Invalidation of stay permit
It is possible for the residence of EU national and their relatives to be invalidated even though they are staying here legally. There are circumstances that should cause its annulment. The major reason is when there is well-established suspicion that it will constitute a threat to the security, constitutional organization and public peace and order.
The provision of the Act that governs annulment of the above to aliens must be followed by certain procedures.
If their stay is invalidated or if the person is not allowed to re-enter for a period of more than three years, he or she can apply for the reduction of period entry prohibition once it is more than three years from the time the decision for the prohibition of entry is imposed on him or her. There are some documents he or she is required to provide in order to support their application. The documents include evidence showing that the circumstances on the basis of which the decision for annulment was taken has changed decisively. If your application for the reduction of period of prohibition is declined by the administrative unit, you can appeal against such a decision at the ministry of internal affairs. However, you and your family members may not be able to enter this land until the appeal is decided. If the decision is positive, you can come here.
Sending goods to Slovenia from UK

Are you concentrating to go into exile overseas and are striving to pack and send a hodgepodge of domestic possessions in moving packing boxes or on Slovenia to UK pallet delivery? Moving personal effects to Slovenia from UK is what we are good at. No matter if you attempt to pack and deliver everyday-use stuff to Lenart v Slov. Goricah, to pick up and deliver silken equipment to Litija or to pick up and ship furniture to Sentilj v Slov. Goricah we will be thrilled to assist. Sending personal effects from UK to Slovenia, Radovljica, Kranj, Trzic, Muta and Slovenska Bistrica ought to be special offer and budget-friendly. To plan this without difficulty the simplest way is to go over our netspace, costs calculator or search engine. Our workforce can arrive to collect your personal property with only thirteen hour's order placement. Our international moving company work regularly, plainly, harmlessly and at very half-priced, affordable house relocation costs. Touch base with us forthwith to establish how much does UK to Slovenia international relocation cost. Our long distance house content moving solutions are managed for both residential and productive service buyers. We have invested in heterogenic delivery trucks to arrange the pick-up of your household wares - 20ft Box, HGV 1, 36 Tonne Draw Bar Unit, 27 ton Taillift Curtainsiders, 7.5 TONNE GVW BOX, Short wheelbase Transit T260 and additional. We also manage a whole range of moving containers to kick off the collection of removal boxes, computer desks, boxes of clothing or entire one or six bedroom terrace house gathering - insulated or thermal, 20 foot, 20ft auto, 2.5 meters or full container and alternative. Review low-price Slovenia global delivery companies to lay aside great deal of handbag on your student removals to Dravograd from London, house move to Izola from Portsmouth or on your domestic removals to Ziri from Birmingham, Worcester, Manchester, Coventry, Cambridge and from any stretch in the United Kingdom, Ireland or England.
Useful information on every-day life in Slovenia
Health
Both the UK and this country have a health reciprocal agreement for Brits. On the basis of the agreement, Brits residing here can receive emergency medical treatment free of charge. How, to benefit from the free treatment, you have to provide your British passport and evidence of insurance in the UK.
Obtaining medical services with the European Health Insurance Card
Slovenia has been recognizing the Card since 1 January 2006 but it can only be used for emergency cases. The card can also be issued to:
nationals of European Economic Area (EEA)
Swiss nationals
Citizens of any country covered by the social security system in Switzerland.
You should apply for the EHIC at the national health insurance institutions in your home land before you come here. Kindly visit the website https://www.nhs.uk/NHSEngland/Healthcareabroad/EHIC/pages/about-the-ethic-aspx in order to obtain more information about EHIC card. The UK government website provides a list containing the various medical facilities. Check the website in order to see the list.
Health insurance system
The health insurance system is divided into three, namely, compulsory health insurance, insurance for services that form part of compulsory insurance, and voluntary health insurance for top up coverage. You will find more information about health insurance in this website www.slovenia.si/live-and-work/health.
Education
The education system has been briefly explained above. But check the website of the Ministry of Education and Science in order to obtain more information about the education system. Bear in mind that boys and girls attend the same school. There are no schools that are exclusively reserved for boys or girls.
Employment and recognised qualifications
Though as a UK citizen, you have the right to look for employment here. However, you should bear in mind that the official language is Slovene. So, you need to enhance your chances of getting employment by learning Slovene. Having a deep mastery of the language is not necessary. Only a basic knowledge is required. Check the Jobcentre Plus and Eures in order to obtain advice and for guidance on how to obtain job within EEA.
On the basis of article 52 of the EC Treaty, the residents of European Union have the right to establish themselves in this country or any other member state. So, UK citizens can establish their businesses here or be self-employed. However, in accordance with the local law, some areas of qualification may require an applicant to meet certain requirements and qualifications. A typical example of such area that has specific qualifications and requirements is teaching. So, if you are planning on becoming a self-employed person, it is advisable that contact the relevant authorities in order to find out what the eligibility requirements are. Check the website in order to obtain relevant information.
Benefits
UK retirees residing in this place can claim his or her pension from the UK. The UK benefits website contains detailed information on this. You can also obtain detailed information on how to claim your state pension from the Department for Social Development or from Pension Service.
If you have worked in the UK and another land and you are not sure how your UK pension, benefits and healthcare rights will be affected by this, you are advised to contact the relevant UK authority and the local pension office so that you will be informed of what you are entitled to claim. If you the UK Pension Service issued you with a life certificate, you are advised to reply to it as soon as possible so that your benefit will not be stopped.
Social security
All employees and self-employed individuals are required to contribute to the social security system. Check www.slovenia.si/live-and-work/social-security in order to obtain more information on that.
Driving licences and vehicles
British expats with valid British driver's licenses are allowed to drive with them in drive to this country but it has to be for the same category of car for which it is meant for. But you can only drive with a UK driver's licence for a period of one year starting from the date your vehicle is registered in the UK insofar as the principle of proportionality is applied.
During the course of your stay in the UK, if your driver's license is seized by the authorities, it will be sent to the Driver and Vehicle Licensing Agency (DVLA) in the UK. Bear in mind that the British Embassy does not renew or issue UK driver's licence.
If you are a holder of a permit and your stay is registered for a period that is longer than six months, your valid foreign driver's licence can be replaced with the local driver's licence on request. But for your request to be accepted, you need to satisfy the relevant conditions. One of the conditions to satisfy is that you have to take and pass the driving theory test. However, you are not required to take the practical driving test if you are a citizen of a European Union member state, Norway, Iceland, Lichtenstein, Switzerland or Croatia.
If your request is accepted, your original driver's licence will be taken away from you and returned to the issuing authority. Check https://infotujci.si/v/47/drivinglicence for more information on this.
Finance

British citizens living and working here are allowed to have a local bank account. But before they can run it, they are required to provide a valid ID, namely, their British passport and fiscal code. Check www.durs.gov.si/en for guide on how the fiscal code should be obtained. Besides these requirements, each bank may have  extra requirements peculiar to them. The bank requirements normally depend on the type of account that you want to run, your status, business/income source etc. Check the National Bank for more information on this.
The primary government institution that monitors investments is Invest in Slovenia. The institution also has the responsibility of bringing in new foreign investors. So, if you are interested in investing here, you should contact the institution for more information.
Credit cards are widely accepted in case you want to shop. There are also ATMs here and there.
Sending money home
If you want to send money home or to another place you can use MoneyGram or Western Union. Check www.moneygram.com/MGI/EN/SI/Market/Market.html for detailed information about MoneyGram and their offer. If you want to use Western Union, you should refer to www.wu.com/si/en/home.html for office addresses of Western Union in Slovene.
Taxation Britain and Slovenia has a double taxation agreement to make sure that nobody is taxed on the same income at both ends. Check the website of HMRC for the text of the present agreement.
It is advisable that you obtain professional advice on taxation because taxation is a complex issue. Inaccurate reporting, incomplete reporting and late reporting normally attract serious punishment. Criminal charges can also be brought against you for non-compliance. Check www.durs.gov.si/en for more information on this. Bear in mind that the UK Embassy does not provide any help or advice regarding taxes because they do not have the required expertise. There are sources where you can obtain useful information about taxes. Such sources include Slovene Tax Office Durs and www.infotujci.si for foreigners who are planning staying here for a life.
Sending small loads to Slovenia
Are you requesting to plan a home removal to Slovenia form UK? Our last minute, budget UK to Slovenia moving company provide both - a single bedroom flat and three or one bedrooms moving house services to Brezovica pri Ljubljani, Ravne na Koroskem, Sentjur, Zalec, Grosuplje and different. Every home removals to Slovenia from UK with us is a composed and an unproblematic experience. We pass along free home moving boxes and are equipped with heterogeneous moving machines like paper single covers, armchair covers, it crates, webbing ties, small removal blankets, plastic king-size covers and ancillary. It does not make any difference if your home removals is only a small one bedroom setup or it's a full 2 or 1 bedrooms homestead we have the experience to finish it pleasantly, effortlessly, stress free and luxury. Compare average relocation rates to Ajdovscina from London, personal items moving to Pivka from Bradford, home moving to Race from Salford, excess baggage shipping to Odranci from Glasgow, house removals to Slovenske Konjice from Hereford, 20ft container removals to Lasko from Lincoln and affixed.
Driving to Slovenia from the UK
Driving from the UK is a long journey that will require you to cross through a number of lands. But it is worth engaging in. Given the number of countries that you will drive through, you will be exposed to impressive roadside attractions. Besides, it is an opportunity for you to have a glimpse of what these countries look like as well as how life may be in them. However, given the distance involved and the number of hours that you are going to drive, you should ensure that you are used to long hours of driving before you will be able to engage in such journey. If you are taking off from Edinburgh, you will have to drive for 21 hours 34 minutes over a distance of 1,340.6 miles. But if you are taking off from London, the driving hours and distance will be shorter.
You will be driving through A8 route. From Edinburgh you drive to Dover from where you will ferry to Calais which is a port town in France. You can also cross over to France using the Eurochannel train services. From France, you will drive to Germany following D4 route. When you enter Germany, you continue your journey on B500 route. After several hours of driving, you will drive to Austria through A8 from where you enter A1 route to continue your journey. It is from Austria that you will drive following A11/E61 route and from there you drive to the place you want to reside in.