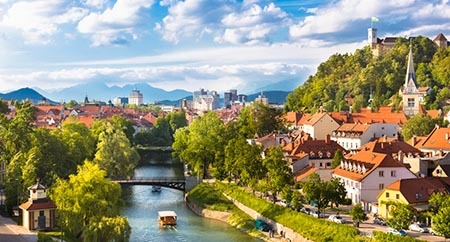 Things to do in Slovenia
I
Slovenia is a popular toursit destination. Here are some of the most interesting things that you could do during your visit in this country. Take a breath from planning your shipping to Slovenia and discover best things that you can do and see during a holiday or a visit here.
Lake Bled
Lake Bled is a great location for a family day out or perfect location for relaxation and beachside sunning. Lake Bled has impressive surrounding suitable for a number of things. If you like running, there are trees in the Lake for you to run through. During hot weather, the cold water of the lake is worth swimming through for teens that can brave through it. The environment is great for sunbathing. The Lake is booming with life especially during the summer period. Many people come for picnics in the area. The water is great for swimming during hot weather. So, there are a lot of swimmers here and there in the lake. There are eating spots in the Lake Bled where you will be able to sample local delicacies such Bled Cream Cake.
Have a relaxing moment at Radenci
Among the 15 local certified natural health resorts, Radenci is the most popular. The first set of people that visited this resort did that in 1882. One aspect of this resort that made it popular and great is the Radenska mineral water which as it is said was once served to the Pope in Rome as well as to the imperial court in Vienna.
Visit Maribor

Maribor is one of the most popular local cities. It is the second largest city after the capital. It has a lot to offer its residents and visitors. If you are a skier, then you have to come here. It is a paradise for skiers. Pohorje mountain is one of the best ski locations. You can ski in this location during the day as well as at night. It is flood lighted during the night so that skiers can also ski there at night. Besides skiing, there are other things that you will be able to do here. If you are looking for shopping opportunities, there are plenty of shops where you will be able to look for great bargains. It has vine yards located at the other sides of Pohorje mountain. You can visit the vine yard to sample freshly produced wine. The world oldest vine which has existed for over 450 years is located here. You can take a walk through this vineyard.
Caving through the Postojna Cave
If you are interested in geological and geographical deposits and formation, you should consider hitting the Postojna Cave which is about 12 miles or 20km. There is a cavernous hall which can accommodate up to 10,000 people in this cave. Stalagmites are also located in this cave as well. Aquatic salamander known as old or blind human fish is also located in this cave which is regarded as one of the finest karats landscapes. If you come to this location for caving, you will be provided with Speleological equipment. Special interest tours are also organized in this location. You can join in the tour if you are interested it.
Exploring Ptuj
Ptuj is regarded as the oldest settlement. It is a delightful town with lots of medieval features such as awesome baroque building, cobbles and churches to view. It has thermal spas, a castle and some fabulous wines. It has cobbled streets under which you will find historic wine cellars where the oldest wines can be found.
Tasting local wines
This land may not be as popular as Italy, France and Spain when it comes to wine but it has a wine region known as Goriska Brda where wine that can be on a par with Italian, Spanish and French wines is produced. This wine region is located at the meeting point of the climate of the Julian Alps and the Adriatic Sea. Varieties of wine such as Rebula are produced in this region. Another great wine region is Vipava Valley. There are small family run wineries in the region where high quality white wines are produced from ancient grape varieties like Pikolit, Klarnica, Pinela and Zelen. High quality red wines are also produced in this region from Merlot grapes.
Hiking around Lake Bohinj

Lake Bohini is one location which any hiking buff should not miss. May be you are thrilled by Lake Bled or what you read about it. But Lake Bed even though is more crowded, Lake Bohinj remains the largest permanent glacial lake and when compare with Lake Bled, it is narrower and logger as well. There is a waterfall known as Slap Savica located at the northwestern tip of the lake. You can see this water after you have zigzagged up to over 500 steps. The area surrounding the lake is great for cycling and hiking. Besides these, you can also do other things in the lake. First, you can swimming or go for boating in this lake.
Getting exposed to art at Metelkova Mesto
If you are interested in art, then you should visit Metelkova Mesto which is located in Ljubljana. It was initially built as a military barracks for the Austro-Hungarian army. But later in history, it was utilized by the Italian and German forces when this land was taken over by the Nazis. However, in 1994, the building was taken over by artists and it later became an autonomous cultural centre. There are seven buildings in the area. Spaces for performances of different kinds such as several nightclubs, studios, art installation, nightclubs and installation are available.
Pumping activities at Bovec
Bovec is a small town located very close to Triglav National Park. The town is a perfect fit for adrenalin-junkies. During the winter, Kanin Ski Centre located stone throw away from the town is a great location for skiing. If you are in this area during the summer period, you will find Soca River very useful. It provides opportunities for white water rafting, canoeing and kayaking. You can also head for Triglav National Park when you have done all there are to be done in the town.
Bled Castle
The oldest castle situates 130m atop a steep cliff above Lake Bled. The castle was constructed around 1011 but much parts of the castle were reconstructed after an earthquake that occurred in 1511. This castle is home to the Gothic Chapel constructed around 1700. You can also view Lake Bled as well as its island from this castle. There are also Julian Alps and mountain ranges of karavanke.
Exploring Jeruzalem
Definitely, when you talk of a pilgrimage to Jeruzalem many people will think of Israel. But Israel is not the only state that has a pilgrimage town. There is a small settlement referred to as Jeruzalem (check the spelling and see the difference between this Jeruzalem and the Jerusalem in Israel). This settlement is surrounded by impressive terraced wine hills. It has eating and drinking spots where you will be able to sample local dishes and locally produced dry and sweet whites. You will find maps and wine at the Tourist Information Centre (TIC) by the old church.
Go for a search of Ljubljana Dragon
Ljubljana is the capital city. It is also the most popular and populous one. Its symbol is a mighty dragon. A lot of bridges, iron, buildings and woodwork bear the symbol of this Dragon. If you are staying here, it is worth searching for this Dragon to see how many you will be able to find. The Dragon Bridge is a nice location to encounter this beast.
Ski at Kranjska Gora
Another ski destination is Kranjska Gora. The resort town is one of the top local ski resorts. You can choose from its 30km runs. The resort is close to the boundary with Austria and Italy. It will take you about 2 hours to walk from the resort to these borders. The ski resort town is located in the Julian Alps which situates north-western part. Besides providing you with the opportunity for ski, there are other things to see in the area which include an awesome church, its lively central square, great views down the valley and two casinos. A lot of hiking and biking trails are available there.
Stay in Ljubljana for a weekend

If you are here, you should never fail to visit the capital. Besides being the most populous settlement with large population of expats, it is very beautiful and offers many places of interest. Make out time to stroll through the beautiful streets. It has a river known as Ljubljana River which flows through the town. On the bank promenades, there are fresco cafes where you can be served with the best wine. Apart from the cafes, the area is also great for having great views. The capital has plenty of architectures of historical importance as well as modern time architectures. The important ones are the awesome gorgeous Neboticnik Rivers, Franciscan Church of the Annunciation, the Town Hall, the Fountain of Three Carniolan Rivers and others.
Predjama Castle
Predjama Castle is the waterloo of the notorious robber baron, Erazem of Predjama who lived during the 15th century. The castle was constructed in the 12th century on a cliff that situates 9km from Postojna Cave.
Exploring Triglav National Park
One of the most impressive parks is Triglav National Park which gets its name from Mount Triglav which is the highest summit with a height of 2,864m. The park spans through large expanse of land covering about 4% of the total area of this land. Glacial lakes such as Bohinj waters and gorges are located in this great national park.