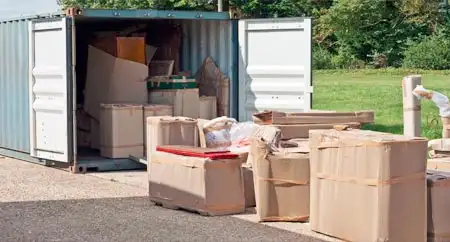 International container shipping
0
One of the cheapest ways of moving overseas is container shipping. There are many different types and sizes of containers - 5ft, 10ft, 15ft, 20ft, 30ft and 40ft. So how do you know what size you will require and what's the price?
We are here to help you! Once you have provided the biggest items to be moved and approximate number of boxes we will tell you what size of container you will require and how much it will cost to ship it to anywhere worldwide.
If you want to send just a small amount of goods, maybe just a few boxes or selected furniture rather than a full household we will offer you a cheaper solution - shared container shipping which is also known as groupage, part load or LCL.
A container can be shipped by sea or air. Where applicable road and rail transport is also available.
Contact us and get a free quote for international container shipping!
Shipping containers - sizes
Sea containers come in different dimensions. Most popular sizes are 20ft and 40ft. Those are ISO standardised any used by all freight forwarders around the world. Set standards facilitate the lifting, transport and storage. Did you know that the biggest container shipping vessel can hold 19100 of 20 ft containers? If you wanted to use the same ship to transport none standard ISO containers with plenty of different dimensions you would be able to utilize just 1/3 of the loading capacity which would be a huge waste of space and money. It would cost you more to ship a container too. Different containers would impact very badly the safety of your goods too. For that reason all movers and freight forwarders worldwide use standard ISO 20ft or 40ft containers.
So what are the options if you do not need a full container load (FCL)? Most international movers offer shared container service. It means that you will not have to pay for the full load but just for the space that your goods will take. This type of service is also called groupage, part load, shared or LCL - less container load.
What happens if you want to send overseas a none standard 1 ft, 2 ft, 3 ft, 4 ft, 5 ft, 6ft, 7ft, 8ft, 9ft, 10ft, 15 ft, 25 ft, 30 ft, 35 ft or any other size of a shipping container. According to our knowledge the smallest steel containers that are manufactured are 5ft, 8ft and 9th and they are usually used for extra storage. Steel 5ft, 7ft, 8ft and 9ft sea containers are quite heavy and in many cases require special crane or a forklift to put them into a 20ft or 40ft container.
The alternative for steel sea shipping containers are wooden crates. Containers made of wood are cheaper to ship and much lighter. What's more they can be manufactured in any local joinery. Shipping containers made of wood costs less, can be designed and built in accordance with the size and shape of your goods and can be sealed too. Wooden crates can be made in any size 1ft, 2ft, 3ft, 100 ft3, 200 cubic ft or 250 cubic ft.
How much does it cost to ship a container?
International Container Shipping Costs
If you are moving overseas with your properties, you have to first determine the cost of shipping a shared or full 20ft or 40ft container. You can plan for the move and make appropriate budget only if you have an idea of what it would cost you to ship a container overseas. International container shipping cost depends on a number of factors such as the weight and volume of your load, the means of shipment, and the distance to be covered, the weather condition at the time of shipping, additional services hired such as international packing and unpacking services, collection and door-to-door container delivery abroad. Thus, the cost of part container shipping overseas from the UK ranges from £1,250 to £15,000.
If you are relocating to a country within Europe, overland container transport may be the right option for you. But if you are relocating outside Europe, shipment over the high sea is the most affordable shipment method even though there is also airfreight shipping for overseas shipment. Airfreight shipment is more expensive but faster. International container shipment over the high sea is slower but more affordable. It's the cheaper way of getting your stuff from the UK overseas. Besides, there is nothing that cannot be shipped in a sea container over the sea but there is always a limit to what you can ship via the airfreight.
As it is mentioned above, container shipping cost from the UK to worldwide is also affected by the weight or volume of your consignment. The items are put in containers which are available in various sizes with the standard ones being 20ft and 40ft container. Shipping a 20ft container and 40ft container does not attract the same fee regardless of the destination. However, the destination will make the fee to increase. Below you can see how much are average costs of shipping 20ft and 40ft containers to various countries.
| | | | |
| --- | --- | --- | --- |
| Country | Sea Port | 20ft container cost | 40ft container cost |
| | Perth and Brisbane | £3,000 and £3,700 respectively | £5000 and 6,700 respectively. |
| | Christchurch and Auckland | £2,900 and £3,700 | £5,000 and £5,800 |
| | Vancouver and Toronto | £4,200 and £4,000 | £6,700 and £5,500 |
| | Cape Town | £3,400 | £5,300 |
| | New York and Los Angeles | £3,000 for both | £6,500 and £6,400 |
| | Athens | £3,200 | £5,800 |
| Hong Kong | Kong and Port of Hong | £3,600 for both | £5,000 each |
Shared container vs. full container shipping
Most shippers provide shared container shipping also known as groupage or part load and full container transportation services from the UK abroad. In shared container, your items will be loaded in one container with other people's items. But in full container shipping , the entire space is reserved exclusively for you and it does not matter if you will use it or not. Full container from UK services are more costly and are suitable options for people whose possessions can fill the entire container. Full container shipment is faster while shared container shipping is more time consuming even though it is more affordable.
Calculating your container shipping cost
The international container shipping costs are calculated based on the volume of items to be shipped as well as on the distance to be covered. If you pay for groupage delivery for example, you will not be overcharged or pay more per one cubic meter than the other users of the container. Each person using a container will be charged according to the volume of his items.
A 40 foot container will contain more items than a 20 foot container. What will determine the size of the container you will require is the size of items you are shipping. If you are shipping the contents of your entire house plus one or two cars, you will require a 40ft container. But if you are shipping the content of a three-bedroom house only, you will need a 20ft container.
Additional container transport costs
The average cost for international container transport from the UK to Australia, USA, Canada, New Zealand, UAE, Dubai or South Africa covers the movement of your items from door to door. But some UK cheap container shipping companies offer port to port only and the additional services such as collection services, delivery to your new home in the destination country, packing and unpacking services in current and destination country, garbage removal services in both countries and cleaning services need to be sorted by yourself. There are some international container transport companies that offer these services together with the normal shipping from home port to the port of destination country.  Each of these additional services is charged differently although some container movers give discounts to people that hire multiple services from them. So, it is important that you discuss your needs with the company providing the services so that the cost will be included in the quotes.
Charges at the destination port
Such charges include import duty, custom inspection fees, quarantine services and others. This differs from country to country. In some countries like Australia, imported items are quarantined and tested for pest, disease and insects before they are released to the owners. The service is not offered for free.
Insuring the container
Another factor that will affect your shipment cost is the insurance cost. There are different insurance policies available for people moving items. Most shippers can arrange insurance for their clients but do not include the cost in their quotes. You can find out from your shipper if the insurance cost is added in their quotes.
Shopping for a good deal
There are a number of UK container shipping companies in the UK that offer international container delivery overseas. Whether you are after removals to Europe or to another continent, you will find a company that will relocate your items to the destination. If you care about discount, then you have to shop around. Take your time to read the reviews and compare container shipping costs from the UK. You will find firms that offer worldwide container shipping services to Philippines, Thailand, Malaysia, Cyprus, Australia, USA, Saudi Arabia, Qatar, Indonesia or Singapore. Choose about 4 or 5 reliable, cheap shipping container companies and then ask for costs and quotes. Do not be afraid in asking for quotes because you will not be charged for it. Take your time to review the quotes. You can ask for discounts or a review of the quote if a company is offering you the service at a higher amount.
After comparing container delivery costs and bargaining and requesting for a review, you can decide which of the mover to hire their services. Choose a company that offers you the best container shipping price and best terms and conditions. In other words, while comparing the quotes, you should also go through the terms and conditions to know whether it is strict or hard to keep or not. Some UK container shippers may have competitive quotes but give strict and unfavourable terms and conditions. Compare online quotes right now and get cheap shipping to Poland or other destinations.
What's the cost of shipping a container from the UK?
20ft Container shipping is the main, and in some cases the only possible way to deliver personal items, furniture and other household goods  from one continent to another. The main advantages of the intercontinental container transportation by sea should be attributed to its low shipping costs, long-haul routes and to the lack of critical parameters and the type of cargo that can be shipped on the vessels.
The dimensions and the design of sea shipping containers has been regulated by ISO International Standards and are widely used in all countries around the world. The standardisation process has contributed to making the sea containers the best and the most economical way of international removal companies. Now, the shipping containers make the basis and are the main part of the multi-modal transport worldwide.
Shipping containers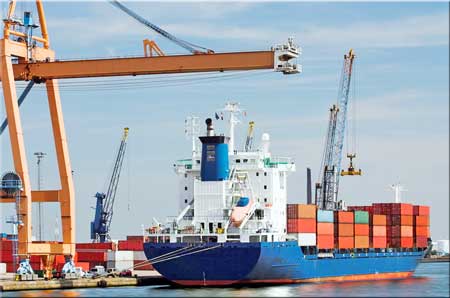 The use of shipping containers for the movement of furniture, personal effects, boxes and other goods by various modes of transport significantly reduces the cost and time of delivery.
This is accomplished by eliminating the need of repacking  and reloading of goods. The design of shipping containers allows to transport them be sea, air, road and rail.
Because of its undeniable merits the sea container traffic rightfully occupy a leading position in the market of transport services.
We have shipped container for many years in both directions from the UK to the UK. Our company has gained vast experience not only in transport but also in logistics. Both skills we use every day for the benefit of our customers.
We are always willing to give free advice on the container transportation. We choose optimal route with the lowest cost. We are able to make delivery of any complexity, in accordance with international norms and regulations.
Services
For all our clients, those based in London, Birmingham, Glasgow, Manchester, Liverpool, Edinburgh or in any other area of the United Kingdom we offer first class container shipping services which consists of: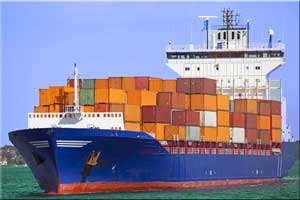 Free cubic volume calculation and choosing the right container size
Shared / part load / groupage container shipping
20 foot container shipping form the UK
Shipping a 40 ft container from the UK
Door to door container delivery
Sea container hire
Container storage
Moving containers by road, sea, air and rail
Container packing
What items can be shipped in a container?
Basically there are no restrictions on what can be shipped in the container. Of course the are some prohibited goods and items from shipping but the rules and regulations on what these items are, are set independently by the appropriate bodies of the destination country. You can contact us to find out more about the country your are moving to.
Shipping containers are mostly used by Brits for sending household goods from the UK to overseas. One of the most services used are shipping to Australia and shipping to USA.
The sea shipping container is also very widely used for transporting cars and motorcycles from the UK to New Zealand, South Africa and Canada.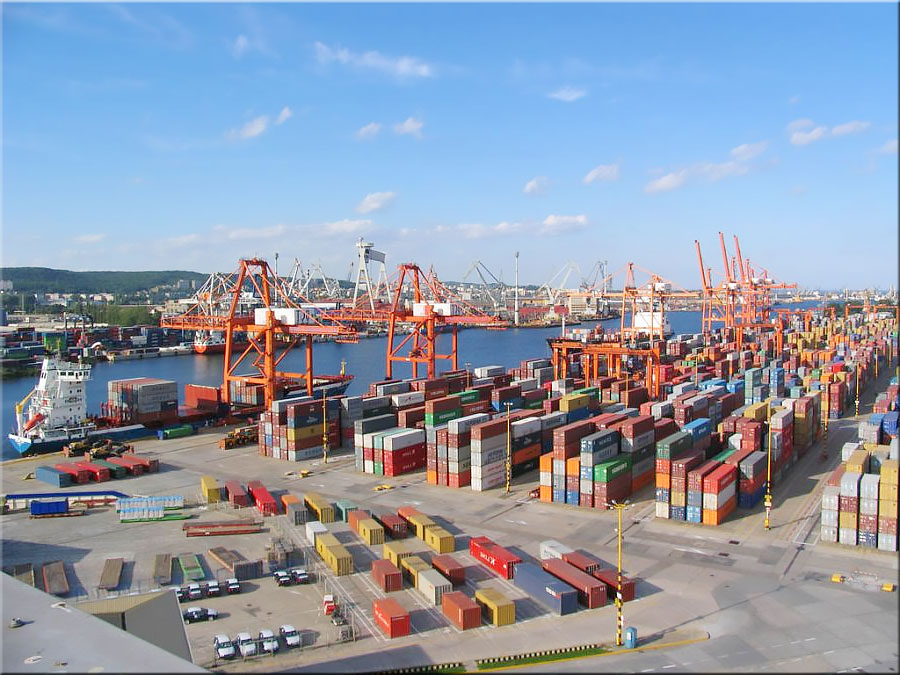 Container shipping companies
The container can be dropped of at your house so you can load it. However in most cases due to the lack of space where the container can be left and most importantly due to the import packing regulations and the border protection procedures of some countries the goods have to be packed and loaded by movers.
Container shipping companies offer different types of freight forwarding services. Most popular are full container shipping and part / shared container transport. Full container service is offered to the clients moving more than 900 cubic feet worth of personal items, boxes for moving house, books, DVD's, wardrobes, tables, sofas  and other domestic furniture or cars.
The shared container service is provided to customers sending small amount of goods not exceeding 800 cubic feet. The full container offered as a groupage shipping service can consists even 100 small consignments belonging to 100 different clients. All of them are sharing the cost of shipping the container overseas based on the size of their package or load.
Please contact us for a free container shipping prices and rates! We will be glad if we can be useful to you!