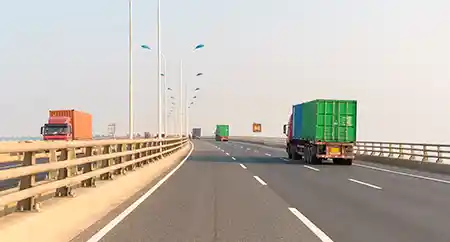 A
As a reliable moving company, we aim at offering efficient, reliable but also cheap shipping services to Czech Republic. We offer flexible services that consist of many different ways how to send boxes to Czech Republic from the UK, Germany, Poland and other countries. As we are offering moving services for many years, it allows us to offer safe and cheap removals to Czech Republic. We are happy to undertake both private and commercial transportation. Be it business goods or household items shipping to Czech Republic you can be sure that our services are within your budget - regardless of the distance you are moving to, be it delivery within the same city or international removals to Czech Republic or even overseas destinations. Compare shipping costs and choose the best offer.
We always try to be as much flexible as possible, just to meet the requirements of different clients. By working with local agents in most of the countries in Europe, we are in position to provide not only efficient but also cheap shipping to Czech Republic from almost every location in the World. By providing budget friendly moving services to Czechia we are making our customers satisfied and relaxed during their relocation.
We are fully aware that each relocation is different, as well as different is the reason of the move. It's why we always offer tailor-made services to our clients looking for cheap shipping from UK to Czech Republic or back. We know that usually our clients entrust to us belongings of their entire life, therefore we always handle private belongings with an utmost care. So, if you are wondering how to ship furniture from UK to Czech after Brexit, be it antiques or other valuable items, we will offer the best moving services that match your requirements and budget. By providing professional packing services we also minimise the risk of potential damages to your goods during transit.
Due to years of experience in the industry, we have managed to establish partnership with many local firms in Czechia. It's why we are able to guarantee express and efficient door-to-door delivery to any location you choose. Our policy is to offer express services for demanding customers, it's why we are happy to undertake short notice shipping from Czech Republic to the UK and back, as we also work with trusted Czech Republic movers who can offer attractive rates for moving from Czech Republic to the UK if we do not have any van available.
International removals to Czech Republic from UK
If you have just started planning of your shipping from UK to Czech Republic or other European destination, one of the first questions that can arise is how much it is to move to Czech Republic? Well, the final price is usually based on at least a few different factors, including:
urgency of the delivery from UK to Czech Republic - whether you need economic delivery that can take up to 72 hours from European locations or you need last minute services including overnight services;
the actual size of the shipment; be it single item delivery that can be done by economy shared van service to Czechia, or the contents of the entire 3-bedroom house that requires use of dedicated van option,
whether there are any width, height or access restriction on the collection or delivery address,
the actual mileage distance between two locations,
consistent of the shipping package that you choose - be it only transportation or additional services, including packing/unpacking, disassembling services, cleaning, etc

Most of our clients would like to know approx. estimate of the shipping costs to Czech Republic before they decide to hire our services. That's fine as we fully understand that our clients want to be sure that the move is within their budget before they go any further. Contact us to get free quote on shipping from UK to Czech Republic. You will soon find out that we are ready to organize cheap moving from Czech Republic to UK but still offering efficient and high-quality moving services. We ship items safely and we maintain deadlines regardless of the type of the move, be it only excess baggage shipping to Czech Republic or heavy furniture delivery. We also offer comprehensive full house shipping to Czech Republic, including many additional solutions you may need, but sill at attractive rates.
Removal costs to Czech Republic from the UK
Are you relocating to Czech Republic and want to know how much does it cost to move to Czechia? Whether you are moving to Prague from London or any other location, you can rely on our moving company offering cheap removals to Czech Republic. We follow the best techniques, we use professional equipment what allows us to offer moving services that will make you smiling and keeping relaxed at every stage of the move.
We deliver to even remote addresses in Czechia, be it moving to Brno, Ostrava, Hradec Kralove, Pilzno and other places. Regardless of the place you are moving from in the UK, we can collect your goods from your doors and deliver the to any location in the World as we are member of network of the best movers in Czech Republic and Europe. To get in touch with our local branch, you just need to email us and our representative will prepare free offer of our cheap shipping to Czech Republic from UK.
We are proud that by have many years of experience in deliveries from UK to Czechia, we are ready to undertake every type of the move. For us there is no too small or to big job. We are fully equipped to move different types of household items, including moving piano, fish tank, pool tables, moving garden furniture to Czech Republic or exporting your car, motorbike or other vehicle. Check now how easy, how quick and how cheap our removals to Czech Republic are.
Shipping furniture to Czech
Our company have required resources and tools to perform efficient furniture removals to Czech Republic, including both commercial and private items. By knowing best techniques and using best tools, we have resources to lift and carry even the heaviest furniture or machinery. Being experts in handling heavy items doesn't mean that we do not move small items. With us you can arrange shipping of small items to Czech Republic. Regardless of the size of items to be moved we offer professional protection as well dismantling services so they are easier to bring them out of your house.
We can also arrange shipping piano to Czech Republic or transporting large fish tank. Do you have heavy machinery in your garage that needs to be delivered to overseas location? Don't worry, our team of experts can handle it. They are able to move single item as well as full house. Send us your requirements or ask for a free in-home survey. We will estimate the actual size of the move, we will inspect your property and check what is the best method of sending furniture from UK to Czech Republic.
Cheap shipping services to Czech Republic from UK
Having in mind different needs of our clients we offer full range of moving services to Czech Republic. Be it garden furniture, electronics or household furniture we can offer both packing and transportation. You can also do packing on your own, however it's worth of noting that some insurance firms reject claims if items were not properly protected. So if you are looking for cheap removals to Czech Republic, you can consider doing packing on your own, but the best if you contact our team to get some useful advice on how to pack items for overseas shipping.
We provide such advice free of charge. If you do not have packing materials, you can also order them from our company. You can be sure that we will offer attractive prices of packing materials.
If you are looking for budget friendly solutions and you do not have lots of items to be moved, you should consider hiring our part load shipping services. Rather than hiring entire container, you pay only for the space that your items actual take in the shipping container. If you prefer to have comprehensive services, that come with package of additional solutions, then you don't have to worry that it will destroy your budget.
Our full moving services are within your budget - check our door-to-door shipping from UK to Czech Republic. We will handle all tasks of your relocation, including packing, carrying items, loading the van, shipping, unloading and more. Hiring our shipping company to Czech Republic gives you peace of mind, so you can focus on other aspects of relocation to Czechia.
If you require express shipping, we can offer 48h delivery to many places in Europe, as well as express air freight to Czechia from any location in the World. It's more expensive option, however sometimes it is the only option for the items that requires urgent delivery from UK to Czech Republic.
How to move items to Czech Republic?
We deliver services that suits requirements of different clients who are looking for cheap furniture removals to Czech Republic from UK. We are ready to undertake every removal as we offer different types of transportation methods. Depending on the type of the cargo, its size and urgency of the delivery, we can offer road transport to Czech Republic or freight services by sea or air. We advise the most efficient and economical services based on your needs and nature of goods to be shipped. Our road transportation is dedicated for deliveries within Europe of either commercial and household shipping to Czech Republic. It is only possible if delivery address is within drivable distance from the UK.

For overseas directions we usually offer air or sea shipping. Sea service is the most common method of sending goods for overseas destinations, like sending furniture from Czech Republic to Australia, shipping to USA or Canada. It is highly affordable, especially in case of small moves, but it is also much slower, compared to air freight.
If you have urgent delivery, or sending excess baggage to Czech Republic, then we advise using air freight option. It is the fastest way of getting items to any location in the World. It is worth of noting that for European destinations air freight can guarantee even the same day delivery and in case of overseas shipping, your goods can reach final location within couple days.
Contact us to discuss your needs so that we can advise which means of transportation is the best in your case. Feel free to use our online form to request a free quote for moving to Czech Republic. You will receive accurate quote what will be useful to make your budget for arranging cheap house removals to Czech Republic. To get our quote you can either use our online form or call our team. Please try to forward as precise information as you can. The quote is based on the information we receive, so the more accurate data we have the more accurate quote you get. Alternatively you can also ask for a free in-home survey or alternative vide-survey. Contact us to discuss the best method of get free estimate of shipping costs to Czech Republic.
About Czech Republic
Czech Republic is a country landlocked in Central Europe. It is bordered to the west by Germany, to the south by Austria and to east by Slovakia. It also shares border with Poland to the northwest. The country spans 78,866km2 with 2.5% of this area being covered with water. According to the 2011 census of the country, she has a population 10,436,560 people but the its population was estimated to be 10,553,443 in 2015. It has a population density of 134/km2. The country has mostly temperate continental climate where the winter is cold and snowy and the summer is warm. The capital city of the country is Prague which is one of the well known capital cities in Europe. With a population of more than 1.2 million people, it is the largest city in the country.
The history of Czech Republic as a nation dated back to the 9th century when the Duchy of Bohemia was established under the Great Moravian Empire. It has become parts of several empires and dynasty including Premyslid dynastic and Holy Roman Empire, Austrian Empire and Austro-Hungarian Empire. Later in history, Czech and Slovakia joined together to form Czechoslovakia, a union which was dissolved peacefully on 1 January 1993 resulting in the emergence of Czech Republic and Slovakia. Today, Czech Republic as a country has developed a unitary-parliamentary republic system of government. It has become a member of a number of international organizations. It is a member of the European Union since 2004 but not a part of Eurozone (this means that it is still using its local currency). She became a member of North Atlantic Trade Organisation (NATO) since 1999. The country is also a member of OSCE, the Council of Europe, United Nations (UN) and OECD.
Czech Republic is a developed country with her residents enjoying high living standards thanks to her advanced high income economy. As a developed country, she offers world class infrastructures and amenities to her residents. It is well ranked in a number of aspects by a number of organisations. Its education system was ranked as the 15th best in the world by OECD while UNDP ranks her in the 14 position in its ranking of inequality-adjusted human development. The country is very peaceful and she is ranked 6th most peaceful country in the world. Its democratic governance is very strong and has been stable over the years. Czech Republic has the lowest unemployment rate among other countries of the European Union.
The country is a multiethnic society. However, the largest ethnic groups in the country in terms of population are the Czechs who make up 64% of the total population of the country. Moravians make up 5% of the total population of the country while the Slovaks and Poles constitute 1.4% and 0.4% of the entire population of the country respectively. There are other ethnic groups that are not specified. They make up 26% of the entire population of the country. Initially, there were Germans in the country but she lost her German population after the World War II. The official language of Czech Republic is Czech.
Czech Republic is one of the countries that have religious tolerance. In fact, religious violence and intolerance is unheard of the country because greater population of the country do not profess belief in any religious. 88.5% of the total population of the country do not believe in any religion or have no religious affiliation. The percentage of her unreligious population is the highest in the world. Roman Catholicism is the most dominant known religion in the country. The adherents of Roman Catholicism constitute 10.4% of the entire population of the country. The adherents of other religious groups make up just 1.1% of the entire population of the country.
Czech Republic has long history with lots of turbulent and tumultuous moments. It has also impressive cultural diversity. Given these, there are plenty of things that one can do and see in the country. It is a country that will satisfy the requirements of both expats looking for better employment opportunities and tourists looking for relaxation and fun during holiday. So, whether you are searching for a greener pasture overseas or you are looking for a nice location to have fun and rewarding holiday experience, the country should be a nice option for you. All the amenities and infrastructures required in developed countries of the contemporary world are available in Czech Republic.
How to move from UK to Czech Republic?
It can be quite difficult to move home from the UK to Czech Republic even though the country occupies a central position in Europe and belongs to the European Union. Removals from the UK to Czech Republic is nevertheless considered an international removal service which requires a lot of things. This highlights the importance of working with a reliable removal company with many years of experience and enviable records. With such a company, you will have a trouble free and stress-free as well as successful removal services from the UK to Czech Republic.
It takes a reliable and reputable company to execute a safe and successful house and office removal from one location to another whether locally or internationally. If you are searching for a reliable company to handle your removal project, search no further. We are equal to the task, We have the expertise and experience to start and successfully accomplish any removal task from the UK to any European countries as well as to other countries in other continent that are very popular among the UK tourists, holidaymakers and expats. We are also able to accomplish domestic and commercial moves from Czech Republic back to the UK or any other European destinations.
There are many reasons why people take the decision to move abroad. But one of the most common reasons why people move home is to look for better job opportunities. Secondly, people move home in order to enjoy high living standard and to have rewarding retirement. However, moving home from your home country to another country means that you are going into another society with different culture and historical background. Thus, you will have to face the challenges of adapting to a new environment and learning new culture. So, if you are planning to move to Czech Republic for whatever reason, it is advisable that you take time to learn the language of your host community at least the basic language so that you will be able to adapt easily.

Adapting will be easier for you if you hire our services because we are impressively customer-oriented, always putting our customers before every other thing. We will apply our experience, expertise, equipment, manpower and resources to ensure that you are relocated safely without hitches from the UK to Czech Republic or to any other destination you are heading to. One thing that has differentiated us from other removal companies is our ability to adapt our removal services to meet the requirements of our clients. Because we are flexible, we are able to accept any project whether it is big or small or whether it is full or part load removals.
We are also able to provide one stop services to our clients meaning that we do not limit our service to the transportation aspect of it. If you need more than the transportation of your items to your new address, there is no cause for alarm once you have found us. We offer a complete range of cheap removals to Czech Republic including packing and unpacking, furniture dismantling and reassembling, furniture removal, heavy equipment and machinery removal, storage services, home cleaning and refuse disposal and many others.
We also offer packing materials and boxes to any client that will want to do the packing by himself or herself. Our packing materials such as tape, bubble wrap, shrink wrap, boxes, labelling materials and others are of great quality acceptable by the insurance companies. But the good new is that we offer these items at the most affordable prices. So, if you want to pack your items by yourself, you can order the packing materials from us. Bear in mind that virtually all insurance companies reject claims for damages if items are packed with inferior packing materials or are not properly packed. So, if you are doing the packing by yourself, it is important that you ensure these two aspects are taken care of. The items must be properly packed and the packing materials should be of top quality. If you cannot meet these two requirements, do not go through the stress of packing your items by yourself because insurance providers will not cover them. You should call on us as soon as possible.
How to get moving quote to Czech Republic?
Kindly contact our professional, trained, polite, friendly and experienced staff in case you have inquiries to make or you need more information about our home and office removal services. We have a strong and reliable customer support team and they will be more than pleased to answer all your questions in the most friendly manner. We are professional in home and office removal both locally and abroad. It is our main business and we do it to the best of our ability. Thus, be rest assured that you will be assisted in every stage of the removal if you hire our services. Besides being able to handle the project for you, we will also assist you with all necessary paperwork and documentation required for the execution of your commercial or house removals to Czech Republic from UK.
With us backing you, there will no problem with custom. You will be properly guided. We can also handle the entire custom process for you depending on what you want us to do for you. If you like, you can sit back and have us do everything concerning your removal from the beginning to the end. We will do them all with high level of expertise because we are the best in the industry. But we are not jack of all trade but master of none. We do each service with professionals in the area. In this way, we make sure that we meet the requirements of our clients. So, do not hesitate to contact us as soon as possible if you require removal service.
We are able to provide our clients with a cost-effective service and at the most competitive price they will ever get elsewhere considering the quality of services we offer. You may be wondering why our services are so affordable despite the fact that they are of great quality. The reason for that is quite obvious. We have large customer base. Many UK nationals moving home or coming back to the UK from Czechia make use of our services because they are happy with the quality of service we provide. So, we have a lot of orders on weekly basis. With the plenty of orders we have, we are able to negotiate and obtain discounts from the various carriers we use their services. Once, we receive the discounts, we transfer them all to our clients. This is why we are able to provide them with high affordable services. So, make use of our services today and you will benefit from these discounts.
We have nationwide presence and our trailers leave from our various depots on weekly basis. However, this is for our part load service. If you need urgent service, you don't have to wait for items to be consolidated. You can hire our dedicated removal service which will ensure that your items get to you within 24 or 48 hours from the time we receive them. However, if you want such a service, you should ensure that you place your order before 11.am. We will make sure that we keep to our promises. We do not reject project because it is too small or because it is too big. We are able to accept any moving from UK to Czech Republic because we have the facility, resources and manpower to implement it successfully. So, there is nothing to be worried of. We are equal to the task.
We are able to provide collection services from any location in the UK and deliver to any location in Czech Republic or other destinations across Europe. We offer door-to-door delivery services. In this service, we will come to your home to collect your items and then deliver them safely to the address you want without you making any input. We will take care of the custom clearance and every processes involved in that. Your own task is to receive the items in the address stipulated in our contract or you can deputise somebody to do it for you. Our removal vehicles and trailers leave our various depots regularly. To ensure that we meet the removal needs of our clients, we are able to offer services on Saturdays and Sundays as well as other holidays thanks to the shift method we are running. So, you will always find help anything you call on us. You are always covered in terms of emergence situation.
Besides, we have different sizes of vehicles. The use of different sizes of vehicles helps us to meet the requirements of all our clients regardless of how small or large their consignments are. Our drivers are polite and as part of our effort to ensure that our clients have stress-free relocation services, we have requested our drivers to assist them with the loading of their items in the removal vehicle. Thus, they will provide you with this help. For enhanced protection and security of your items, our removal vehicles are accompanied by at least a member of our removal team plus the driver. If you hire our door-to-door services, your items are moved directly from the collection point to the delivery point. In this way, unnecessary handling is completely avoided. We normally allow our clients to travel with their items if they want and if there is space in our vehicle. So, you can find out from our driver, if the vehicle will accommodate you. In this way, we help you to cut cost on your removal.
We are not like other companies that will not include all charges in their quotes only to ask their clients for this and that we they have contracted them. Our quotes contains all that you will be charged. If there are any added charges, they will all appear in the quote that will be issued to you. Once, we provide you with a quote, it is final insofar as you will provide us with accurate information when the quote is being worked out. There are no hidden charges in our services. So, without quote, you will be able to plan and make budget for your removal.
We are confident that we are your first choice for your project thanks to our experience, professionalism, unbeatable affordable quotes and our efficient, timely and quality services. Contact us today either through phone call or email for discussion on your removal need if you want your services to be delivered by experts.
International moving to Czech Republic
Are you forced to transport your things to Czech Republic from the Great Britain? Contact our overseas shipping firm as soon as you can to inquire about a customized transport estimate! We undertake slick and budget shipping to Czech Republic - Krnov, Karviná, Olomouc, Chomutov, Orlová, Přerov, Hodonín and more.
We exercise not full and mutual global delivery solutions as well as full 6 foot, 14ft and shared container shipping.

Low-cost UK to Czech Republic shipping is something we can advise on. As a economy Czech Republic intercontinental delivery company we will pick up and deliver anything: a single pack or box, nine or thirty six document boxes, extra luggage, bench saw, outboard motor, z' bed, excess baggage, motorcycles, complete two or five bedroom house furnishings and other.
Speak to us today to be aware how much is shipping to Czech Republic from London, Lancaster, Dundee, Preston, Wolverhampton, Nottingham and from any city you emigrate. Receive and review our approximate shipping costs online for 1 suitcase or case sea shipping to Zlín from Lichfield, domestic equipment removal to Kolín from Oxford, 26 cubic feet, 600 ft3 or 31 m3 of household belongings moving to Písek from Bristol, aggregate, flexible size or sole use 3 ft or 17 feet container shipping to Česká Lípa from Swansea, York, Manchester and from any city in England, Wales and the GB.
Our honest, cheapest UK to Czech Republic shipping services consist of:
Particularized online removals prices appraisal - no commitment
We deliver new ferrying gear like tall moving boxes, long moving boxes, utility trailers, free-standing supports, wardrbe boxes and etc.
Careful, last minute and bargain-counter wooden container storage and cheap storage
Provision of modernized large cardboard boxes and boxes for moving house
We are experienced enough to figure out within minutes how much does shipping to Czech Republic cost - Český Těšín, Modřany, Břeclav, Trutnov, Příbram and different
Proficient, economy and real buy right move, house moves and best place to move to advice
Individual parcel or casket, thirty one packing crates, hoarded, consolidated and full container load two or four foot and thirteen ft low-price container shipping to Czech Republic from the UK or
Any one bedroom suit or 2 bedrooms detached home furniture move to Nový Jičín, Brno, Karlovy Vary, Opava, Tábor, Most and many more
Economy moving storage boxes and furniture moving to Czech Republic from Belfast, Cambridge, Southampton, Leicester, Edinburgh, Liverpool
Budget sofas and beds transport to Děčín, low-budget fridge-freezer delivery to Kladno, cheap wardrobe shipping to Libeň, affordable sofas removals to Vsetín, inexpensive computer desks moving to České Budějovice
Low-priced overweight luggage and over limit suitcases LCL shipping to Czech Republic from Macedonia, Belgium, Norway, Ukraine, Turkey and from any place in European countries
We will calculate for you how much does it cost to ship furniture to Ostrava, Prague, Jablonec nad Nisou, Pilsen, Valašské Meziříčí or to Krnov from Exeter, Bradford or Coventry? You can try our WWW portal to compare cheapest UK to Czech Republic transport firms. There are mixed everyday-use equipment and household content we can send - armchairs, lounging furniture, old liquor collections, desk, electronic equipment, dishwasher, freight, server racking, rack-mounted server, objects made from wood and glass, guitars, cord organizers and anything more. We move paltry and small-scale gear as well as immense and whopper 4 or 1 bedroom apartment caparison.
Cheap furniture transport to Czech Republic from London, Chester, Salford, Newcastle upon Tyne, Plymouth and from all UK, Northern Ireland and Ireland is that we assure at very reduced and low-price overseas removals prices. Our short notice, determined and low-budget global furniture moving solutions could be managed at a very trifling alert. We have the experience to pick up your cheap moving boxes, garage equipments, decorations, living room furniture and alternative domestic stuff at any time you please - first thing in the morning, at 12.30pm, Sunday or early morning. Simply grumble us when you relocate and our worth the money, best, cheap and cheap house movers to Czech Republic from UK, Scotland and England will get in to assist. Contact us to check shipping costs to Australia from Czechia.
Our moving company has a broad selection of casts and types of shipping containers:
Itemized, attractive corporate, concerted and shared container transport to Karviná, Olomouc, Chomutov, Orlová, Přerov and other
Sharp, low-cost 3 bedroom, plentiful and FCL 10ft or 16 foot container shipment to Hodonín from London, to Zlín from Chichester, to Kolín from Carlisle, to Písek from Newport, to Česká Lípa from Worcester, to Český Těšín from Peterborough, Sunderland, Cardiff, Canterbury, removals to France from Czechia
car carriers, 40 ft, dry cargo and open side container removals to Modřany, Břeclav, Trutnov, Příbram, Nový Jičín, Brno and etc.
non-working days or Saturday honourable, same day and affordable UK to Czech Republic container shipping
We will be happy to determine forthwith how much does it cost to ship to Czech Republic - Karlovy Vary, Opava, Tábor, Most, Děčín and different
Sending goods to Czech Republic from UK
Are you taking a risk to arrange relocation abroad and draft to move a combination of personal items in house move boxes or in wooden crates? Shipping personal effects to Czech Republic from UK is what we are good at. It does not make any difference if you scheme to pack and deliver everyday-use wares to Karviná, to deliver shaky movables to Olomouc or to pick up and ship used furniture to Chomutov we may be captivated to fulfil your needs. Sending personal effects from UK to Czech Republic, Orlová, Přerov, Hodonín, Zlín and Kolín have to be discounted and budget. To serve this with no effort just screen our price calculator, online service or netspace. Our removal people may start your moving your household property with only a short registration.
Our international moving crewe work fluently, rapidly, as planned and at very affordable, economy household move costs. Telephone us immediately to reckon how much does UK to Czech Republic international moving cost. Our overnight household goods shipping services are delivered for both individual and corporate shoppers. We work with varied removal trucks to come to collect your domestic things - 3.5 TONNE GVW LUTON BOX, 18 ton GVW Box with tail lift, 500 Volume (cubic ft), 2800 - 3200 cubic feet, 15t - 4 container and alternative. We also have purchased all sort of sea freight containers to pack and ship cheap packing boxes for moving, white goods, corner unit or all three bedroom detached house equipage - 20ft shipping, collapsible end frame, 1/2 of a shipping, forty feet or sea container and more. Examine cheapest Czech Republic international couriers to set aside loads boodle on your student removals to Písek from London, furniture removals to Česká Lípa from St Albans or on your moving house services to Český Těšín from Gloucester, Norwich, Aberdeen, Portsmouth, Stoke-on-Trent and from any town in the Britain, Wales or Northern Ireland.
Are you looking to hatch a house move to Czech Republic form UK? Our last minute, low-price UK to Czech Republic moving company have done both - one bedroom flat and six bedrooms moving house packing to Modřany, Břeclav, Trutnov, Příbram, Nový Jičín and other. Every house move to Czech Republic from UK with us is a straightforward and a pacefull act. We grant you free moving boxes for sale and are in charge of a whole range of removal stuff like trash bags, computer boxes, a1 size plastic crate with integral lids, red rubber bracelets, black stretch wraps, spider trucks and spare. We do not care if your house move is just a simple 1 bedroom shack or it's a full five or four bedrooms suite we could execute it fleetly, efficiently, happy go lucky and safe.
Compare approximate shipping prices to Brno from London, personal effects moving to Karlovy Vary from Winchester, furniture moving to Opava from Durham, house removals to Tábor from Lisburn, furniture removals to Most from Lancaster, house moving to Děčín from Dundee and surplus.
Reasons to move to Czech Republic

Czech Republic is one of the European destinations that are very popular among tourists from different parts of the world including the UK and other parts of Europe since the collapse of communism in Europe and since Central and Eastern Europe were established. The country especially its capital city Prague helps visitors to have a picture of what life used to be in Europe 500 years ago. There are a lot of historical structures in the city. There are a lot of beautiful sights in the city such as Charles Bridge constructed during the 14th century.
Apart from its historical heritage, Prague is the centre of government, economic, entertainment and every other activities in the country. However, there are palaces, castles and other places of interest in other cities in the country. So, whether you are in the capital city or not, you still find life interesting and impressive in the country. Czech Republic is worth being included in the list of countries that you may be considering moving to if you are planning on a life outside the UK. Here are some of the reasons why you should consider a move to Czech Republic.
Booming real estate market
Moving to and living in Czech Republic provides you with the opportunity of investing in the real estate market of the country especially if you are the type that likes purchasing properties with the intention of living and reselling it when you are no longer living in it. Czech Republic's real estate market has started to perform very well since the country joined the European Union. One of the reasons why the real estate market of the company is performing very well is because of the influx of large number of the foreigners and increase in the number of its middle class. Another reason behind the booming of the country's real estate market is the strength of its currency, koruna. As more and more people are trooping into the country, the demands for homes and apartments for rent are on the increase. With increase in demands, owning a property in the country is a good value for money.
Affordable housing
Despite high demands for apartments, available apartments are rented at more affordable rates when compared with the cost of renting apartments in some other European countries. The housing cost in the country is therefore more affordable than the housing cost in some other countries in Europe including the UK. However, most apartments for foreigners are rented at higher price than they are rented to locals. This is because the majority of apartments for foreigners in the country are non-rent-controlled apartments. Regardless of this, you will be able to find a good bargain if you shop around and if you are able to speak the language. This is because a good number of websites where these affordable apartments are advertised have contents that are written in Czech which is the official language of the country. A veritable means of getting good bargain is to use the services of real estate agent. However, they normally charge a fee that is normally up to one month rent. You will also be required to pay for security deposit. This means that in the first month of your tenancy, you will be paying an amount that is equal or about three months of your rent.
Quality and Impressive lifestyle
Czech Republic's residents enjoy quality and impressive living standard thanks to the facilities, amenities and infrastructures on ground in the country. Apart from that, the country offers its residents a laid-back lifestyle. There are a lot of outdoor activities available for residents to engage in. The social scene in the country is quite thriving very well. There are music and entertainment venues here and there providing residents opportunities for fun and interaction. The country boasts of diverse social scenes with plenty choices of bars, pubs, clubs and restaurants to choose from. Life in the country is never moribund. The country is also a paradise for outdoor enthusiasts. the country has a lot of mountains encircling it. She also has regulations that ensures that the forests in the country are not tampered with. With these, a lot of things can be done in outdoor environment. One can cycle, hike, observe nature, go for picnic, view wildlife and many other things. There are also plenty of things to do during the winter season like downhill skiing and cross-country. All these makes life in the country to be fun, relaxing, and also sporty for people that like living active lifestyle.
Safe to live in
Czech Republic is one of the safest countries in Europe thanks to its low crime rate. There are rare cases of violence and she has developed a stable and peaceful democratic government after the demise of communism in the country. Foreigners who cannot speak Czech are also taken into consideration when it comes to security. So, you don't have to border about how to call for help in case of emergence if you are not able to speak the language. Foreigners can call for assistance in times of emergency with the number 112. The emergence telephone number is only for foreigners who cannot speak the local language. However, despite the level of security enjoyed by the residents of the country, there are still little cases of pickpocketing. It is on the increase now in the country. So, you need to apply caution and beware of where you go and who associate with. Be mindful of your valuable and wallets when you are in a crowded place.
Suitable for raising children
Czech Republic is one of the countries in Europe that has a nice environment for raising children. First, there is security of life and property. So, even if you are not around, you will have a rest of mind that your children will be safe at home. Secondly, the country has a highly rated education system. There are schools for different age groups. So, if you have schoolchildren, you will find schools to register them. Besides, the education system of the country is highly rated meaning that your children will receive quality education just as with their counterparts in the UK. You may also find an international school where you are living in case you want them to be educated with English curriculum.
Plenty of job opportunities
Czech Republic has very low unemployment rate considered to be the lowest in Europe. So, if you are looking for job opportunities, you are much likely going to get one. Besides, expats are offered attractive salary and benefits. Though the country has a large number of skilled workers, expats are normally given senior posts. They are better paid than locals. Some companies pay for the accommodation as well as certain expenses of their workers. The only aspect of the country that expats may not like is the bureaucracy in the government offices especially when they are dealing with their paperwork in the Ministry of the Interior to enable them to work.
Easy to establish and run a business
It is quite easy for expats to establish and run a business in Czech Republic. You can either establish an independent business using trade license or establish a limited liability company which is known as S.R.O. You will require huge amount of money in order to establish a limited liability company; but once you are able to establish it, you will no longer have to bother about liabilities that may result from your business. But if you operate your business independently with a trade licence, you are responsible for any complaint against the business. However, it is also very easy to obtain a trade licence for running of such a business. The major difficulty facing expats establishing businesses in the country is being able to speak the local language. You will find it difficult if you are not able to speak the language. Another good aspect of running a business in the country is that it is quite easy to open a bank account in the country. Most big banks in the country have agents that can speak English manning their foreigner's desks. With a small amount of money ranging from 200Zk, you will be able to open account in a good bank. The banking system of the country is quite developed and can be operated online.
Impressive and efficient public transport system
Czech Republic has a well developed and excellently operated public transport system. With the public transportation system of the country, you may not require your private car. Another good aspect of the public transport of the country is that it is highly affordable, safe, clean and easy to use. It does not cause any delay because they abide by the schedule. This ensures that passengers get to their various destinations on time. In other words, you can keep to appoints even if you don't have your own car. You can easily obtain information about the schedules of the public transport links online. The various stops and times for departures to various locations are posted online as well. However, the only problem is that the local taxi services are not well regulated and they may be expensive to use.
A lot of expat organisations
A lot of expats have moved into Czech in the recent times and this resulted in the formation of a number of expat organisations and groups in order to take care of different interests. With the presence of a large number of expat organisations, it is quite easy for expats to make friends and settle down. Besides, these expat organisations are easy to find because they are available in the internet. Most of them organise events and festivals creating opportunities for group members to socialise with each other and also to catch fun.
Affordable living cost
Another reasons why you should consider a move to Czech Republic is that it offers low living cost to its citizens when compared with the living cost in the UK and some other European countries. Foods, healthcare and utilities are quite affordable in the country. Food items and staples such as potatoes, bread and meat are highly affordable and they are of good quality. You will be able to purchase electronics and household appliances as well as furniture from brands that are used in Europe in speciality stores and malls. Owing to the fact that there are a lot of skilled cratfsmen in the country, furniture is normally sold at affordable prices.
Quality and affordable Healthcare   
Czech Republic has good healthcare system. Besides the quality of healthcare services provided to the residents in the medical facilities in the country, the cost of medical services are highly affordable. The fee you pay each time you see a doctor is relatively low when compared with the cost in some other European countries. Apart from these token paid to see a doctor, other services such as lab tests are provided free of charge. Once you have an insurance card, you are entitled to nationalised healthcare. Each district has doctors living there and you are free to choose any doctor you like to be your personal doctor. You are also free to choose your personal doctor. But bear in mind that basic insurance plan may not be sufficient to cover healthcare in private medical facilities. The only problem with the healthcare system of the country is that the waiting time is quite long.
Affordable and quality education
The cost of education in Czech Republic is quite low when compared with some other countries like the UK and the US. Besides, the quality of education given to students in Czech Republic is on a par with the quality of education given to students in most developed countries. There are several universities and institutions of higher learning in the countries providing opportunities for people that want to further their educations. Different programmes in different fields of study. Definitely, you will be able to see a university that offer the programme that you want to do. Education in Czech Republic could be said to be a good value for money given the quality, the low school fees and low living cost.
Driving to Czech Republic from the UK
A road trip from the UK to Czech Republic will indeed make sense. It is a veritable means of passing through a number of countries and having stunning roadside views. You are going to drive through a number of countries including France, Belgium, Germany as well as the Netherlands, Switzerland and Italy depending on the route you take. If you are driving via A38 which goes from France, Belgium, Germany and then Czech Republic, you will have to be able to drive about 19 hours 37 minutes over a distance of about 1,179.3 miles. However, the actual distance as well as the quantity of the fuel you will require for the journey will depend on on your take off position as well as on the route you take.
You can drive to Dover and from there you go through Euro tunnel ferrying to Calais which is just 22 miles from Dover. It is a ferry port in France. From Calais you will drive to Belgium before you will be able to enter Germany. From Germany, you drive down to Czech Republic. You can also ferry to the Netherlands directly and from there you drive Germany, before driving to Czech Republic. There are also some that will prefer to ferry to Brussels in Belgium and from there, they drive to Italy. From Italy, they enter France and then Switzerland before driving to Germany from where they enter Czech Republic. Bear in mind that garages are normally self services in most of the location. You may consider entering and driving through Germany on Sundays when HGV lorries are forbidden from using the autobahns. Thus, they are parked and this makes movement lots easier.
When planning your itinerary, consider the number of hours that you will be able to drive without getting tired and lose concentration. Take note of where to tank your fuel and where to sleep if you are not able to drive continuously without stopping (it is only a well trained driver or people experienced with long hours driving that can try to drive continuously without stopping; so don't try it if you are not used to it or trained to do such driving).