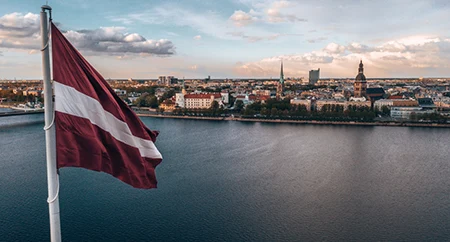 T
he market of international removal companies offers a wide array or services for those planning removals to Latvia. Having been a major player for years now, we have certainly made our contribution to the market and given the modern removal standards their present shape. In short, we know the ins and out of the removal business.
And it's this familiarity that dictates individual approach to every client. In the end, it doesn't really matter whether you're a first-time expat or a well-travelled one. Every international removal is a complex operation that requires a lot of minute customisations. With a network of trusted business partnerships across the continent, we carry out reliable, door-to-door shipping to Latvia from the UK that our competitors find – or worse – make complicated.
Therefore, whether you're planning a house removals to Latvia or are looking to relocate within the country, we have ready-made, tested solutions at hand and ample customisable options to tailor to your requirements and budget.
Let's now look into international removals and analyse the costs involved.
Why Latvia?
It costs very little to live in Latvia and its authorities afford nearly all civil rights to expats holding residence permits. Simple as that. The country has an affordable rental market with rent starting at £180 and no restrictions on property investments, which makes is a popular holiday-home destinations. Many choose Latvia for its beautiful coastal line. It is, after all, an outdoor lover's paradise with multiple skiing and camping possibilities. While living in the capital city of Riga will demand more expenditures, it is still a fairly cheap European hub to live in. Hence its popularity with students all over Europe.
Flexible International Shipping to Latvia
Moving home abroad will be an entirely different task for every client. And it's not just the size of the job. It's the logistics, the paperwork and client's participation in the process. A trusted and experienced service provider will be able to correctly assess the situation and address all existing and potential issues, offering a viable solution. Contact us now to get a free quote and compare shipping costs.
Consider a full house removal to Latvia from the UK. The client wants a comfortable door-to-door delivery of furniture and other belongings to their new address in Riga but, for want of time, cannot take part in the preparations. No problem! Here's our all-inclusive removal service:
assessment of your property – an in-house sales visit or a remote viewing through a dedicated application, whatever suits you best
packing and packaging – your belongings will be import packed, labelled and loaded onto our trucks; an itemised packing list will be prepared for customs duties
EU customs duties and VAT documentation – we take care of the paperwork
transportation – your shipment arrives at your new pace within three days
unpacking, off-loading and reassembly – your furniture and personal belongings are distributed in your new place according to your requirements

The same will be available for other types of services, such as business or office removals from UK to Latvia. Additionally, our specialists can perform renovation and reconditioning jobs to vacated and new properties alike, including the installation of appliances. Meeting our clients' expectations in one thing. We aim at exceeding them!
Most clients, however, are fine with limited services that simply satisfy their needs. To reduce the overall cost of removal, we encourage you to take care of parts of the process. You can pack and label your belongings or even rent a van and be your own driver. Likewise, you may be interested in a single-item shipment. Not a problem, either. Part loads and sharing cargo space will be your go-to solution. Shipping to Sydney from Latvia? That's fine, check our shipping costs to Australia and find out how much money you can save by booking our services.
You name it, we've got it. But what total costs are we looking at here?
How Much Will It Cost You to Move House to Latvia from the UK?
Here's our pricing proposition for the most popular options of shipping from UK to Latvia. These prices include the packing service. Remember, you can take care of parts of your removal and reduce its overall cost.
50 medium-size cardboard boxes - £989
Studio/student relocation - £1449 - £1899
1-bedroom house (only furniture and appliances, no boxes)  – £1999 - £2249
3-bedroom full house move (boxes, furniture, appliances, garden/garage items) – £3899 - £5900
Shared van service (10m3) - £1519
Dedicated van to Latvia(20m3) - £2799
20ft container shipping costs - £3799
full house removals to Belgium from Latvia - £1599 - £2349
Your specific moving quote to Latvia may be different. We encourage our clients to give us a call to discuss their removal plans. The in-house assessment will help us prepare a fairly priced quote that suits your budget. If you are looking for average shipping costs to Latvia from UK, you should fill in our online and request free quote. You will have a chance to compare removal rates to Latvia against our competitors.
How Long Will You Have to Wait for Your Shipment
The distance between the UK and Latvia isn't that big, perhaps. At least, not for a professional removal team. But, depending on the precise pick-up and delivery locations, you may need to allow up to 72 for your shipment to Latvia to arrive at your place. That's for direct services, of course. The average delivery time for shared cargo storage hauls can be extended to 5 days. Again, this is determined by the number and locations of the delivery addresses.
Import/Export Document Requirements for Latvia

The post-Brexit immigration procedures for British citizens willing to relocate back to the European Union are way stricter than before. A third-country nationals, Britons importing goods into the EU will be subject to customs duties and VAT liabilities. And this is no joking matter, as the tax threshold is 21%. It means you will have to pay an extra fifth of the overall value of the imported goods just for moving them into Latvia.
In the first place, this regards people shipping goods to Latvia by non-residents. If you're thinking of furnishing your Latvian holiday home, you'll be better-off visiting a local furniture shop.
Under the new EU import tax regulations, however, there is Transfer of Residence. In simple terms, if you're moving to Latvia and intend on obtaining residence permit, you will be eligible for customs duties and import VAT exemptions. To prove this at Customs, you will be required to present the following documents:
a copy of the photo page of your Passport or ID card
your visa or residence permit – for relocation purposes, British citizens are required to apply for a visa; pursuing economic activities will only be possible for residence permit holders
itemised packing list – a detailed list of all your import goods; it contains information about types of goods, their dimensions, weight, value and how it was packed
a self-certificate – a document proving that you've owned the household objects you're importing for more than six months prior to leaving and won't second-hand sell, rent or pledge them in Latvia
Realising the limitations on the imported goods to Latvia, it is always critical to evaluate your situation before taking any steps. Sometimes, considering local purchasing possibilities will be a far more economical solution than importing goods into Latvia as a non-resident.
Covid-19 restrictions on travelling to Latvia
Latvia is no safe haven, when it comes to the worldwide pandemic. In fact, there are several restrictions in place.
First of all, the country puts an obligation on any travellers to register on the government website covidpass.lv within 48 hours prior to arrival. Then, the rules are fairly simple. Those with a valid Covid-19 certificate proving either a full vaccination course or recovery will be exempt from taking the test on arrival. This applies to persons travelling from the EU, the EEA, Switzerland, the United Kingdom and other low-risk countries. Unvaccinated individuals or those who cannot prove a full recovery, will have to take a PCR test 73 hours prior to entry into Latvia or an antigen test not older than 48 hours before arrival. The digital Covid-19 certificate will only be accepted if it was issued by authorised institutions in the EU,  the EEA countries, Switzerland or the United Kingdom.
Staying up to date on the latest news regarding the health crisis will help you take the necessary precautions to ensure safe and continuous travel.