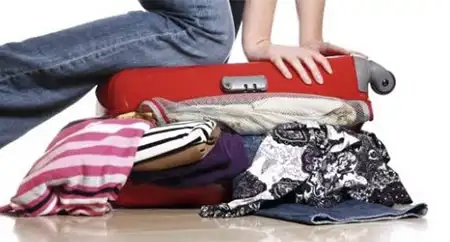 Essentials only = Traveling light
It is not a problem to take and carry a bit more luggage when you travel on your own or with other adults only. You can manage to lug your stuff.
However the going gets tougher when you have to walk a long distance with your heavy luggage or even tougher when you spending your free time with children.
Are you strong enough to bear your kids food, drinks, necessary clothes and toys every time they droop?
Below you can see some tips and advice on traveling light.
Find out what thing you will need but in fact you will not need them at all or the can be replaced or they will be provided by others.
How to pack to travel light?
Planning for a trip abroad for vacation? Is it your first plan for a trip? Have no idea what to do and confused about what to pack for the travel? We know how intimidating it can be even for an experienced traveller to plan what to be packed for the trip.  Your trip will be a success only if it will be enjoyable. There are certain things you do not have to carry find out what they are and enjoy traveling light.
Packing light makes for a much less worrying experience travel. Here is some advice for packing a bag that you will need for your whole travel trip. It may be a vacation trip or a business trip below ideas will keep your travel light.
Airlines are waiting to squeeze every last penny you have to check in bags, so it's more important to weight light. Otherwise you have to pay for excess baggage. Most of the travellers pack more than enough items than they actually need for the whole travel like extra clothes, pair of shoes, hair dryer.
Different airlines have different hand luggage regulations with not more than 10kg. You need to walk with your bag more than you think you will.
Choosing your a light bag, suitcase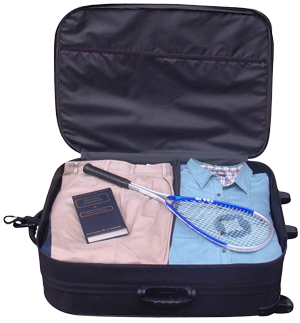 Before choosing the bag or a suitcase, think of the number of days of your trip. Choose a less weight bag, if you are still using your old huge and heavy suitcase.
It's time to replace that with new branded lightweight luggage designed for traveling light.
Choosing good bag for travel reduces half the weight of your luggage. Some very good manufacturers of lightweight luggage are American Tourist-er, Samsonite, and VIP.
The next item to choose is the type of bag, whether the bag with wheels or without wheels. Two wheel bags is more preferable than four wheeled bags because it even won't fit as well into the planes overhead luggage bins. Yes, now we have chosen bag for the light travel.
Packing just Essentials helps with traveling light
If you are sure if your trip is for fewer days, pack less and light and don't dump as if you are going to stay there for weeks.
Apparel
Pick clothes accordingly that every pair of shirt and pant matches to every pant and shirt in your bag. If it is a business trip, you can still opt for layers than a bulky coat. Avoiding coat will spare you even more space for other essentials. Fold all your clothes wisely before arranging it inside the bag.
If you going on holiday with children you do not have to take each piece of clothing for each day for all of you. You can give you clothes to a laundry and it does not cost that much. reducing the amount of apparel will help you with traveling light.
Some suggestions on apparels for traveling light packing
➢    Two to three  T-shirts
➢    One  pair of jeans
➢    One  pair of lightweight trousers
➢    3+ pair of undergarments
➢    Belt that you can wear and need not to pack
➢    Swimsuits if you planned to visit the  beach in part of your trip
Shoes
Instead of keeping in your bag, put on an all-purpose pair of shoes which will relieve some distance. If another pair is a must, pack it then. Regularly own a couple of flip-flops which will be of less weight. Remember packing light equals traveling light and shoes can be really heavy especially when you have two, three or more children.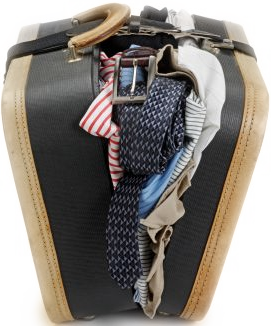 Some suggestions on shoes
➢    One pair Flip-flops
➢    One pair of shoes /boots can be worn on the plane
➢    Three and more pair of socks
Toiletries
Basic provisions are enough at travel size quantities. If you have arranged your stay in a hotel, soap, shampoo and other toiletries will be provided so need not to carry them. Especially the towels are very heavy. You have to sleep somewhere so double check with your accommodation provider if they will be in your room to your disposal. If you do not have to take the towels you could be reducing the weight of your bag by a few kilograms.
This will definitely help you with traveling light. You can be side obtain it then and there when you are doing so filling bag with toiletries will increase on the weightiness. You will be provided laundry service in hotels so take them on it or simply bring a few travel packets of laundry detergent to do hand laundry in your hotel sink. Lightweight materials dry quickly so choose lightweight clothes for traveling light.
Medicines
If you are allergic to some foods shun it in travel and for safety keep some drugs to help you. Keep enough pills as it won't take more space in the bag. Keep a first aid kit with you which you can have if its activity trip. Make sure your medicine bottles, liquids should be less than 100 ml because some airport regulations allow only below 100ml. You do not have to take the entire first aid kit. You can get it from everywhere - at the airport, hotels, local pharmacy.
Souvenir lovers
If you have a plan of buying goods during the trip have a collapsible duffel for the return trip at the bottom of your luggage to take some clothes that you are thinking to get rid of.
Keep your secondary carry bag light as well. If you are souvenir lover and bought more than you can carry then simply ship them with our international removals. It will be a cost effective and make your written trip light. You can compare shipping costs here.
Here are some other essentials which you need to carry with your trip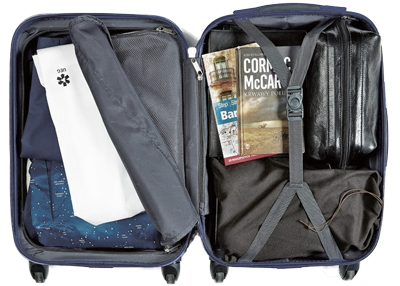 Passport, an absolute essential you should not miss to carry it. Take your driving license, health insurance information and certificates, bank cards and address of hotels, accommodation etc.…
➢    Other accessories to keep
➢    Digital camera to snap your happy moments, with charger
➢    Water bottle
➢    Mobile phones, charger, headphones
➢    Maps, guidebooks, but today's smartphone will replace this papers.
Following these steps, you can reduce the weight of your luggage. When its lighter you carry your luggage and its less chance of getting it lost or stolen. Even its easy for last minute changes in travel plans. Pack light and make your travel happier and successful! For more tips on how to pack light you can drop us a quick email. Also if you have any other suggestions and ideas on traveling light we would like to hear from you.