Removals to Berlin from UK
E
Everybody knows Berlin from the history classes but nowadays it is not its history that makes so many Britons moving to Berlin each year.
The main reasons for removals to Berlin are its biggest in Europe employment market for professional and vocational workers and the high level of life.
If you are planning a move and are looking for boxes and furniture removals to Berlin we can provide you with best shipping rates you can find on the market.
To compare moving companies to Berlin please use our online form or give us a call. The UK to Berlin movers we work with will email you their removal offers within a few hours.
Moving, Working and Living in Berlin
Berlin is the capital city and it hosts of many world-renowned universities, institutes and research centres. The mix of urban setting and historical legacy the city has a lot to offer. If you are moving to Berlin from UK here are a few updated that will lift up your mood and help you finalize your relocation plans.
The beautiful city filled with lakes and museums is a resider's paradise. The greenest European city is a delight for the nature lovers. From the hustle bustle of the crowded street of UK here is peaceful and serene atmosphere that will melt your heart. The lake connects almost the whole of the city and Berlin has the largest number of lakes, one can swim in or just walk besides.
Comparing the cost of living in Berlin with the other capital in Europe one will realize how cheap it is. The night life and the music will steal your heart. The large number of night clubs, restaurants and bars gives you opportunities to enjoy your weekends after hard days of work. If you love country music then you won't be disappointed either. In our opinion moving to Berlin is one of the best choice if you are thinking of removals to Europe in search for a better employment opportunities and life in overall.
There are all kinds of music option for the music lovers. The location of the city of Berlin is another plus; one can travel all over Europe while in here, as it is centrally located. Most of the cities are connected with rail and are not hard on your pocket. The last but not the least the delicious cuisine will keep you in the city forever. The Deutsche Bahn offers great railway tickets discounts so you can move to Berlin and travel from the city with your friends at a really cheap price.
House prices in Berlin

The City of Berlin like other cities in this German speaking country is rent friendly. The cost of living as stated above is cheap.
The apartment cost of one bedroom in the city is around € 600 and outside the city is € 430. And the three bedroom apartments are € 1250 and € 870 inside and outside the city respectively. Comparing to the minimum wages the house rental prices are affordable for everyone.
Most house unfortunately are being rented out unfurnished so it is a good idea to organize the shipping to Berlin of all your household furniture and kitchen equipment like fridge, dishwasher, kitchen table removals, washing machine, freezer.
On the other hand if you can afford buying a new furniture moving it from the UK to Berlin could be not the best option. The domestic equipment prices in here are really cheap. Some of the lowest in Europe.
If you are planning to move and buy an apartment in Berlin then the per square cost should be around € 30755. But as the housing policies and the tax benefits claim for it is better to rent flats in here. The government regulations are favourable to renters.  The government does not encourage house ownership, it does not allow house owner to deduct tax mortgage/ interest payment from their taxable income.
Thus it is more beneficial to rent a house than owing one yourself when living and working in Berlin. The house owner and landlords are both barely subsidized. And the house rents do not rise very fast. And one moves buys a house as a response to raising rents, since the rent rise slowly there is lesser need for buying houses when emigrating to Berlin.
Even the banks are not mortgage friendly, thus making it more difficult to loan and people shy away from making house purchases. So if you plan on shipping to Berlin all your possession it is advisable that you rent a flat at affordable prices then plan to buy one for yourself.
Reason to move to Berlin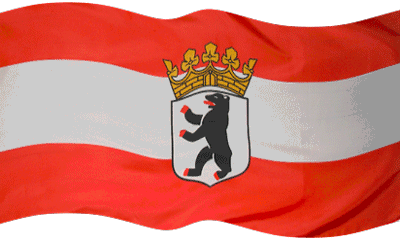 If you get an assignment in this beautiful capital city there are many reason why you should say yes. This centrally located city is well connected to many other major cities with rail, which is cost effective.
The city is also friendly for cycling and has bike lanes all over. The monorail is provides the cheapest public transport.
The city has beautiful lakes and around 2500 parks making it and environmental friendly place which is another great reason to move to Berlin from the UK. No don't be mistaken it is not for oldies; the city has a night-life that one will just love. One can drink in public and the beer is just to die for.
The lakes are one that you can swim in and it is too friendly a city to say no to. Another reason for moving are the cheap shipping costs offered by UK man and van to Berlin companies. Find solutions tailored to your moving requirements. Check rates of sending boxes to Slovakia from Berlin.
Flights to Berlin from UK


When planning removals to Berlin you will not be cut off from the UK. There are many cheap flights from UK to Berlin, especially from London, Bristol, Birmingham, Glasgow and Edinburgh. And the flights are very cheap too.
You could get a flight that would cost around £26. There are connecting trains too that will cost much lower but not from the UK unfortunately. The main airports are Berlin Schönefeld Airport and Tegel Airport.
However the new city airport Brandenburg is known to replace these two airports to be the single service international airport. The flights to Berlin fly on a frequent basis, and one can choose from any of these cheap flights which makes the moving to Berlin and back to the UK affordable.
Berlin economy and biggest companies
If you are shipping to Berlin all your possession and move your entire life to easily find a work in this capital city has the highest growing economy in the whole of the country. Its economy was affected by the wars and political changes. But the industrial revolution in the 19th century changed the whole scenario now it has chemical, locomotive and many industries.
Berlin is the centre of banking and financial institution as well. So if you are working within a financial or banking sector you will have plenty of work offers in there. There are many companies that have world presence, Mercedes-Benz, Seimen group, Deutsche bank, Allianz are few such names.  Berlin was the poverty driven city, and had the maximum number of people living on state welfare as compared to other German cities. Now Berlin has the highest growing economy and it is expected to grow over the years. It also has a great deal of motorways which supports its constantly growing transport by road industry.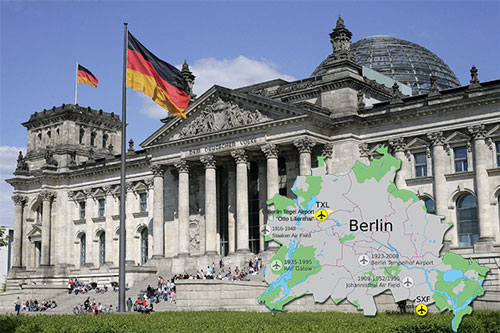 Shipping to Berlin from UK
If you are thinking of bringing your belongings from the UK to Berlin we offer one of the best shipping services, very flexible and cheap at the same time.
Shipping to Berlin your residential goods, furniture, boxes or excess baggage is what we do every day.
We can collect the boxes and furniture you want to send to Berlin from anywhere in the UK by a special the same day courier companies and can deliver them to Berlin the very next day if you are moving the entire contents of your house.
Our international removal companies can handle any type of shipment starting with sending just one box of personal items and clothes to ending with a full house removals or heavy machinery shipping.